We specialize in crafting fine custom jewellery including beautiful blue sapphire engagement rings in Winnipeg, Manitoba. In today's article we will be showing you our top 5 blue sapphire engagement rings that we have crafted over the past while for many happy couples and clients. 
As you may have noticed, we love Ceylon blue sapphires. Not only do sapphires make for the perfect stone for a unique, non- diamond engagement ring, they are also incredibly durable. Did you know that next to diamonds, sapphires are the hardest stone available? This means that they will wear extremely well over time and are perfect for any piece of custom jewellery that you plan to wear for life and even pass down through generations!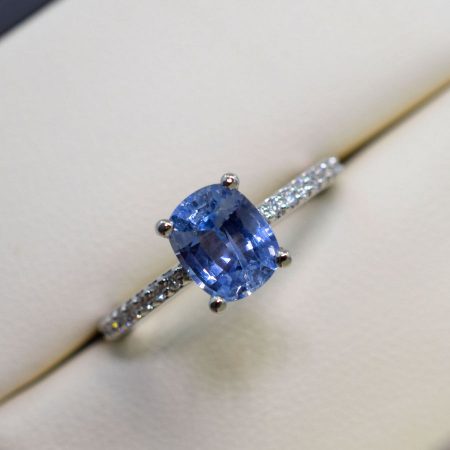 1. Violet blue sapphire engagement ring with side diamonds
This wonderful ring was created for our clients this year and features a beautiful cushion cut blue sapphire with notes of violet and has been cut to create maximum brilliance. This stone is set in a simple yet elegant side stone style which has been a favourite among our followers on instagram and social media.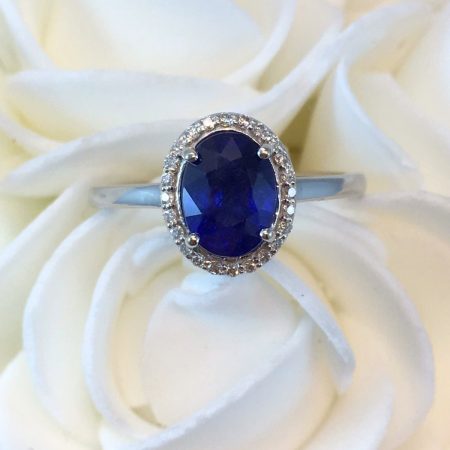 2. Royal blue sapphire engagement ring
Perhaps one of our most regal and royal styles, this delicate halo ring is quite similar to the now famous blue sapphire engagement ring worn by Kate Middleton and features a brilliant diamond halo around the centre stone.
If you love celebrity style inspiration be sure to check out our articles on celebrity engagement rings as well as our article on 4 custom rings like Hillary Duff's engagement ring.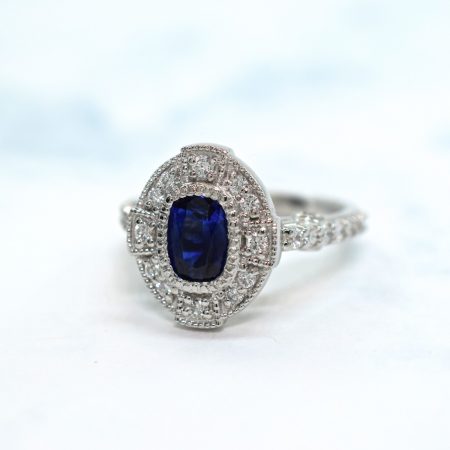 3. Vintage inspired blue sapphire engagement ring
It seems that with every list we create, vintage engagement rings always manage to make it into a top spot! This ring was created to reflect the detailed styling often seen in antique jewellery, especially those pieces created during the Art Deco period, known for it's detailed geometric shapes and patterns. Although the above ring features a deep blue ceylon sapphire, this style would also look perfect with a ruby or even a brilliant cushion cut or oval diamond.
4. Vintage sapphire ring with detailed engraving
In keeping with our discussion of vintage style, this ring features perhaps some of the most detailed engraving we have done on its band. This sort of detail was created through the use of CAD or computer aided design, however this style can often be seen in artwork and architecture through the early 1900's.
As you can see, this design also features two brilliant round diamonds on either side of the centre sapphire, creating a band of sparkle when viewed from the side and above.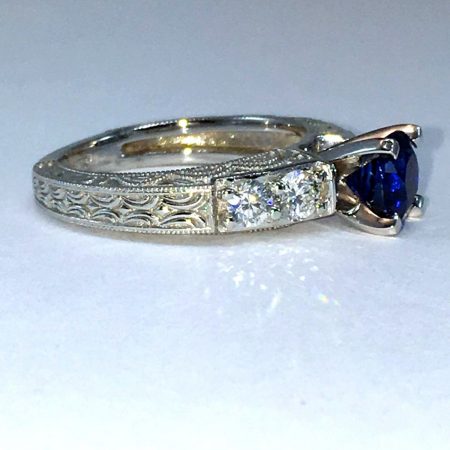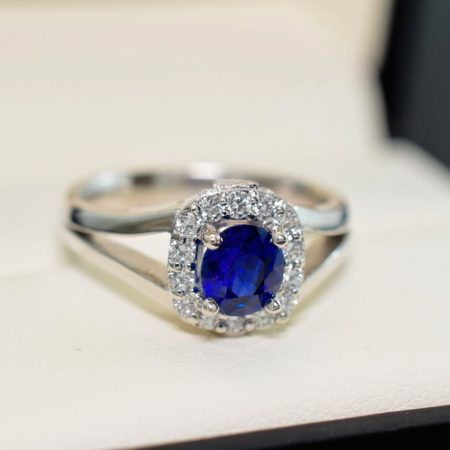 5. Split band halo engagement ring
Last but not least on our list of our top 5 blue sapphire engagement rings, is this wonderful design features a brilliant diamond halo and modern split band. Although not show in this picture, this ring also features a special family crest which has been engraved on the bridge of the ring. As mentioned in previous articles, the bridge is often a great place to keep in mind for a variety of hidden gems and details when it comes to designing your perfect ring.
Thanks very much for checking out this article, we hope you have found some style inspiration from these designs. To check out more Omori custom jewellery designs be sure to follow us on facebook, twitter or instagram!