Side stone engagement rings are one of the most popular styles of engagement rings in Winnipeg currently. Known for their endless sparkle along the band, side stone rings feature a row of diamonds on either side of the centre stone. When it comes to style options, the possibilities are literally endless as this style of engagement ring can look wonderful with a large range of diamond shapes as well as halos or even vintage style engraving. Today we will be showing you a few new styles of side stone engagement rings which are available through our catalogue. These designs can be crafted as shown or used as inspiration for a totally unique custom engagement ring design!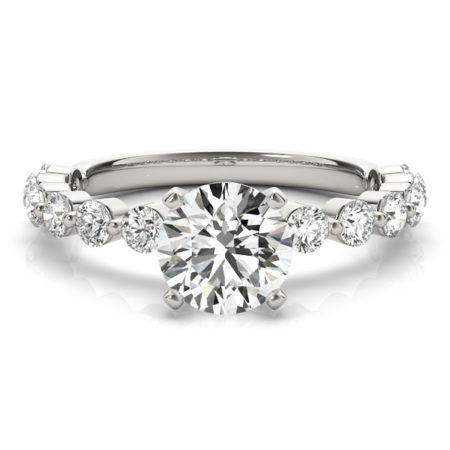 Vintage Side Stone Engagement Ring
The above side stone engagement ring has been crafted in a style reminiscent of a number of the antique and vintage engagement rings that we have created. As modern micro setting techniques were not available in centuries past, vintage styling is often characterized by larger stones set in halos and along the band. The most famous designs showing this technique would have to the floral halo engagement rings often worn by members of the royal family such as Kate Middleton as well as the stunning Ruby Engagement ring worn by Lady Gaga.
Below is a yellow gold vintage engagement ring that we created a while back which has been crafted in a similar style as the ring shown above. This ring has been a favourite among our followers on instagram.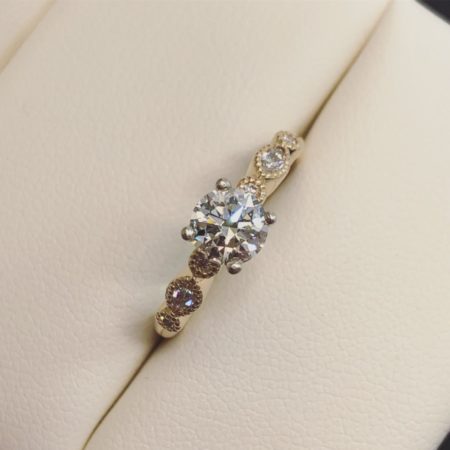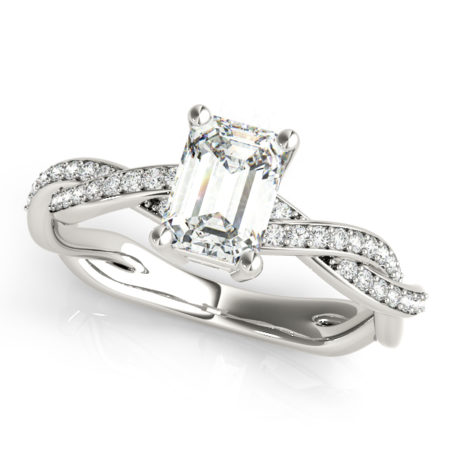 Emerald Cut Side Stone Engagement Ring
This design features a winding infinity band lined with a double row of diamonds on either side of the centre stone. Emerald cut engagement rings are very popular due to the unique optical effect produced when an emerald cut diamond has been cut by an expert diamond cutter. To learn more about this unique and striking diamond cut please visit the GIA website as they have great learning resources on diamonds.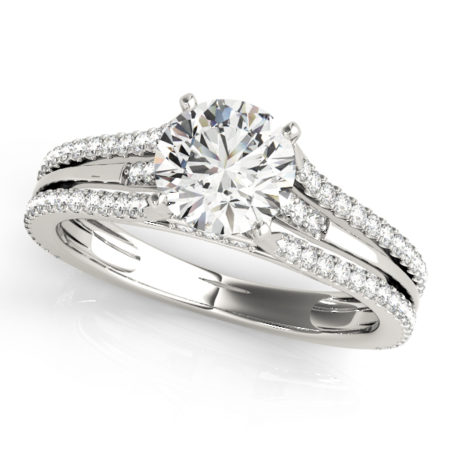 Triple Band Side Stone Engagement Ring
When two bands of sparkle isn't enough, the above design may be exactly what you are looking for. This design features a unique split band effect which creates the impression of three bands lined with brilliant diamonds. With its wide band and large centre stone, this engagement ring design is for those who favour a more substantial look to their ring over something more delicate.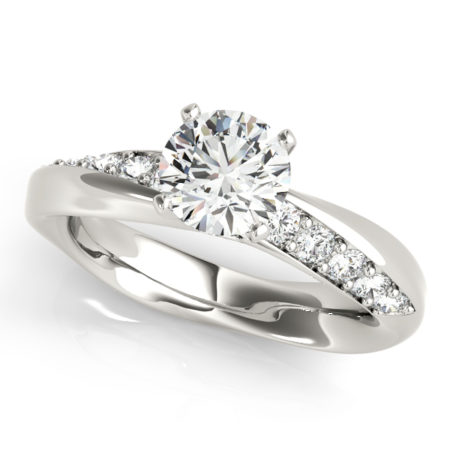 Asymmetrical Side Stone Diamond Ring
One of the trending styles over the past couple years with regards to engagement rings has been the asymmetrical design. The most well known being Emily Ratajkowski's engagement ring which features both an emerald cut and pear shaped diamond on the band creating an asymmetrical yet interesting look. In the case of the design shown above, this ring features a design similar to many simple solitaire engagement rings with the added twist of a diagonal line of diamonds running across the band. This helps to create an edgy and eye catching sparkle pattern to this diamond ring.
Building A Ring To Last
One thing to consider when choosing your perfect engagement ring is to make sure that the claws are built to last. Many rings featured in retail stores have been made over seas where the quality may not be sufficient, resulting in diamonds popping out. This is why we always make sure to build up our claws and craft rings which are of an extremely high quality so that you will be able to wear them proudly for years to come.
Depending on your lifestyle, we may also make some suggestions as to what designs may be best suited to you. For example, if you tend to work a job which requires lifting heavy objects or work manual labour, a delicate design may not be the best choice as the ring may become weakened over time as it bends when you are lifting. In this case we may suggest a more substantial design with a thicker band or even a solitaire ring.
Thanks very much for checking our this article on the endless options of side stone engagement rings. Please follow us on follow us on facebook, twitter or instagram to keep up with all of our latest designs!