In today's article we will be showing you 4 wonderful custom rings similar to Hillary Duff's engagement ring. With this year being a big year for fancy cut diamond engagement rings in Winnipeg and around the world, we though we would give you a run down as to how you can make use of some hollywood inspiration in your own unique design. 
With the recent announcement of the engagement between Hillary Duff and Matthew Koma, fans everywhere have been sharing pictures of the new couple and their engagement ring. Like many of the celebrity engagement rings we have seen this year, this ring features a fancy cut diamond, which in this case appears to be a cushion cut. With the stunning emerald cut diamond in Jennifer Lopez's engagement ring as well as the wonderful ring worn by Katherine Schwarzenegger, it seems like 2019 will be the year for unique and fancy diamond cuts when it comes to most engagement rings.
Hillary Duff's engagement ring appears to feature a 3 carat cushion cut diamond with a split band, set in rose gold and is believed to be worth roughly $45,000 and $50,000 according to this article. The cushion cut, being one of our personal favourite shapes is the perfect diamond for those who love the look of the square cut with the rounded corners and brilliance of the traditional round brilliant diamond, To learn more about this fantastic and versatile diamond cut be sure to check out our article on cushion cut diamonds.
Now, without any further delay, here are 4 spectacular custom rings we have created for our clients which are similar to Hillary Duff's engagement ring in terms of both diamond shape and band styles.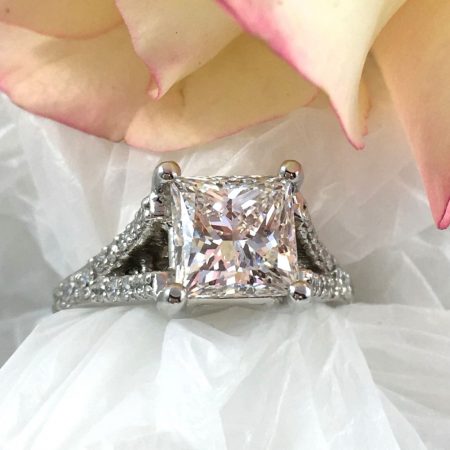 Split band princess cut engagement ring
This wonderful platinum princess cut engagement ring features the striking split shank band which is also seen in hillary Duff's engagement ring. Where Hillary's ring is a plain solitaire this ring features many expertly cut smaller diamonds down both sides of the band, creating a continuous band of sparkle.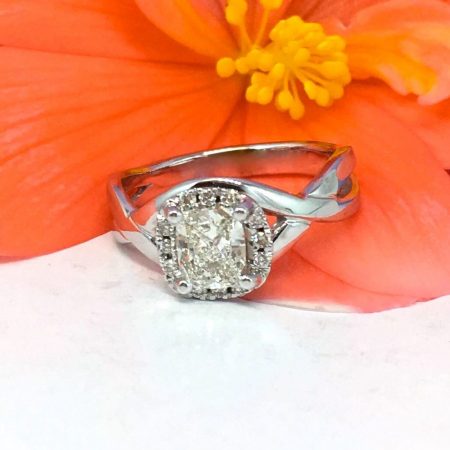 Cushion cut infinity band engagement ring
This engagement ring features a cushion cut diamond halo and a wonderful infinity band. As mentioned previously, the infinity band is very popular right now and looks absolutely fantastic, both on its own or layered with smaller diamonds.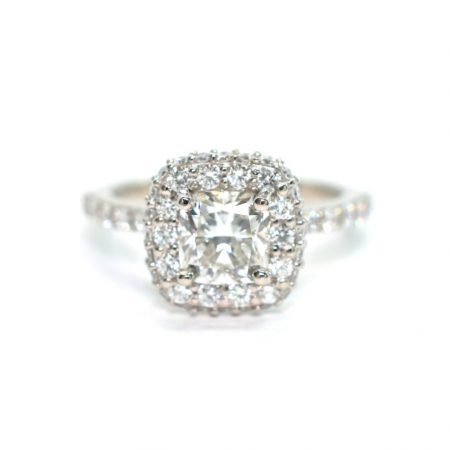 Cushion diamond halo ring 
This design has been one of our most popular engagement rings on instagram this year and features not only a brilliant halo but also a striking surprise detail of diamonds on the bride and basket. Be sure to have a look at our design videos page or view the video here so you can see this special ring from all angles.
Sapphire halo engagement ring with split band
Although this ring does not feature a diamond of the centre stone, we feel that it is a perfect style for those who love the look of the simple and elegant split band. This ring features a beautiful ceylon sapphire as the centre stone surrounded by a wonderful halo and is set in a a band which is almost identical to that on Hillary duff's engagement ring. Be sure to check out our blog post on this ring as it mentions some other special features of this design including a family crest which is engraved on the bridge.
Thanks very much for reading this article on 4 custom rings like Hillary Duff's engagement ring. We hope you have enjoyed checking out this article and gotten some style inspiration from the all of the amazing things that are possible with our unique custom jewelry design. If you would like to work with us to have an original piece designed and created please contact us by emailing info@omori.ca or call 204-951-7040 to book your design consultation. In the mean time please follow us on facebook, twitter or instagram!