At Omori Diamonds inc. we create exceptional diamond, sapphire and ruby engagement rings in Winnipeg. Using a unique and personalized design process, we walk our clients through choosing the perfect stone and creating their dream ring. Read on to learn about the timeless beauty of ruby engagement rings.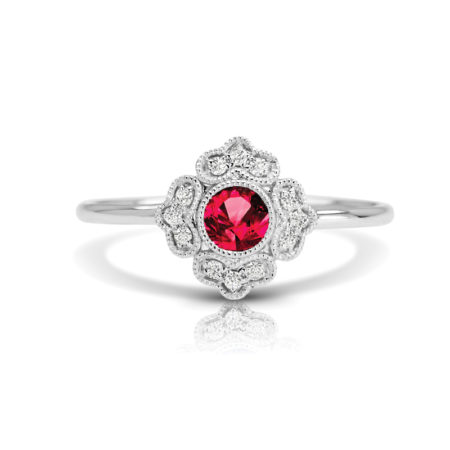 Rubies have been sought after for many years as one of the most popular and romantic precious gemstones. It is no wonder that ruby engagement rings have been a favourite among jewellery lovers and designers. As a matter of fact, rubies have been featured in some of our favourite celebrity engagement rings, including the famous diamond halo ruby engagement ring worn by Eva Longoria as well as Jessica Simpsons engagement ring. Did you know that aside from their beauty and mystique, rubies are also one of the most durable precious gemstones?
An everlasting gem…
Rubies, like sapphires are a variety of the mineral known as corundum and are considered one of the cardinal gems along side of emerald, sapphire, amethyst, and diamond. One of the excellent features of both sapphires and rubies is their exceptional hardness, as both score a 9 on the Mohs scale of hardness. To put this in perspective, diamonds score a solid 10. This means that both rubies and sapphires will wear incredibly well over time and are therefore a perfect choice for any piece of jewellery that you plan to wear for life such as an engagement ring or wedding ring. When it comes to gemstone engagement rings, both ruby rings and sapphire engagement rings are definitely the most popular.
Did you know that for the 50th anniversary of the movie "Wizard Of Oz", famous jeweller Harry Winston created the now famous Harry Winston ruby slippers which feature over 1350 carats of rubies, valued at over 3 million dollars?
Learn more about the history and properties of rubies at this article by the Gemological Institute Of America. 
Perfect for antique and vintage engagement ring styles…
As a favourite gemstone during medieval times, rubies make for the perfect feature to any antique or vintage engagement ring. It seems that theres just something about the timeless allure of this ancient gem that has stood the test of time over centuries and shows no signs of slowing down.
The above ruby engagement ring features a brilliant oval shape centre stone surrounded by a halo with the classic ornate antique styling. This design is the perfect choice for those who love vintage styling and want a ring that stands out from the crowd.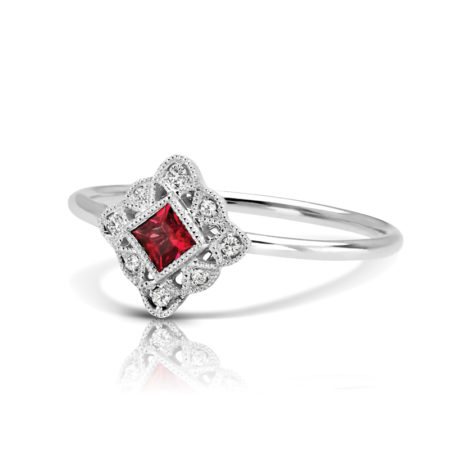 For those who favour square and princess cut shapes, this ruby engagement ring design features a princess cut ruby which has been set diagonally in a square halo. Unlike many modern micro set halo engagement rings, this design features somewhat larger round diamonds which have been spaced generously in order to show off the antique piercing along the halo. This style of halo was originally seen during the mid 1800's when halo designs began to take on a more floral pattern.
Endless custom options…
As a primer designer of custom jewellery and engagement rings in Winnipeg, we offer a streamlined custom design process to all of our clients who are looking to create something truly unique. When it comes to custom, the options are literally endless!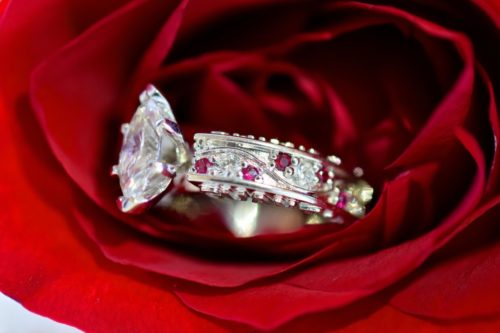 This unique custom ruby and diamond ring features a marquise diamond as the centre stone and then smaller rubies placed along the ornate band in a vine like pattern.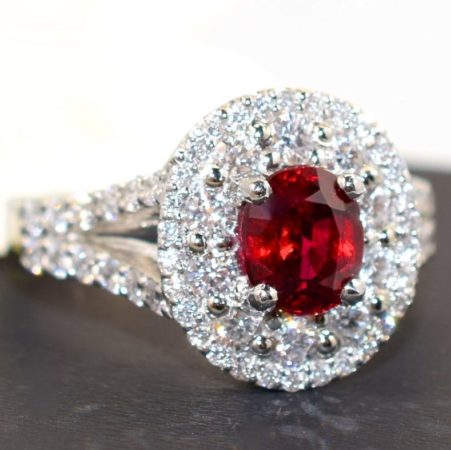 As rubies are often a top choice for anniversary rings, the above ruby and platinum custom ring was created for a client of ours as an anniversary present for his wife. This design also features many exceptional VVS diamonds on the halo and down the sides of the band.
Are you ready to create the perfect ruby engagement ring in Winnipeg?
Contact us now to book your free design appointment with an expert and begin the creation of your dream ring!
Thank you again for reading this blog on ruby engagement rings. Don't forget to connect with us on facebook, twitter or instagram