Cushion cut diamonds are one of our favourite diamond shapes due to their beautiful rounded square look and versatility. As a matter of fact, just in the past few months we have had the pleasure of creating a number of engagement rings and custom jewellery pieces which feature cushion cut diamonds.  Dating back many years, the cushion shape is one of the oldest diamond cuts and has stood the test of time. Read on to learn more about this classic diamond cut…
Cushion cut diamonds have been around for almost 200 years. In fact, the modern cushion cut shape is actually a variation of what was referred to as an "old mine cut". Some of the most well known diamonds are indeed cushion cut diamonds, including the diamonds in the Napolean diamond necklace and the alluring hope diamond. Over the years, the cushion cut has undergone modifications, in terms of its proportions and angles mostly as a result of the research of of Marcel Tolkowsky in order to create more brilliance. This allowed the cushion cut to rival the brilliant round cut in terms of its fire and sparkle and therefore retained the popularity of the cushion cut diamond over the ages.
With the cushion cut providing a unique and exciting alternative to the round cut. it has seen an enormous increase in popularity with numerous celebrities wearing spectacular engagement rings featuring cushion cut diamonds.
If you are interested in checking out celebrity engagement rings which feature cushion cut diamonds, be sure to check out Glamou's article on Sofia Vergara's engagement ring. Enews also has a feature showing off the large cushion cut diamond in Bar Rafaeli's engagement ring as well. Also for those of you who find the Kardashians appealing, head over to this article on Huffington Post, which details Kim Kardashian's engagement ring, which featured a large 15 carat cushion cut diamond.
A versatile diamond shape…
As you can see in the above images, cushion cut diamonds go great in modern and sleek designs where they can "steal the show" as the large centre stone. However, cushion cut diamonds can also go great in a variety of halo engagement ring designs.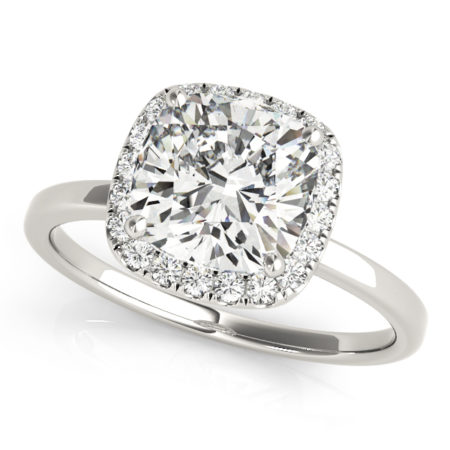 The above design features a cushion cut diamond, surrounded by a halo of round diamonds with a sleek white gold band. The halo allows the centre diamond to appear even larger giving the wearer "more sparkle for their buck" so to speak.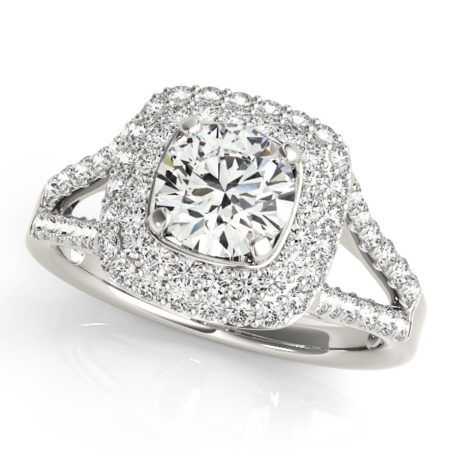 Just in case one ring of diamonds on the halo isn't enough, the above engagement ring design boasts not only a double halo but also a split band, lined with side diamonds, creating an entire ring of sparkle around the finger.
As you can see, the cushion cut, although once considered a vintage or antique style of diamond shape, has retained its appeal and is an excellent choice for anyone looking to create an engagement ring or upgrade their current diamond.
Learn more about the cushion cut diamonds at the official website of the Gemological Institute Of America.