Omori Diamonds inc. specializes in designing and crafting exceptional custom jewellery and diamond engagement rings in Winnipeg, Manitoba. We are experts in creating all styles of custom rings from modern halos to antique and vintage inspired engagement rings. In todays article we will be exploring the timeless appeal of art deco engagement rings, read on to learn more!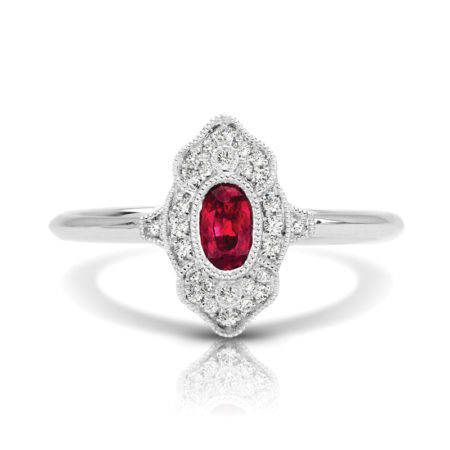 Known for their angular lines, geometric patterns and vivid colour contrasts, art deco engagement rings are one of the most unique kinds of jewellery available. Although the art deco movement lasted from the 1920s through until the 1930's, it's influence in in both architecture and jewellery can be seen right up until present day.
Art Deco, as an art movement began in the 20's in France when a famous art exhibition was held in Paris, celebrating artwork which drew inspiration from the modern technological advancements at the time such as the boom in the railway system, large skyscrapers and the vast increase in infrastructure. This led designers to make use of repetitive patters, sleek angles and unique geometric shapes. For some examples of the use of art deco styling in buildings, be sure to check out images of the Chrysler Building in New York as well as the Los Angeles Library. 
The above image shows a ruby set in a traditional art deco setting. Check out our article on Ruby Engagement Rings to learn more about this elegant precious gemstone. 
Another hollywood favourite…
With the ornate patterns and detailed extravagant shapes, it should come as no surprise that many celebrity engagement rings feature elements of art deco styling. The most famous being Scarlett Johannson's engagement ring which features the classic antique patterns seen in art deco engagement rings, as well as what appears to be rose-cut diamonds.
Some of our favourite art deco engagement rings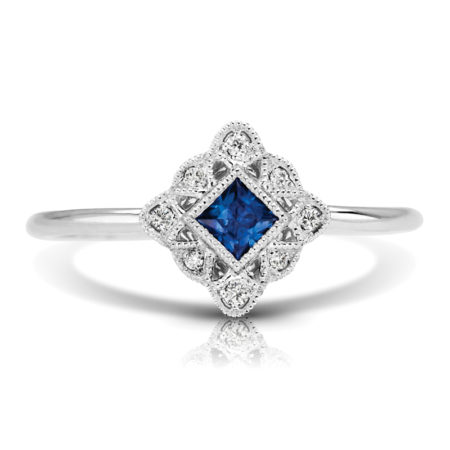 With sapphire engagement rings being a major favourite among many couples today, we figured we would start by showing you this beautiful ring from our catalog which features a square or princess cut centre stone, surrounded by a floral style halo with a number of smaller diamonds. What makes this ring unique is the fact that the setting is set with the points in a north to south, east to west fashion instead of with the strait sides horizontally. The detailed engraving on the halo is also reminiscent of traditional vintage styling.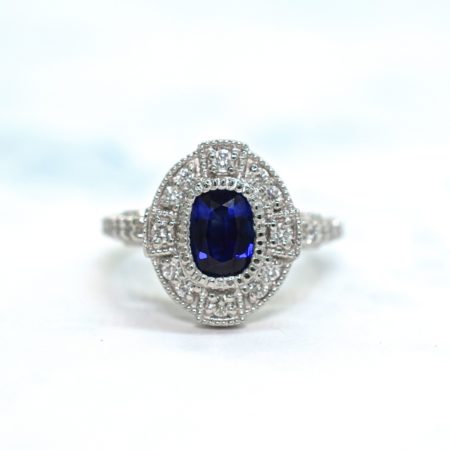 Here is a ring that was made for a client recently which features an absolutely magnificent blue ceylon sapphire in the centre surrounded by an art deco style halo and side stone band. The combination of the deep blue colour and the sparkle from the setting creates beautiful contrast which is often a key feature of art deco styling.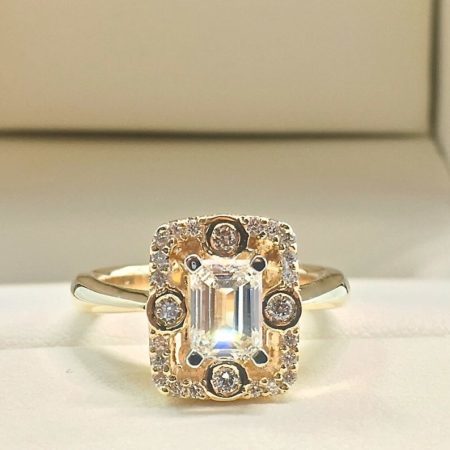 This ring features a VVS emerald cut diamond surrounded by a classic vintage style setting with smaller round diamonds. Like many vintage engagement rings, this ring became a quick favourite on instagram and social media.
More from our catalogue…
Here are a few more top styles from our catalogue of fine engagement rings. Keep in mind that as experts in custom jewellery design we can customize all of our styles to your tastes and preferences as well as create a totally one of a kind design. This can include setting a variety of precious gemstones such as sapphires, emeralds or rubies as well.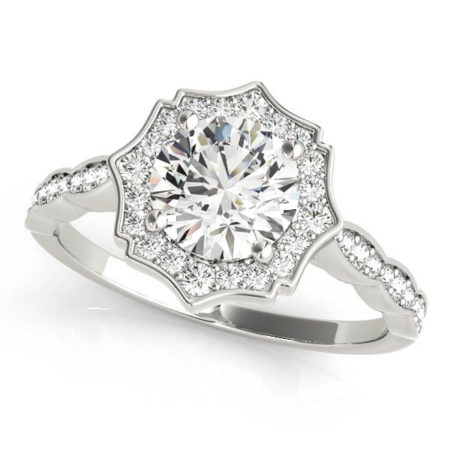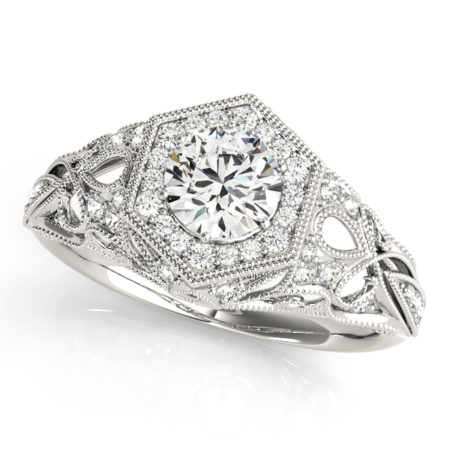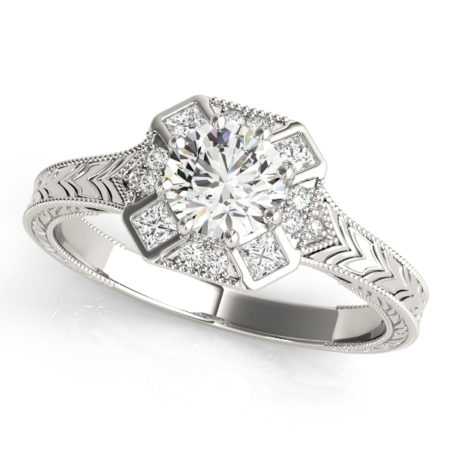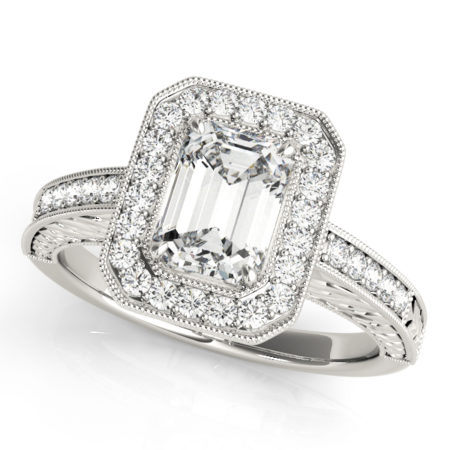 Thanks for reading this article on exploring art deco engagement rings. Please keep in touch by following us on  facebook, twitter or instagram!
To learn more about art deco jewellery please check out this article on the Gemological Institute Of America (GIA) website.