At Omori Diamonds inc. we create exceptional fine engagement rings and custom rings in Winnipeg, Manitoba. In this blog we will be showing you 5 unique custom rings which feature hidden gems and details. Although you may not notice these at first glance, they are a great way for one to personalize their custom ring and to add in a romantic secret gesture for their loved one. Read on to learn more!
Hearts on the bridge…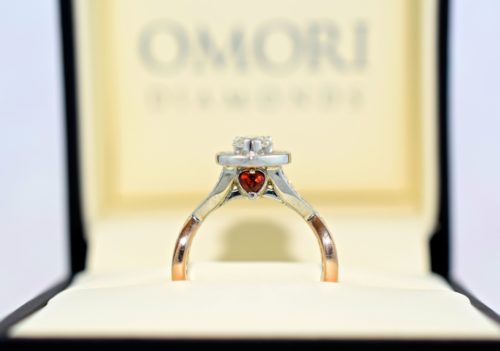 When it comes to hidden details, one of the most beautiful and romantic designs we have created is this pear diamond engagement ring which features a heart shaped garnet on the bridge of the ring. Like many of our custom rings, this ring was created using CAD (computer aided design) which allows us to create the most delicate details. In this case we were able to set the heart shaped gem right into the bridge of the ring and create two triangles on either side where the band meets the halo, in order to create an elegant swooping effect.
To learn more about this custom ring check out our article : Winnipeg engagement ring journal #13: pear shaped diamond engagement ring w/ rose gold. 
Inlaid rubies and vintage piercing
This custom engagement ring features a beautiful cushion cut diamond in the centre, set in a very unique rose gold band. The band not only features vintage style piercing but also a number of wonderful rubies set in the band. This is a perfect combination for those who love the uniqueness of ruby engagement rings but also want the eye catching sparkle of cushion cut diamonds.
For those of you who enjoy taking style inspiration from hollywood celebrities, be sure to check out Brides.com's article on Eva Longoria's engagement ring, which features a beautiful ruby in the centre.
A basket of diamonds…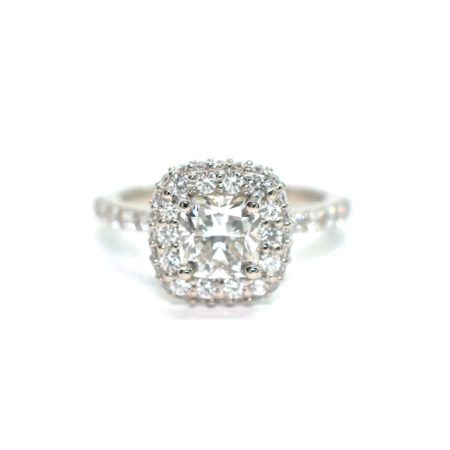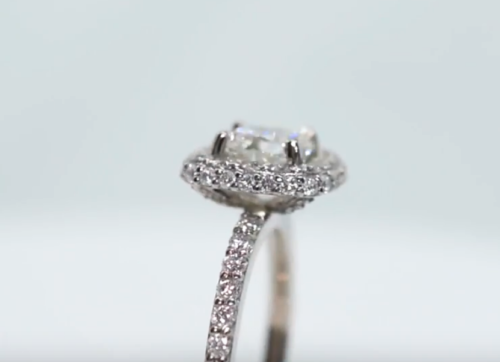 This custom cushion cut engagement ring features not only one of the brightest diamond halos imaginable, but also another special detail which you might miss looking at the ring head on. The basket which connects the halo to the band is also lined with brilliant round diamonds, creating a never ending ring of sparkles around the centre stone.
To get a better look at this custom ring design, check out the video HERE.
Heart shaped diamonds…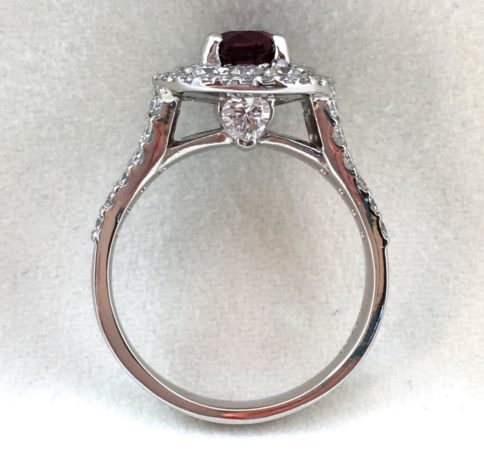 This ruby and platinum ring features a special hidden detail similar to that of the pear diamond engagement ring discussed earlier. A heart shaped diamond is inlaid on either side of the bridge creating a romantic reminder for the lucky one wearing this special custom ring.
Vintage and antique inspired details…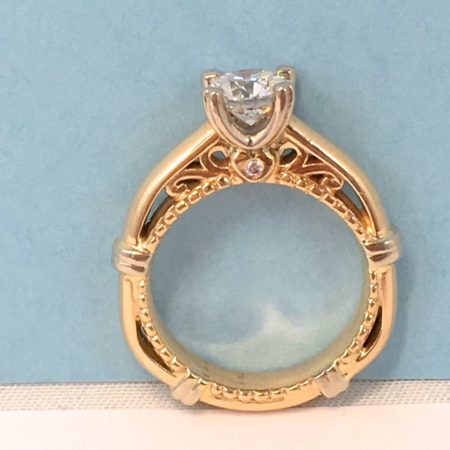 Much has been talked about with regards to the recent popularity of vintage engagement rings in Winnipeg. As Winnipeg's premier designer and creator or fine custom jewellery, we have received many requests from couples looking to create an antique or vintage style engagement ring. In the case of this vintage engagement ring with engraving one of the most striking details is the exceptional craftsmanship on the band which can be seen from the side. The symmetry and shaping can be attributed to the expert skill of our excellent goldsmith who is a true master at his craft. This design also features an incredibly bright VVS centre diamond which results in the ring being the perfect combination of brilliance and timeless elegance.
Thank you for reading this article on 5 custom rings featuring hidden gems and details, Don't forget to connect on social media and like, share and subscribe on  facebook, twitter or instagram