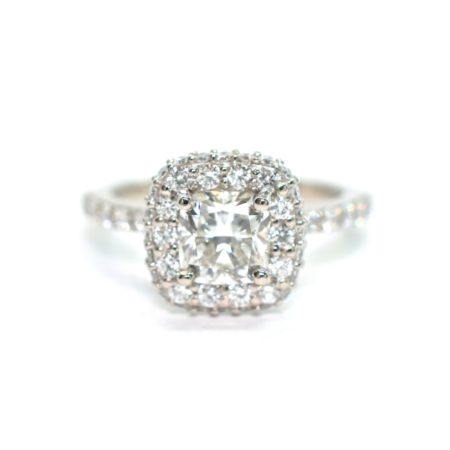 Want a closer look at our latest cushion cut engagement ring? Check out the video HERE
In todays blog we are showing you a custom cushion cut engagement ring that we created for a special couple. This engagement ring features a beautiful diamond halo which wraps around the exceptionally cut centre stone, a modern brilliant cushion cut diamond. This ring also shows off a delicate side stone band, which is currently one of the most popular style features seen on engagement rings in 2018.  As a matter of fact, the delicate side stone band and halo combination is something we have been seeing in a number of celebrity engagement rings this summer. Read on to learn about the design process that went into creating this special custom diamond ring.
Creating the design…
After discussing design ideas with our clients, we began by creating some CAD (computer aided design) images for them to view. This is an important stage in the jewellery design process especially with regards to creating a custom engagement ring as it allows our clients to see how the ring will look from a number of angles.
As you can see from the above pictures, the CAD images give a very accurate look at how the design will appear when it is finished.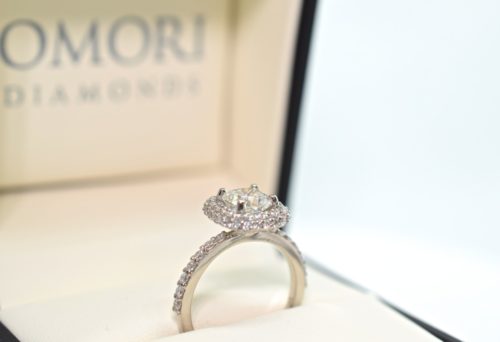 Another unique feature of this cushion cut engagement ring, is the bridge or basket that holds the diamond halo up, which is lined with brilliant diamonds as well. This creates a shower of sparkles when the ring is viewed from the side as well as the top. To get a better look at this feature be sure to view click on the link at the top of the page to see the video.
A bit on cushion cut diamonds…
As mentioned in previous blogs, cushion cut diamonds are one of our favourite diamond shapes. It is one of the oldest diamond shapes and has been around for almost two centuries! Although this diamond cut began as what was once called the "old mine cut", the cushion cut diamond has evolved in terms of its proportions in order to create the effect of more brilliance and sparkle.
The cushion cut is a slightly square shape however, while some cushion cut diamonds can have a more elongated and rectangular look, others can appear more square appearance. There can also be a great variety in how the diamonds facets are arranged, leading to a diversity of sparkle patterns and appearance. This diamond shape is a great choice for people who love the square look of princess cut diamonds but who would rather the softer look of more rounded corners.
The stone of choice for many celebrity engagement rings
Due to its unique appearance and timeless appeal, the cushion cut engagement ring is a favourite amongst many actors and hollywood celebrities. Miley Cyrus's engagement ring which she received last year from Liam Hemsworth, features a large 3.5 ct cushion cut diamond set in a spectacularly engraved design. Molly Sim's engagement ring also features a cushion cut diamond set in a delicate halo setting, similar to the one featured in this blog. Of coarse we can not forget to mention the original Kim Kardashian engagement ring which features a 15 ct centre stone!
Completing the design…
After our clients approved the CAD images and we helped them to select their beautiful centre stone, our team then got to work casting the engagement ring in precious metal. At this point our master goldsmith then polished the design and set the centre diamond as well as the smaller diamonds on the band and bridge and the design was finalized. We then contacted our client to come and pick up his very own custom engagement ring. We are very proud to announce that he presented the ring to her during a very special proposal on a beautiful lake during a fishing trip. We are also very happy to know that they love their design and we know they will cherish it for many years to come!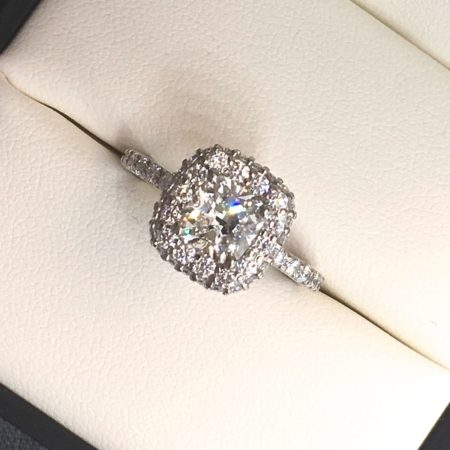 ARE YOU READY TO CREATE YOUR VERY OWN CUSTOM DIAMOND RING?
Book a free ring design consultation with Omori Diamonds inc. now!