At Omori Diamonds inc. we create fine antique and vintage engagement rings in Winnipeg, Manitoba. As one of the most popular current styles, vintage engagement rings are a top choice among couples looking to create the perfect one-of-a-kind custom ring design.  Submit an inquiry to book a free appointment or call us at (204) 951-7040 to talk to an expert. Let's create a masterpiece together!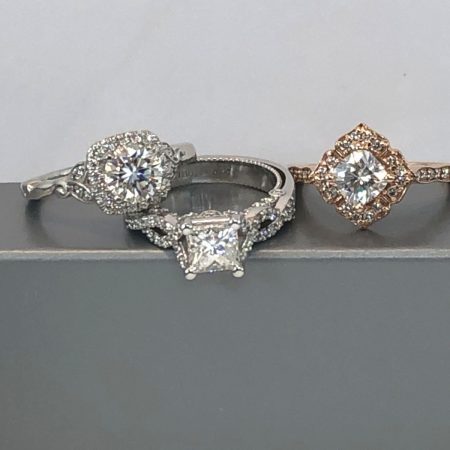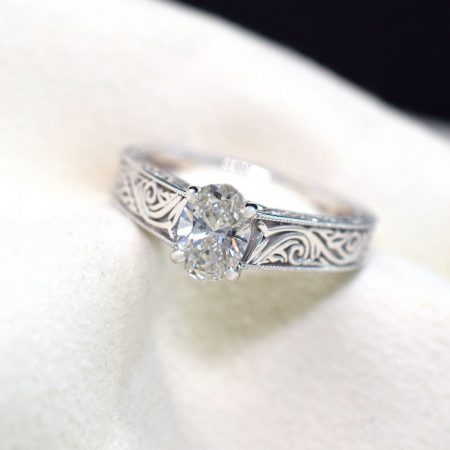 Antique and vintage engagement rings are a favourite among many of our clients as well as our custom jewellery design team. Known for their detailed engraving and piercing, these designs feature ornate styling along the band and can look beautiful with both diamonds and sapphires as centre stones. In pop culture, Scarlett Johansson's vintage engagement ring drew much attention with it's rectangular art deco, three stone setting. Read on to learn more about the different varieties of vintage engagement rings which can be created by our Winnipeg jewellery design team. Details on the bridge…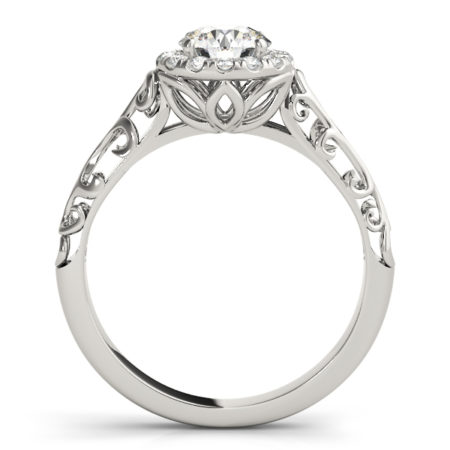 One of the most striking aspects of antique and vintage engagement rings is the detailed engraving which can often be seen best when viewing the ring from the side. The above engagement ring features ornate piercing which makes use of negative space to create a very royal and striking effect. While many of our solitaire engagement rings may be created by carving the shape out of wax, in the case of vintage styling, we often rely on CAD or computer aided design to get all of the details perfect.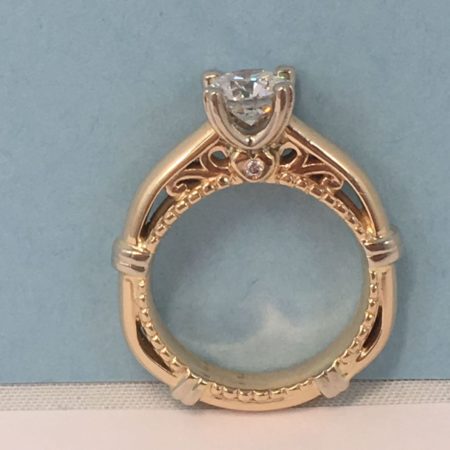 The above picture shows a custom engagement ring that we created which features a beautiful VVS centre diamond. This ring also features the classic vintage styling along the bridge and sides of the band. Custom vintage wedding rings to match… One of the most enjoyable aspects of our job as jewellery designers, is creating custom wedding rings to match. This allows us to use the most exciting aspects of the engagement ring and create something that truly adds to the overall style. In the case of both the women's and mens wedding bands shown below, we made use of an elegant florentine finish in order to complement the antique styling of the vintage engagement ring.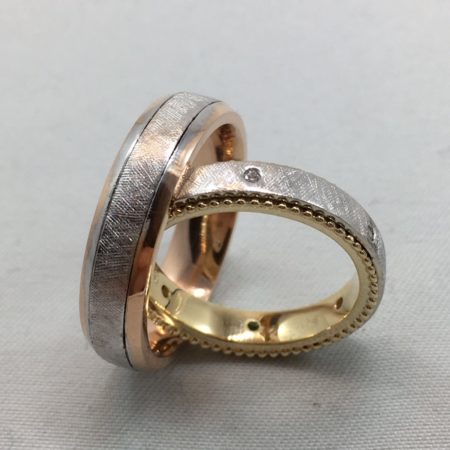 Here is another example of a matching yellow gold vintage engagement ring and wedding ring combination that we created. This design features both round and marquise diamonds which further accentuate the uniqueness and shape of the bands. When it comes to fancy diamond shapes, just about any shape can be a perfect complement to a vintage engagement ring design, however it seems that marquise cut diamonds can look exceptionally beautiful as is the case with a marquise diamond halo engagement ring that we created a while back.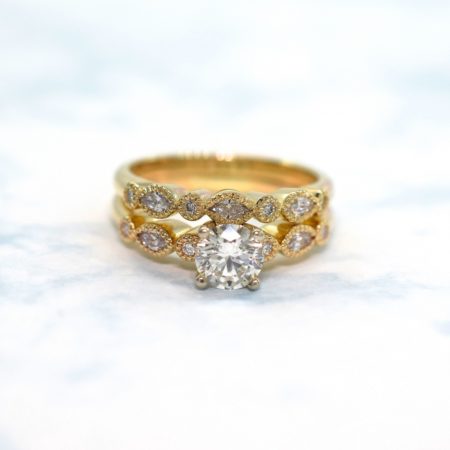 Adding a halo… As you may have noticed, vintage engagement rings can often come in the form of solitaires or subtle side stone designs. However, many halo engagement rings can also incorporate various aspects of vintage styling.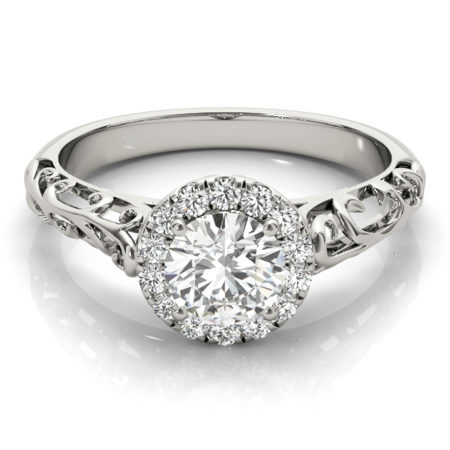 The above design features a magnificent diamond halo set in an antique styled band with the characteristic detailed piercing discussed earlier.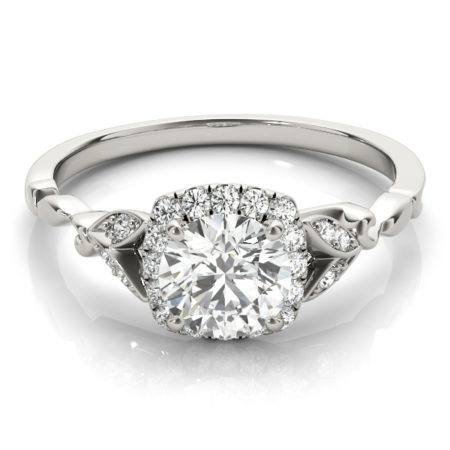 This design features a square shaped halo with marquise cut diamonds along the sides creating a leaf like appearance. If you like nature inspired designs be sure to check out our custom leaf engagement ring and wedding ring as well as our tree inspired custom engagement ring.  Are you ready to begin creating your vintage engagement ring in Winnipeg, Manitoba? Contact us to book your free design consultation.  Simply send us any pictures or ideas that you have and then visit us for your appointment were we will help you to select the perfect stone and walk you through the process of creating your dream ring.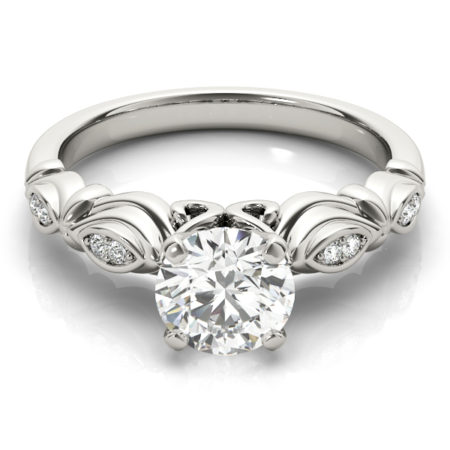 Thanks once again for reading this blog on vintage engagement rings in Winnipeg, Manitoba. Don't forget to connect with us on facebook, twitter or instagram