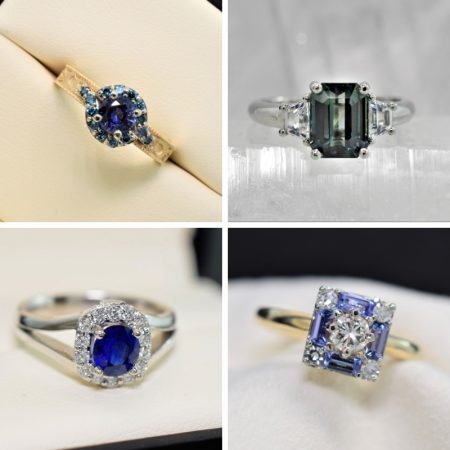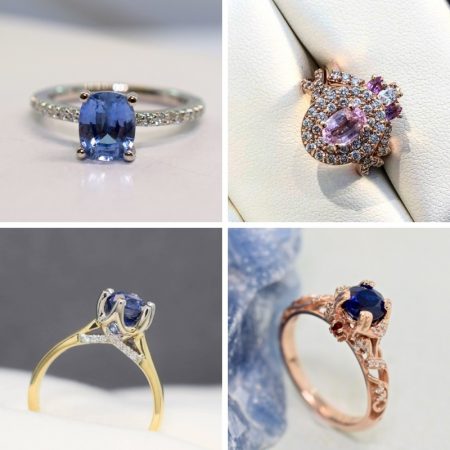 Submit an inquiry to book a free appointment or call us at (204) 951-7040 to talk to an expert. Let's create a masterpiece together!
Here at Omori Diamonds inc., we specialize in creating exceptional diamond and sapphire engagement rings in Winnipeg. One of our special features, is our ability to source very high quality ceylon sapphires of all shapes, sizes and colours.
During our custom jewellery design process, clients will usually begin by sitting down with us and discussing their perfect stone for their engagement ring. During this process we will help educated them about all the different aspects of diamond and gemstone quality. Once a stone is selected, we will then begin designing their custom engagement ring for that specific stone.
Today we would like to talk about Sapphire engagement rings, as ceylon sapphires are the top choice of stone for clients who want a non-diamond, unique engagement ring.
Let's talk about Sapphires…
Sapphires are a form of precious gemstone known as a corundum, which belong to the same mineral family as the ruby. These gemstones are known for their exceptional hardness, which ranks at a solid 9 on the mohs scale of hardness (diamonds being at 10 and moissanite at 9.5). Due to their hardness and durability, sapphires are an excellent choice for any jewellery designs which the wearer plans to have for a very long time.
It should also be mentioned that although many sapphires are blue in colour, there are also a number of natural 'fancy' colours which can include yellow, orange, green, purple and pink as well.
It is no surprise, that many of the royal families throughout Europe and Britain, tend to favour sapphire engagament rings. One of the most famous of these is Kate Middleton and Princess Diana's engagement ring.
Check out more unique celebrity engagement rings. 
Some of our Sapphire Engagement Ring Designs…
Over the past while, Omori Diamonds inc. has had the pleasure of creating a number of beautiful sapphire engagement rings for our clients. Here are a few examples of some of the rings we have worked on:
This custom engagement ring features an extremely brilliant pink sapphire which has been cut to absolute perfection.
One of our most royal and regal looking designs, this ring features five beautiful blue sapphires, each surrounded by a diamond halo.
This ring features a pear shaped sapphire as well as a tapered edge of bezel set diamonds, creating a unique and asymmetrical design. 
This ring features a yellow sapphire surrounded by a double halo of brilliant diamonds, creating a dazzling effect. 
This special design also has a butterfly shape etched into the bridge. Click here to learn more. 
The classic royal sapphire engagement ring design. 
This vintage style ring features the classic detailed engraving on the band. 
FREE GEMSTONE AND CUSTOM RING CONSULTATION IN WINNIPEG
Are you ready to design a custom sapphire ring from scratch? Book a free custom ring design consultation with Omori Diamonds inc. now!