We specialize in the finest custom jewellery, including vintage ruby engagement rings. In today's blog we will be showing you some exceptional vintage ruby engagement ring designs available through our catalogue. Read on to learn more…
Rubies, a timeless gem
Rubies, like sapphires are prized not only for their exceptional beauty and colour, but also their durability. As one of the hardest gems next to diamonds, rubies will wear very well over time so they are a perfect choice for any piece of custom jewellery that you plan on wearing for many years to come, such as an engagement ring.
Ruby engagement rings have been on the rise in popularity for many years, due a number of hollywood celebrities sporting rubies as the centre stone in their rings such as the ruby engagement ring worn by Eva Longoria as of coarse Jessica Simpsons engagement ring.
Due to their everlasting quality, this also makes rubies a great complement to one of our most popular styles of jewellery, the antique or vintage inspired engagement ring. So without further delay, lets take a look at some of the wonderful style options available.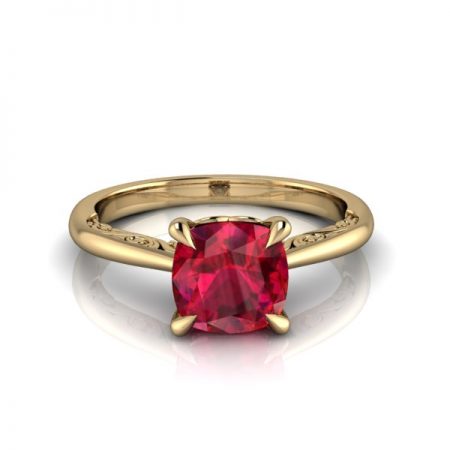 This solitaire engagement ring features a large ruby as the centre stone as well as the classic antique style piercing on the bridge. Detailed engraving and piercing is often a top characteristic seen in antique and vintage engagement rings such as a lovely purple sapphire engagement ring that we created just a while back.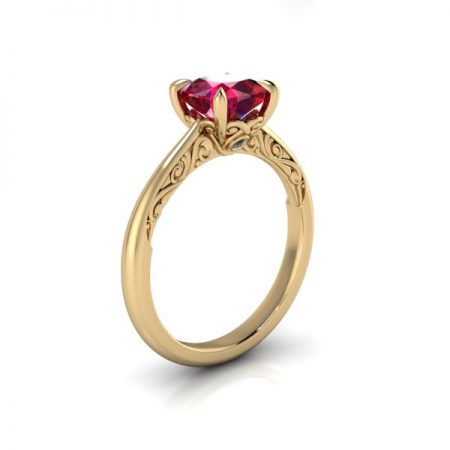 This ring also features a black diamond as a hidden feature right on the bridge of the ring, which is a great place for secret details such as gemstones or family crests.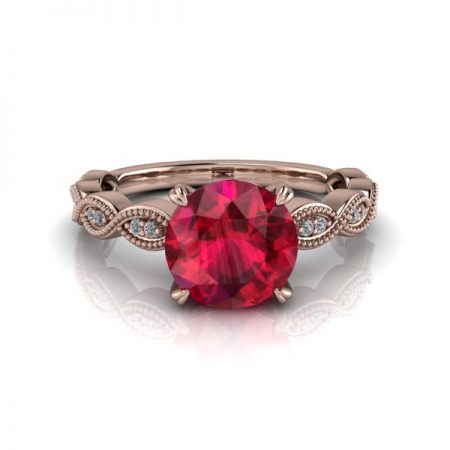 This ring combines the winning style aspects of both rose gold and antique inspired mill grain on the band, creating a unique engagement ring which would look wonderful next to a matching wedding band of a similar style. Be sure to check out our wedding rings page to see examples of how we can easily craft the perfect wedding band to match the style of even the most complex engagement ring designs.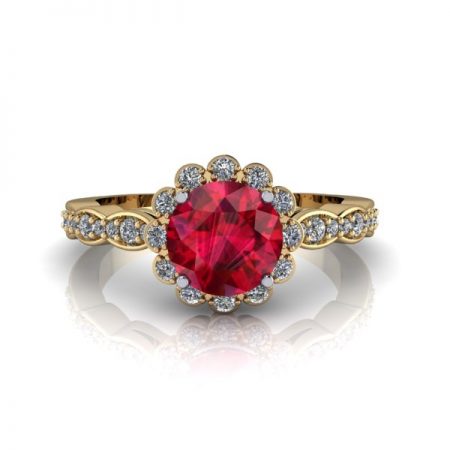 This vintage style ruby engagement ring features one of the most popular elements of vintage and antique jewellery design, the floral halo. Unlike modern halos which feature many small, micro-set diamonds, this design features larger stones along the edge creating a flower like pattern. This style became popular many years ago when the setting techniques were not as advanced as those seen today, resulting in larger stones being used in the halos of most rings. The floral halo however, has its own unique look and one that has been favoured by many young couples and celebrities alike.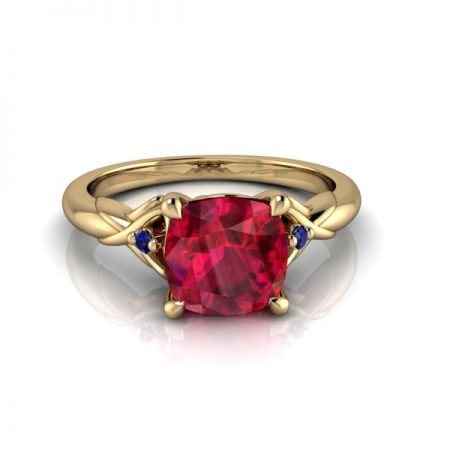 Simple yet elegant this design features both a large centre ruby and two sapphire accents on the side creating a unique and striking colour pallet with the yellow gold. This three stone pattern is something that we have been seeing more and more of lately and shows no signs of slowing down. We will be sure to write an article soon on the many style options with three stone engagement rings as well!
Thanks very much for checking out this article on ruby engagement rings, vintage style. We hope you have enjoyed checking out these designs which are available through our catalogue. Remember that all designs can be customized based on your requests and we can also start from scratch and create a totally unique design. Feel free to contact us any time to begin the design of your very own dream ring and don't forget to connect with us on  facebook, twitter or instagram.