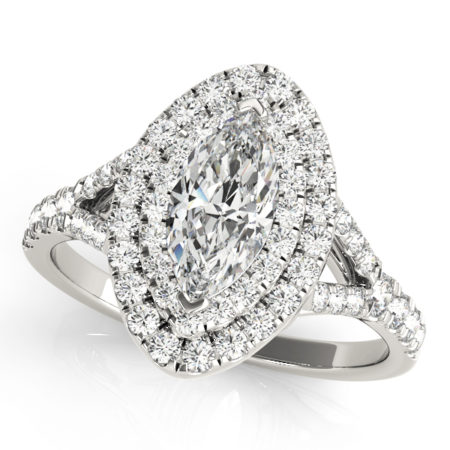 Marquise cut diamonds are one of our favourite choices for both engagement rings and fine custom jewellery pieces. As a top choice for many celebrity engagement rings, both Catherine Zeta Jones and Victoria Beckham have been seen wearing rings that feature marquise cut diamonds. However, did you know that this popular diamond shape dates all the way back to the 1740's? Read on to learn more about marquise cut diamonds and how they can be incorporated into your very own custom jewellery design. 
A little bit of history…
The marquise diamond shape was created in France in the 1700's and is rumoured to have been named for a mistress of King Louis XV, due to the fact that it resembled the shape of her smile. This shape also became a favourite in 20th century Britain among many members of the wealthy elite due to its resemblance to the hull of a racing ship (sailboat racing was a very popular hobby back then).
Over the years, marquise cut diamonds have retained their popularity, even as different jewellery styles have developed. In modern times, Marquise cut diamonds are often the main feature of elegant vintage and modern style engagement rings. This particular diamond cut can look especially stunning when surrounded by a halo of smaller diamonds.
Extra sparkle…
A unique feature about marquise cut diamonds is that they are the longest diamond shape for a given carat weight. This means that when viewed from the top, a marquise cut diamond will appear larger than a round diamond of the same weight. Due to its length, marquise cut diamond rings will also have the effect of making the hand and fingers appear more slender.
Choosing the perfect marquise…
When it comes time to choose the perfect marquise cut diamond, here are a few important things to keep in mind.
Colour counts – As is the case with oval cut diamonds, it is important to choose a diamond of higher colour rating to compensate for the shallower cut, as the shallower cut may reduce some brilliance. It is best to choose a diamond with a colour grade of H or better, with I being the minimum.
Length to width ratio – Different marquise cut diamonds can appear either too thin or stubby depending on their length to width ratio. Some longer marquise may lack the brilliance and even have an empty spot in the middle referred to as the "bow tie". Shorter, fatter marquise may appear too stubby and unpleasant to eye. Its important to choose a marquise cut diamond with a feminine, pleasing shape. We recommend rations of 1.75-2.25.
Depth – It is important to choose a diamond which is not too shallow or too deep. Diamonds which are too shallow may not be bright due to light loss out of the bottom. On the other hand, a diamond which is too deep, may look bright but will appear much smaller than it should. In the case of a diamond which has been cut too deep a 0.50 ct for example, may look more like a 0.40 ct diamond because it was been cut shorter with the weight going into the depth.
Consider the diamonds symmetry – Its important to choose a diamond which appears proportional and symmetrical. When viewing a diamond from the top down, imagine a line cutting the diamond in half. Both sides should match each other and the points should line up, otherwise the diamond may appear off centred when it is set in an engagement ring or other jewellery design.
Protecting the points – Just like with pear shaped diamonds, the points are the most vulnerable to chipping. For this reason, its important to be sure that the design that the diamond will be set in, carefully secures the points of the marquise cut diamonds using the proper setting such as a v-tip prong. We always take special care to be sure that a small space is left between the point of the diamond and the inside tip of the claw to make sure that the point is not taking the impact of an impact.
For more information on choosing the perfect diamond please visit our diamond education page. For an even more in depth look at marquise cut diamonds, check out this article by the GIA. If you are considering buying a diamond please set up an appointment and come talk to us personally and we will take the time to educated you able all aspects of diamond quality.
Different setting options…
While many choose to set their diamond vertically in their ring, marquise cut diamonds can also look excellent set with the points facing side to side or even diagonally.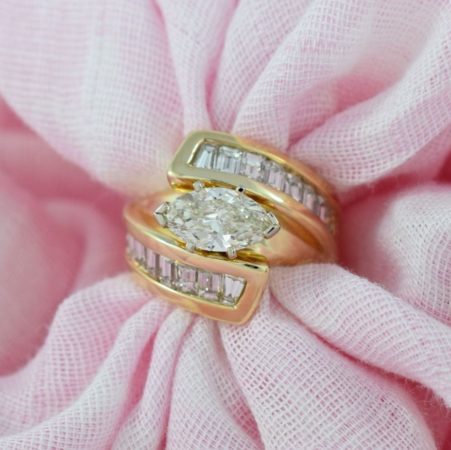 Another option is to set the marquise cut diamond along side of other precious gemstones of the same shape In the design below, we created a custom ring which features a centre marquise diamond with a pink marquise cut sapphire on either side for contrast. This particular ring, quickly became a favourite on instagram and our other social media accounts!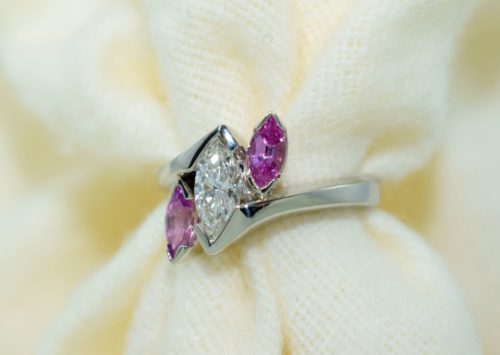 Thanks again for checking our our blog. Whats your favourite design that features a marquise cut diamond? Let us know on facebook, twitter or instagram.