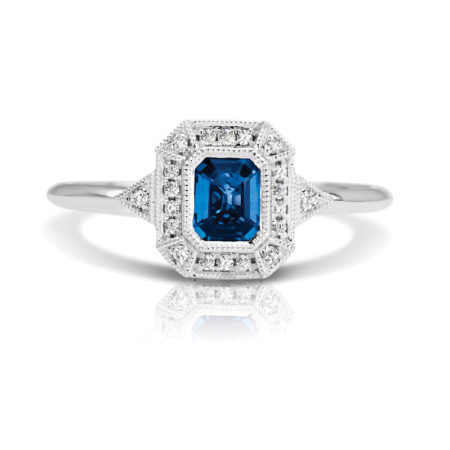 With September here, it seems like the right time to talk about sapphires. As a premier designer and creator of custom engagement rings in Winnipeg, we have seen our share of fine ceylon sapphires over the past while. As a matter of fact, the ceylon sapphire is probably the number one choice for couples when it comes to choosing a precious gem for a non-diamond engagement ring. Read on to learn more about September's elegant birthstone!
A royal history…
One of the reasons for the rising popularity of sapphire engagement rings, is the fact that the ceylon sapphire is often the top choice for many of the engagement rings worn by the European royal families. The most famous being Kate Middleton's engagement ring which features a beautiful blue ceylon sapphire which once belonged to Lady Diana.
In the case of Kate Middleton's engagement ring, the beautiful blue ceylon sapphire is set in a brilliant diamond halo design. The halo of smaller diamonds helps to create  contrast with the white sparkle against the deep blue colour of the centre sapphire stone. Here are a few similar designs Omori Diamonds inc. has created which have this effect.
The everlasting gem…
One of the most important features of sapphires, is their incredible level of hardness and durability. Sapphires score a 9 on the mohs scale of hardness. To put this in perspective, diamonds score a solid 10 and moissanite, also known for its hardness scores 9.5. This means that sapphires are an excellent choice for any piece of jewellery that one plans to wear everyday for years and years. For this reason, we consider sapphires to be a great choice for engagement rings, wedding rings, and even mens wedding bands.
To learn more about sapphires check out the articles on the GIA website.
Many colours…
Sapphires can come in a vast range of colours from very pretty pinks, deep purples, oranges, yellows and of course the classic royal blue. This is due to the fact that sapphires belong to the mineral family referred to as corundum which although colourless in its pure state, presents a wide range of colours due to the presence of trace materials.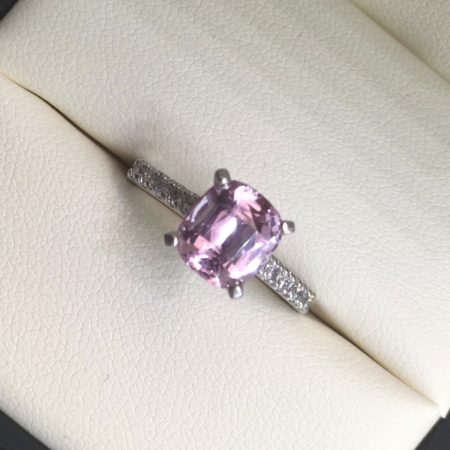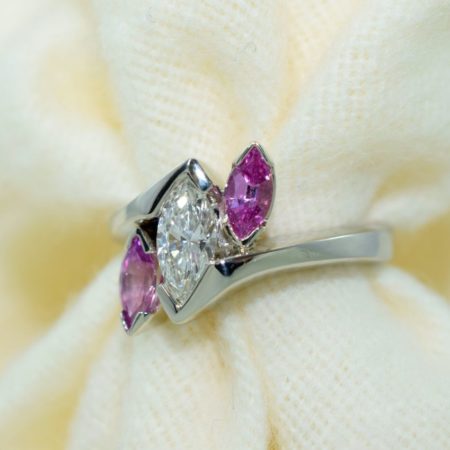 Endless style options for engagement rings and custom rings…
Sapphires can be cut into a wide range of shapes such as round, oval, cushion cut, marquise and much more, This presents a wide range of style options depending on the wearers personal tastes and preferences. Sapphires can also come in a large range of sizes which means that you can also choose to have smaller sapphires set in your design to accentuate a centre diamond. Here are just a few more examples of rings which feature a wide range of sapphires.
This design features five exceptional oval cut sapphires, each surrounded by a diamond halo. This is certainly one of our more royal looking custom ring designs!
This custom ring features a yellow sapphire and a double halo of diamonds, for the added sparkle!
An Omori original, this ring features a pear shaped blue sapphire set in a unique design. This design was the winner of a Manitoba jewellery design contest a while back and over the years we have created a number of variations of this style.
Thanks once again for checking out this article on sapphires. Whats your favourite style of sapphire design? Let us know on  facebook, twitter or instagram