At Omori Diamonds inc. we specialize in designing and creating fine engagement rings, wedding rings and custom jewellery in Winnipeg. Book a free appointment with expert jewellery designer Jim Omori, to receive undivided attention in creating your lifelong treasure.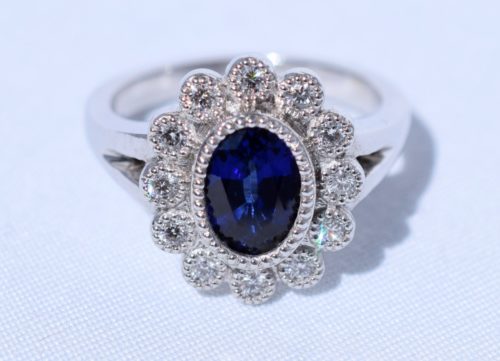 Welcome back to the Omori Diamonds inc., Winnipeg Engagement Ring Journal where we have been documenting the creative process behind some of our most loved custom engagement rings. In todays entry, we are going to show you a lovely floral sapphire engagement ring that we created for a special couple. This design features a beautiful blue sapphire as the centre stone, as well as a brilliant diamond halo for that extra touch of sparkle!
The design process…
The client originally discussed some ideas he had for the perfect engagement ring to give to his finance. After showing us images and telling us about the design he envisioned we helped him to select a beautiful centre stone.
The royal beauty of Sapphires…
As we have always said, sapphires make an excellent choice for a unique engagement ring. This is due not only to their exceptional durability, (next to diamonds in hardness) but also their famous reputation as the "royal engagement ring stone", as many members of European royal families have chosen to wear sapphires in their engagement rings. The most famous being Kate Middleton's Sapphire engagement ring.
The first design images…
After discussing the design ideas with the client, we began by creating some computer renderings in order to show him what his design would look like from a variety of angles. Many clients find this to be one of the most exciting steps in the custom engagement ring design process, as it allows them to see their design take shape and also gives them the opportunity to suggest any changes or alterations to the design.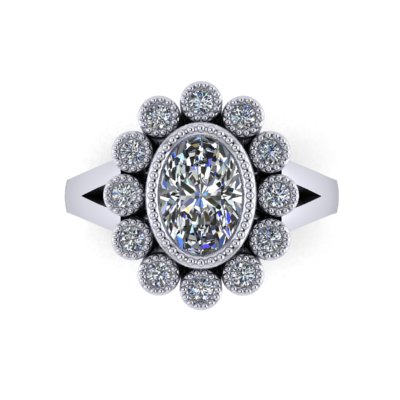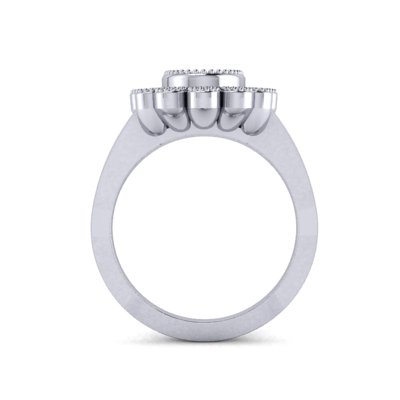 After approving the CAD (computer aided design) images, we advanced to the next step.
Creating the design in wax…
Once the images were approved, we had the design printed out in wax. This again, allowed our client to see his engagement ring take shape in a real life form. At this stage, changes can also be suggested, and we can either adjust the features on the wax itself or simply retouch the CAD images, and then print out a new wax carving. In this case of this design, the client gave his enthusiastic approval and we went on to the casting!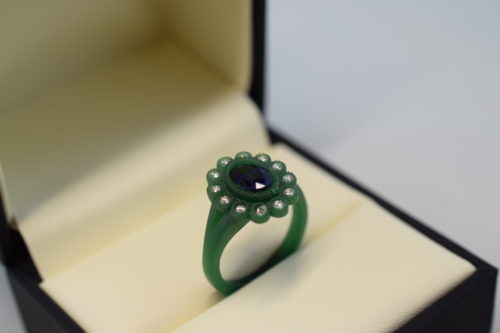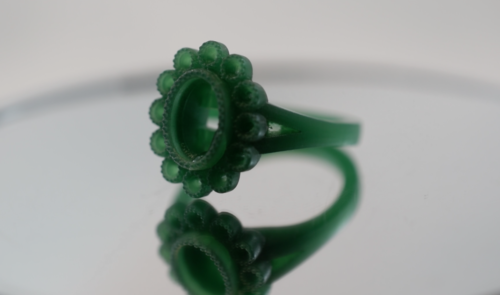 Casting the design…
Once the wax was finished, we then cast the design in precious metal. In the case of this sapphire engagement ring, we cast the design in white gold.
Completing the royal engagement ring…
With the design cast, our master goldsmith was then able to get to work. By polishing the design and setting the centre sapphire and the diamonds in the halo, the design was finally complete! We contacted our client to come and view his finished design. We are very proud to say that he loved it, and most importantly, so did his fiancé!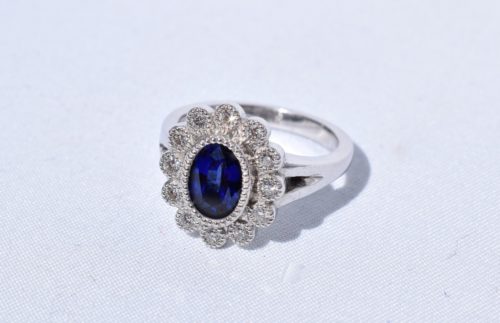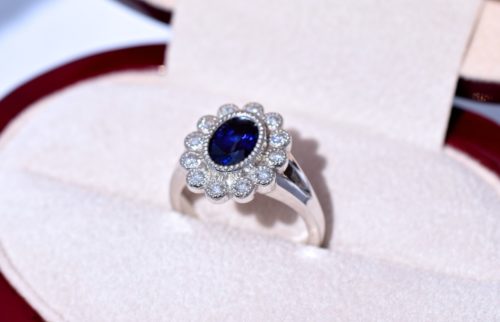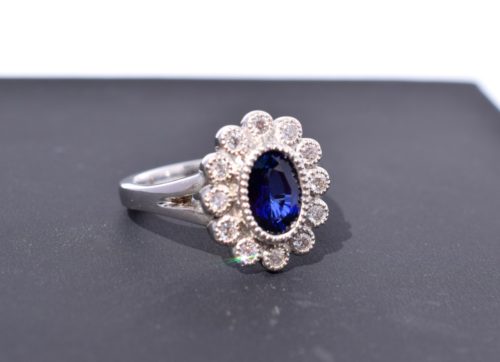 Want to see more of this custom sapphire engagement ring design: view the video HERE
Love sapphire engagement rings? Check out our past issue of the Winnipeg Engagement Ring Journal on our Vintage Sapphire Engagement Ring
FREE ENGAGEMENT RING DESIGN CONSULTATION IN WINNIPEG
Are you ready to design a custom engagement ring with an expert designer? Book a free  design consultation with Omori Diamonds inc. now!
CHECK OUT PAST ENTRIES OF THE WINNIPEG ENGAGEMENT RING JOURNAL:
Winnipeg Engagement Ring Journal 11: Unique Custom Rudy and Diamond Ring
Winnipeg Engagement Ring Journal 10: Yellow Gold Vintage Engagement Ring
Winnipeg Engagement Ring Journal 9: Spiral Solitaire Engagement Ring and Wedding Ring
Winnipeg Engagement Ring Journal 8: Vintage Sapphire Engagement Ring
Winnipeg Engagement Ring Journal 7: Platinum Princess Cut Diamond Engagement Ring
Winnipeg Engagement Ring Journal 6: Princess Cut Rose Gold Engagement Ring
Winnipeg Engagement Ring Journal 5: Marquise Diamond Halo Engagement Ring
Winnipeg Engagement Ring Journal 4: Vintage Engagement Ring With Engraving
Winnipeg Engagement Ring Journal 3: Rose Gold Sidestone Engagement Ring
Winnipeg Engagement Ring Journal 2: Custom Diamond Halo Engagement Ring
Winnipeg Engagement Ring Journal 1: Winding Sidestone Engagement Ring
Winnipeg custom jewellery designer journal: Omori Triple Axel Ring
Winnipeg Custom Jewellery Journal: Custom Designed Jade Pendant
SaveSave
SaveSave
SaveSave
SaveSaveSaveSave
SaveSave