Omori Diamonds inc. specializes in creating beautiful custom jewellery, diamond rings and custom engagement rings in Winnipeg. Book a free appointment and meet directly with our jewellery designer to receive undivided attention in creating a unique and beautiful engagement ring "just-for-her".
In todays entry of the Omori Diamonds inc., Winnipeg Engagement Ring Journal, we are showcasing a special marquise diamond ring, which brilliant rubies and detailed vine-like engraving. We will now walk your through the jewellery design process that was used to create this unique and exciting custom engagement ring.
The design process…
The client discussed some ideas that they had for creating a unique engagement ring featuring detailed engraving and having both his name and the name of his girlfriend along the bridge. We began by helping him to select a beautiful diamond. In this case, the client wanted a Marquise shaped diamond as the centre stone in this ring. As we have mentioned before, we absolutely love marquise shaped diamonds due to the fact that they are the longest shape for a given carat weight. This means that you get a long bright impact of sparkles going along the finger creating a dazzling and unique effect.
After discussing ideas for the design of the engagement ring, we created some computer renderings of for the client to approve.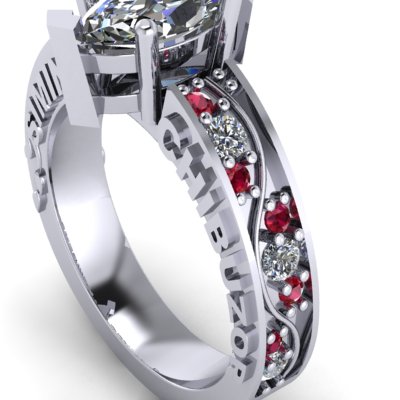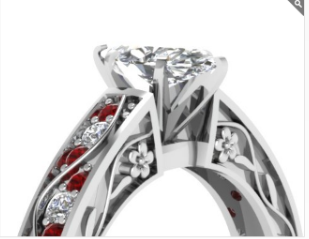 Computer renderings allow the client to see what their design will look like from a number of angles, before the design is printed out in wax.
This stage in the jewellery design process also allows the client to make any changes to the design.
Fancy engraving anyone?
As you can see, this design features very detailed engraving. This is a common characteristic with regards to many vintage engagement rings and vintage designs. This kind of styling can be quite challenging and at times impossible to do by hand, so for this reason we make sure to use only the most advanced 3D printing and rendering techniques. This allows us to be sure that we get all of the details right from the start.
Be sure to check out our other Winnipeg Engagement Ring Journals which feature: A Vintage Sapphire Engagement Ring and a Yellow Gold Vintage Engagement Ring
On to the casting…
Once the client approved the computer renderings we printed out the design in wax. This shape was then cast in white gold so that it could be polished by our master goldsmith. At this point our goldsmith went on to set the centre diamond and the beautiful rubies along the band,
The Finished Design…
With the engagement ring design complete, we contacted our client to come and pick up their custom design. As you can imagine, both he and his finance were very thrilled to see their very own, one-of-a-kind engagement ring in its finished state, right before their eyes.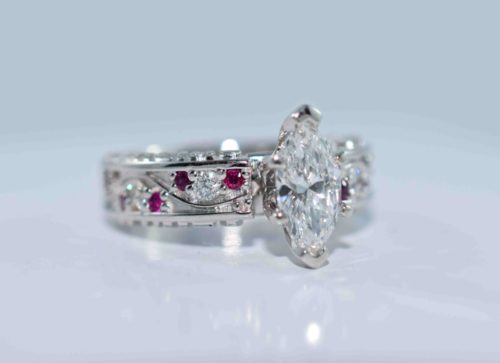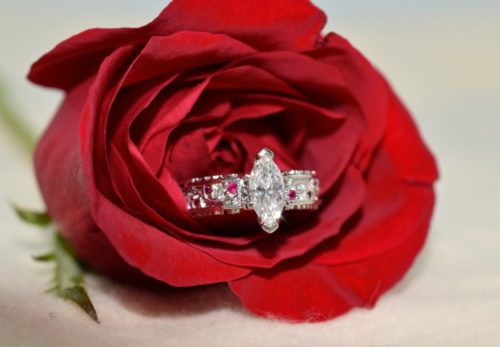 Want to see more of this unique custom engagement ring design: view the video HERE
Love precious gemstone rings? Check out our winnipeg custom jewellery designer blog featuring a Ruby and Platinum Custom Ring
FREE CUSTOM JEWELLERY DESIGN CONSULTATION IN WINNIPEG
Are you ready to design a custom diamond engagement ring from scratch? Book a free  ring design consultation with Omori Diamonds inc. now!
CHECK OUT PREVIOUS ENTRIES OF THE WINNIPEG ENGAGEMENT RING JOURNAL:
Winnipeg custom jewellery designer journal: Omori Triple Axel Ring
Winnipeg Engagement Ring Journal #10: Yellow Gold Vintage Engagement Ring
Winnipeg Engagement Ring Journal #9: Spiral Solitaire Engagement Ring and Wedding Ring
Winnipeg Engagement Ring Journal #8: Vintage Sapphire Engagement Ring
Winnipeg Engagement Ring Journal #7: Platinum Princess Cut Diamond Engagement Ring
Winnipeg Engagement Ring Journal #6: Princess Cut Rose Gold Engagement Ring
Winnipeg Engagement Ring Journal #5: Marquise Diamond Halo Engagement Ring
Winnipeg Engagement Ring Journal #4: Vintage Engagement Ring With Engraving
Winnipeg Engagement Ring Journal #3: Rose Gold Sidestone Engagement Ring
Winnipeg Engagement Ring Journal #2: Custom Diamond Halo Engagement Ring
Winnipeg Engagement Ring Journal #1: Winding Sidestone Engagement Ring
SaveSave
SaveSave
SaveSave
SaveSave
SaveSave