Welcome to your guide to solitaire engagement rings. As a premier custom jewelry designer in Winnipeg, we have experience crafting unique and traditional engagement rings featuring a variety of diamonds and sapphires.
Chose your shape
When it comes to choosing or designing a solitaire engagement ring, one of the first things to keep in mind is the diamond shape. It seems that each year brings a new trend, with oval diamonds being especially popular over the past few years.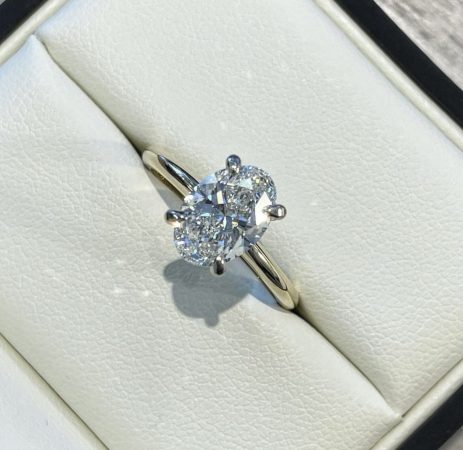 The above photo is of a classic yellow gold solitaire featuring a large and brilliant oval cut diamond. This particular design has been made with white gold prongs. This is a special trick of the trade that we rely upon in order to make sure that the diamond retains its sparkle without the color being impacted by the presence of yellow gold prongs.
Perfect Proportions: Its very important to choose an oval cut diamond which has been cut to proper proportions. This is something we focus on quite a bit. To learn more be sure to check out our diamond education page as well as the official website of the GIA.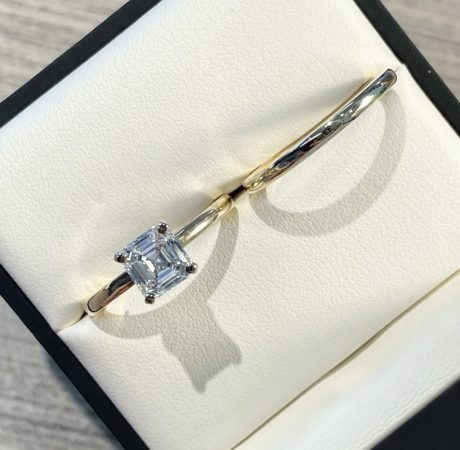 The yellow gold band – white gold prong solitaire goes perfect with virtually all diamond shapes. Here is an example of that style featuring a beautiful radiant cut diamond.
East to West engagement ring settings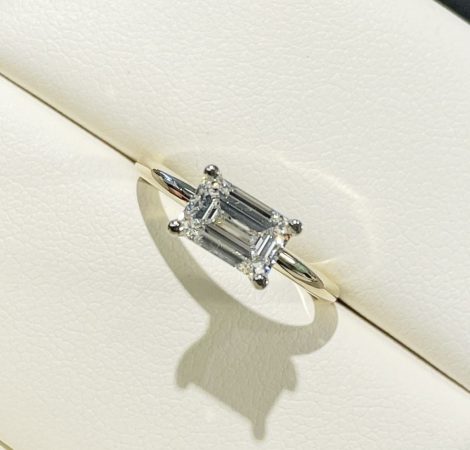 Our guide to solitaire engagement rings wouldn't be complete without mentioning some popular trends when it comes to the setting. Another trend which has been very popular is the east to west or horizontal setting. This particular setting features a beautiful emerald cut diamond.
This style also looks great with pear shaped and oval diamonds.
Sapphires, Lab Diamonds and other alternatives
While natural diamonds have always been the most popular choice for all engagement rings, lab created diamonds have become increasingly popular.
Sapphire engagement rings are also a great option due to the fact that sapphires are incredibly durable.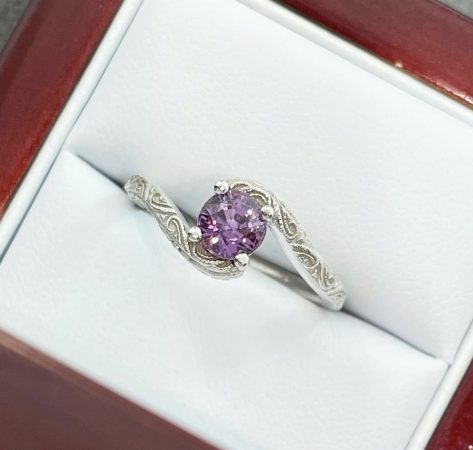 Here is an example of a vintage solitaire engagement ring featuring a purple sapphire.
Four or six prongs
One more consideration is in regards to the setting itself. While most solitaire engagement rings feature a classic four prong setting, six prong settings are also an option. The six prong setting has been a classic feature of rings from Tiffany and have become a popular choice for a variety of celebrity rings.
We hope you enjoyed your guide to solitaire engagement rings
Feel free to get in touch when the time has come for you to create your own solitaire engagement ring and stay in touch through our various social media platforms of  facebook, twitter or instagram.
Are you ready to create your own custom solitaire engagement ring in Winnipeg Manitoba?
Contact Omori Diamonds inc. to book your free design appointment now!