We design and create fine antique engagement rings in Winnipeg as well as vintage inspired wedding rings and custom jewellery. In today's article we will be showing you some of our latest antique inspired custom engagement rings that we have crafted for our clients. Read on to learn more!
Submit an inquiry to book a free appointment or call us at (204) 951-7040 to talk to an expert. Let's create a masterpiece together!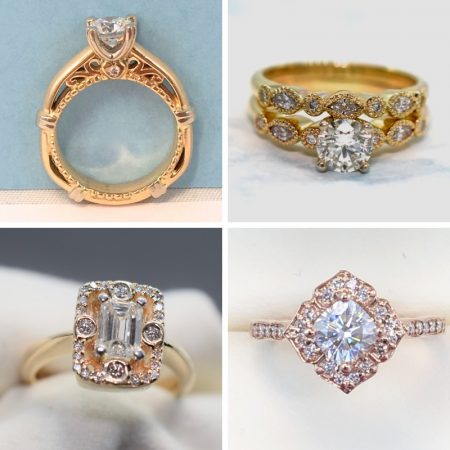 Timeless quality
As Winnipeg's modern and innovative designer of custom jewellery, we specialize not only exceptional craftsmanship but also in insuring the absolute highest quality. This means taking special care to insure that your ring is built to last. Many mass produced rings may be produced over seas where the standards are not the same, leading to things such as thinner, more fragile claws on the rings. Our expert jewellery design team makes sure to build up the claws on our rings, especially rose and yellow gold rings, as these metals are softer. This helps to ensure that your design will remain beautiful for many years to come.
Now, without any further adieu, lets take a look at some of our lates antique engagement ring designs…
Art Deco Inspired Engagement Ring and Wedding Band
This design was created for our clients and features a beautiful VVS emerald cut diamond as the centre stone. One of the most unique aspects of this design is the use of geometric designs and patterns which are very similar to those seen in the Art Deco period which was influential in not only jewellery design, but also clothing, interior deign as well as architecture. As you can see, this design was also created along side of a custom wedding band which fits perfectly against the ring so the two can be worn as one.
Want to see more of this antique art deco engagement ring & wedding band? Check out the video HERE.
In you are interested in Art Deco styling, be sure to check out this article on Art Deco Jewelry.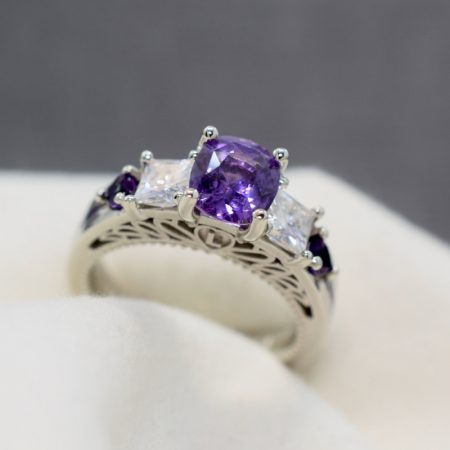 Purple Sapphire Antique Style Engagement Ring
This custom engagement ring was created for our client and features a beautiful purple sapphire as the centre stone as well as two beautiful amethysts. Another wonderful aspect of this design is the use of purple enamel down the band creating a special pop of colour on the band.
This ring also features the characteristic piercing on the bridge and even custom engraved initials right under the centre stone. This is a perfect way of personalizing your design for your loved one and is also a great spot to place different hidden gems and details such as heart shaped diamonds and gems or even family crests.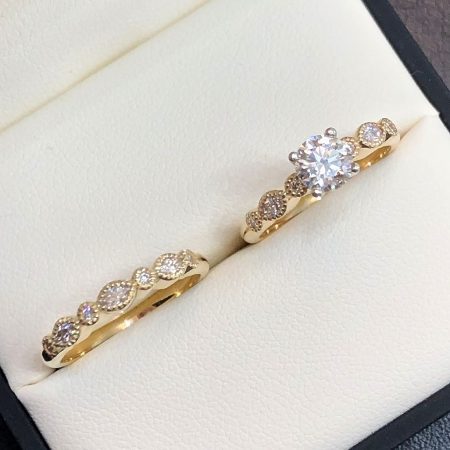 Yellow Gold Antique Wedding Set
This wedding set features a matching antique inspired engagement ring and wedding ring and has been a big favourite on our instagram and social media page. The alternating round and marquise shaped patterns helps to bring out the contours of the mill grain patterns on both bands. This design also features a perfectly cut round brilliant diamond as the centre stone.
Thanks very much for checking out this article on antique engagement rings in Winnipeg. We hope you have enjoyed checking out these art deco and vintage inspired custom jewellery designs. Feel free to check out our other articles and please get in touch if you are interested in creating your own dream ring. Don't forget to connect with us on  facebook, twitter or instagram.