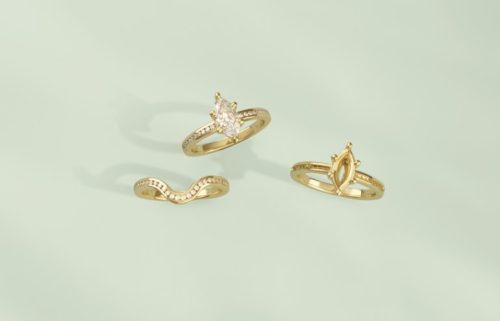 Today we will be showing you some of the most popular engagement rings in 2023. As a top designer of custom engagement rings in Winnipeg, we are able to spot all sorts of new style trends on the rise. Read on to learn more about the top styles of this year!
1. East to West Emerald Cut Diamond Engagement Rings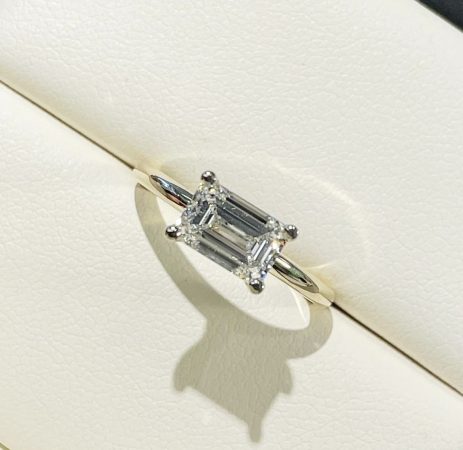 One particular request we have received quite frequently this year, has been for east to west settings such as the one shown in the photo above. In these styles, the diamond (very often an emerald cut) is set side to side. This style can also look very nice with pear shaped stones.
A note on emerald cut diamonds: The emerald cut is a rectangular cut which is known for the unique optical effect produced by its strait facets. Unlike other rectangular cuts such as cushion cut diamonds, which share similarities to how a round diamond is cut, emerald cuts create the impression of a series of mirrors shining light back towards the eye.
2. Marquise Diamond Solitaires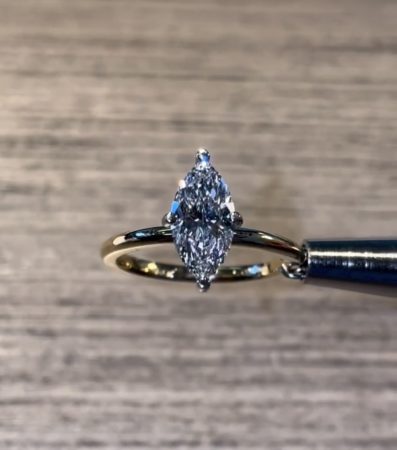 Another diamond cut which has become incredibly popular this year is the marquise cut. Known for its unique and elongating effect on the hand, marquise have been a top choice for vintage engagement rings in previous years. However, currently, many clients are aiming towards the simple and elegant solitaire as the setting of choice. In some cases, clients wish to add a hidden halo to the design for some extra sparkle.
Learn more about how to choose a marquise diamond on the GIA website.
3. Unique textures on the band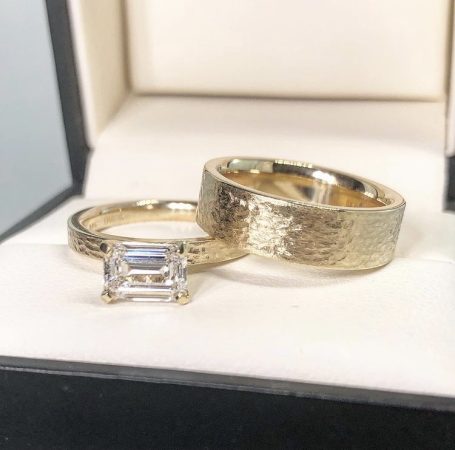 While super thin bands may have been popular in the past few years, more and more clients are opting for a wider band with a variety of unique textures. The above photo shows a matching set with a special hammer finish which has been accomplished by our master goldsmith. Other unique finishes can include various satin finishes as well as matte finishes as well.
4. Complementing bands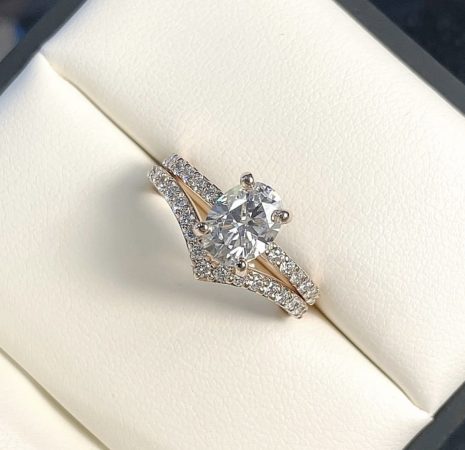 Another popular trend is that many clients are deciding to create the engagement ring and wedding ring at the same time. This often involves having a wedding band which has been made to fit around and complement the shape of the engagement ring.
5. Three Stone Engagement Rings
Last but not least on our list of the most popular engagement rings in 2023, three stone rings have been extremely popular for a third year in a row. While in previous years these often featured oval and round diamonds, cushion and princess cuts have been specially popular this year. I expect that this trend of square cut diamonds will continue for the next couple years at least!
Thank you for checking out this article on the most popular engagement rings in 2023. Are you ready to create your own custom design engagement ring in Winnipeg? Book your appointment with Omori Diamonds today!
Want to see another take on the most popular engagement rings in 2023? Check out this article by Pure Wow magazine.