In today's article we will be showing you some of the current most popular engagement rings in Canada. As a premier custom jewelry designer in Winnipeg, we are able to get a good look at all of the different top styles of engagement rings trending across the country. The goal of this article is to show you some of the most popular styles of engagement rings in Canada as well as show you some of our favorite designs trending on instagram and social media currently.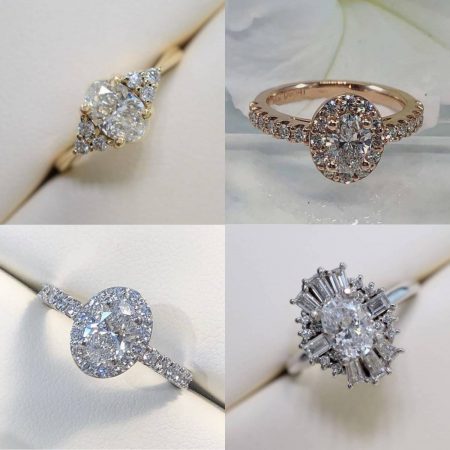 Oval Diamond Engagement Rings
First on our list of the most popular engagement rings in Canada are rings featuring oval cut diamonds. Oval diamonds are by far the most popular diamond shape and have been for quite some time now. It seems that clients all over Winnipeg and across Canada, love the versatility of this shape when it comes to creating the perfect engagement ring. As you can see above, oval engagement rings look wonderful with halos, on their own, or set in unique vintage style designs.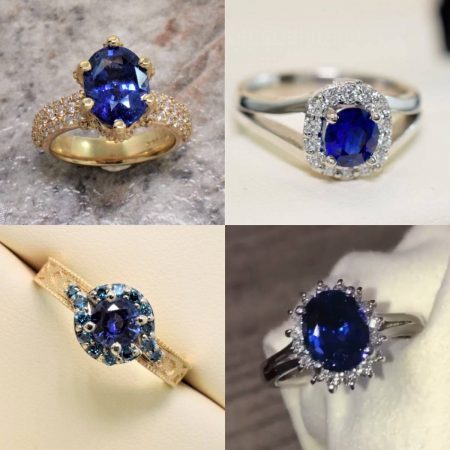 Sapphire Engagement Rings
Next on our list has got to be Sapphire engagement rings! As mentioned in many previous articles, Sapphires are an excellent stone for a non diamond engagement ring as they are incredibly durable and hard. They also are loved for their beautiful range of colors which range from exceptional blues as shown above to pinks, purples, greens and yellows as well. Also, as you can see in the above photos, Sapphires can look excellent in a variety of styles from modern to vintage and of course halos as have been seen with the famous Kate Middleton engagement ring.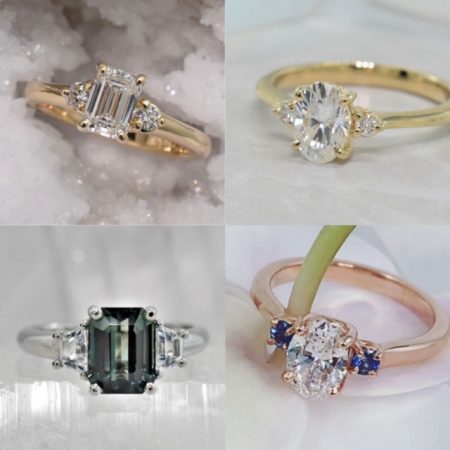 Three Stone Engagement Rings
Last but not least on our list of the current trending engagement rings in Canada, are three stone rings. Symbolizing the past, present, and future of your relationship, these romantic styles are perfect for both engagement rings and anniversary rings alike. As you can see above, these styles look great with a variety of stone shapes from oval, to rounds as well as trapezoid and emerald cut diamonds. In the bottom left you can see an especially striking teal colored Sapphire. Unique Sapphire colors are also currently very popular, to see more styles such as this we recommend checking out our instagram and social media pages.
Thanks very much for checking out this latest blog. We hope you have gained some style inspiration for your perfect custom engagement ring.
Be sure to stay in touch through following our facebook, twitter or instagram accounts.
Are you ready to create your own Canadian Engagement Ring?
Contact Omori Diamonds inc. to book your free design appointment now!