In today's article we will be showing you some of our most popular oval engagement rings on Instagram which have been gaining popularity as of late. As a premier designer and creator of fine custom jewellery and engagement rings in Winnipeg, we are able to spot many of the new engagement ring trends as they are happening. Oval diamonds have been one of the most popular shapes for the past couple years now due to their brilliance and unique sparkle. Read on to see some top designs.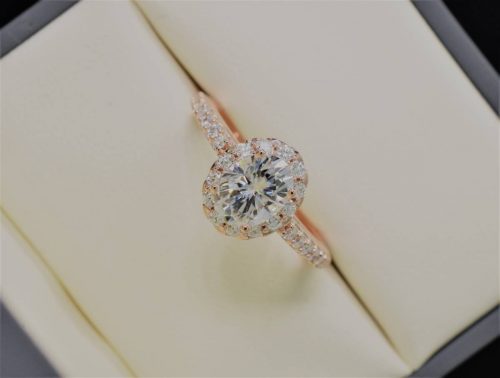 Rose gold halo oval engagement ring
This ring has gotten a great deal of attention on our instragam account as of late and it is a beautiful oval engagement ring which has been crafted in rose gold. This ring also features a wonderful diamond halo which enhances the sparkle and helps to make the center stone appear larger. Another hidden feature of this ring is the beautiful engraving and vintage style piercing which is on the band.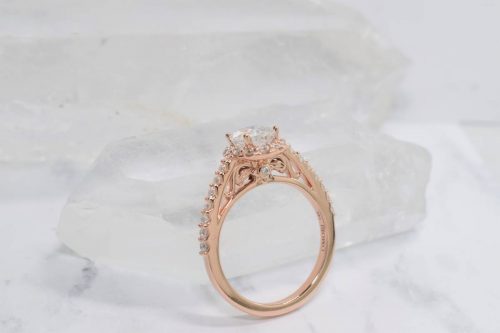 This custom styling was created through the use of computer aided design (CAD). To learn more about the custom process please visit our how we work page.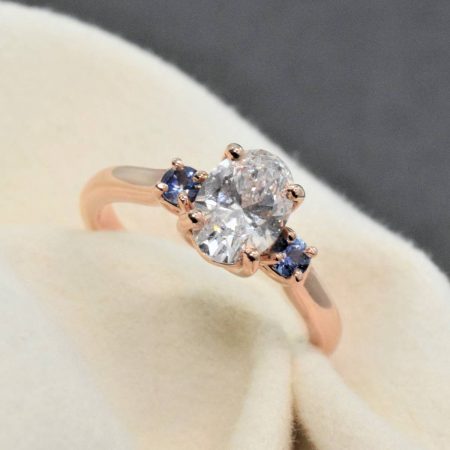 Three stone oval engagement ring with sapphires
Next on our list of our most popular oval engagement rings on instagram, and also in keeping with the rose gold theme, is this three stone engagement ring which features two blue sapphires. Three stone engagement rings have become enormously popular in 2020 and a big hit this holiday season.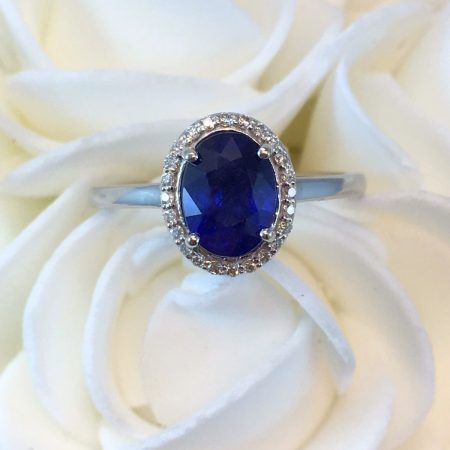 The royal sapphire engagement ring
This next design on our list of our most popular sapphire engagement rings on instagram is this classic sapphire halo engagement ring. Ceylon sapphires make for an excellent choice for non diamond engagement rings and are especially popular with the European royal families with the most popular being Kate Middleton's engagement ring.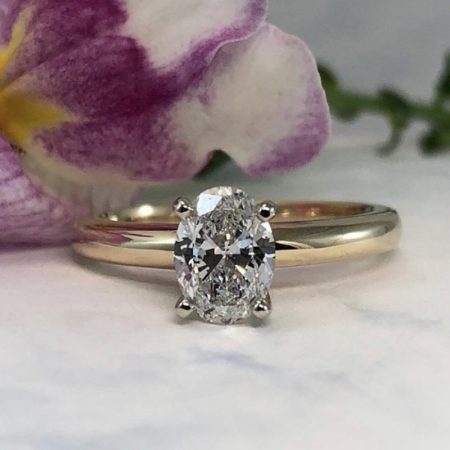 Yellow gold solitaire engagement ring
This ring is currently one of our most popular styles. Simple and elegant the yellow gold solitaire is a perfect choice of setting as it allows the diamond to steal the show when it comes to the sparkle. Solitaires can also feature a variety of unique details. Be sure to check out our latest article on the classic 6 prong solitaire engagement ring to see other top styles.
Thanks very much for checking out this article on the our most popular oval engagement rings on instagram. Hopefully these designs have sparked your own creativity as to what is possible when it comes to oval engagement rings. Be sure to keep in touch through our facebook, twitter or instagram accounts.
Are you ready to create your own custom oval engagement ring in Winnipeg?
Contact Omori Diamonds inc. to book your free design appointment now!