We specialize in the finest engagement rings, and custom jewellery in Winnipeg, crated to perfection. As a premier diamond and gem importer we also take special care to source only the finest diamonds (natural and lab grown) as well as beautiful sapphires, rubies and precious gems. In today's blog we will be showing you an absolutely stunning teal sapphire engagement ring that we created in platinum.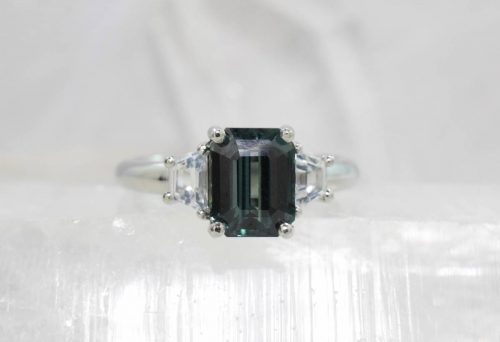 This teal sapphire engagement ring was created by our expert team with design work by Chris Omori. The center stone is absolutely magnificent and rare and originated in Madigascar, the home to many exotic and spectacular precious gemstones.
Teal sapphires have become increasingly sought after as of late thanks to many top trends on instagram, and as a matter of fact, polls suggest that teal is now rivaling blue as the most requested sapphire engagement ring colour. Another excellent benefit of sapphires as a center stone in your engagement ring is that they are very durable, ranking a 9 on the mohs scale of hardness, right next to diamonds (10). This means they will be very durable and long lasting over time.
To learn more about sapphires be sure to visit the excellent learning resource at the Gemological Institute of America (GIA).
Why Platinum?
Like sapphires, platinum is also very durable and long lasting. It is a more malleable metal than gold, which means that any scratches or marks can simply be polished and smoothed out. It is also hypoallergenic meaning that you are very unlikely to have any skin reactions. These factors make platinum an excellent choice for an engagement ring.
Thanks very much for checking out this wonderful teal ssapphire engagement ring by Omori Diamonds inc.. Feel free to browse our other articles and our custom design engagement rings page to learn more about how our custom jewelley design process works and don't forget to connect with us on  facebook, twitter or instagram.