We specialize in crafting fine engagement rings, and custom rings including men's wedding rings in Winnipeg. In today's article we will be showing you some of our latest custom men's wedding rings that we have created for our clients. Read on to view top designs.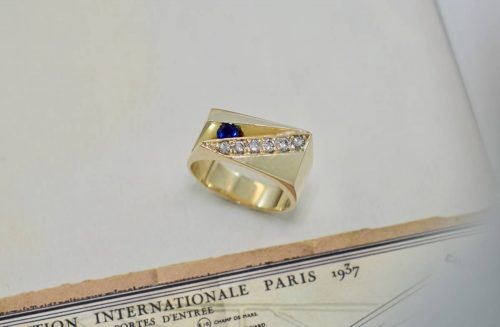 Sapphire and diamond ring by Jim Omori
Here is a custom men's wedding ring designed by Jim Omori. This ring features a beautiful blue Ceylon sapphire as well a stunning row of diagonally set diamonds. This ring also features the classic shape often used in many men's rings that Jim Omori has designed, which can be customized to your tastes by adding or removing stones, or even making use of precious woods such as ebony or rosewood on the band.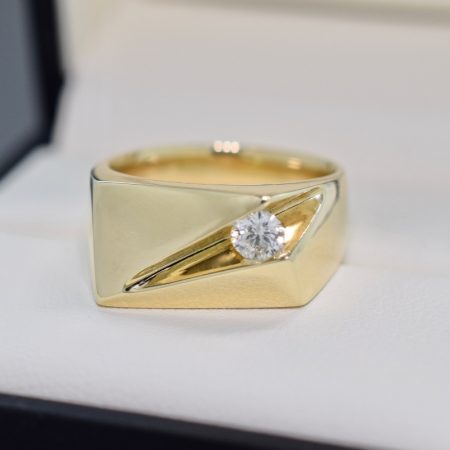 Classic Jim Omori men's ring design
This design features the classic shape often seen in Jim's design. Similar to the above ring, this design features a diagonal channel with a round brilliant cut diamond. As mentioned previously, this design can be customized by adding or removing stones to suite your style.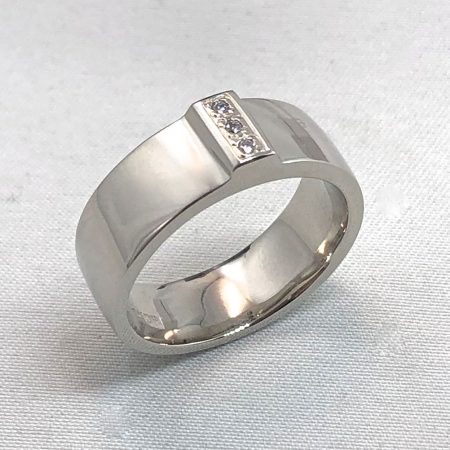 White gold unique men's ring
This ring features a unique vertical setting with three round diamonds in a single channel down the centre. This channel features an interesting hammered finish which creates a wonderful textural contrast with the smooth white gold.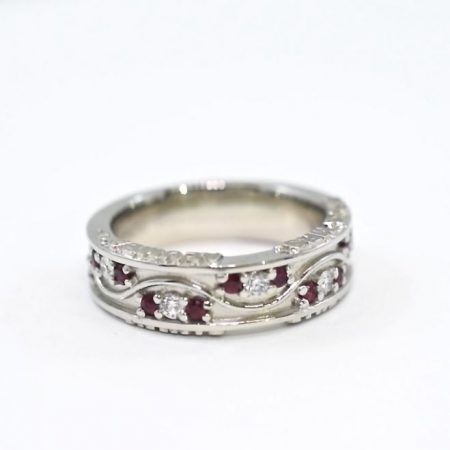 Men's wedding ring with rubies and vine patterns
Next on our list of men's wedding rings in Winnipeg is this special design which features a number of exceptional rubies set in a vine like pattern. This ring was created as a complement to a women's wedding ring and engagement ring. Although we often make the men's and women's rings unique for the individual, there are many times when we will choose to create matching designs.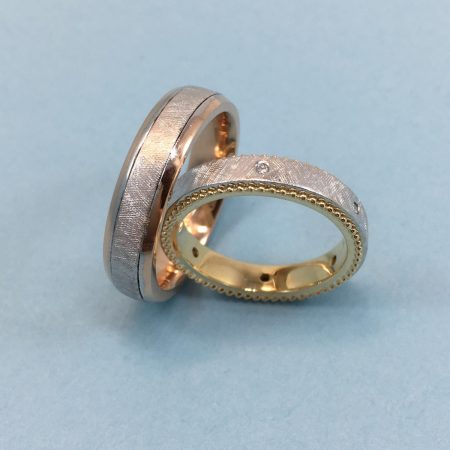 Vintage style matching women's and men's wedding rings
Last but not least on our list of men's wedding rings in Winnipeg is this matching pair of vintage rings that we created a while back. The mens ring is the larger and bolder design on the left while the women's wedding ring is the design on the right. These rings feature a special florentine finish which was created by our master goldsmith and design team. As often mentioned, antique and vintage style is one of our favourite specialities and we have had the pleasure of creating a variety of vintage style engagement and wedding rings using a variety of precious gemstones and diamonds.
Thanks very much for checking out this article on men's wedding rings in Winnipeg. We hope you have enjoyed viewing these custom ring designs and gotten some design inspiration from the style options that are available.  Feel free to contact us any time to begin creating your own dream ring and don't forget to connect with us on  facebook, twitter or instagram.