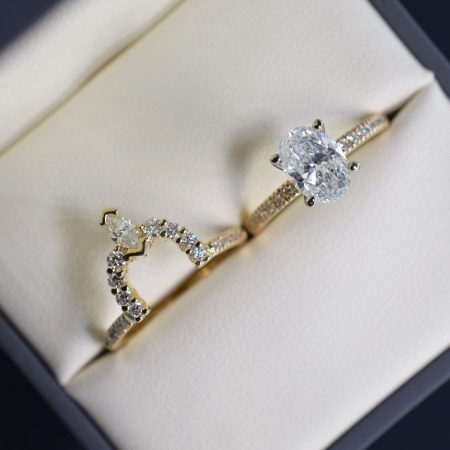 As a premier designer of custom jewelry and engagement rings in Winnipeg, one of our specialities is working with clients to create the perfect fitted wedding band to match their engagement ring. This can involve creating a simple straight band to fit snug against their ring or crafting a curved band to fit around their centre stone.
How it's made
We will begin the process by discussing design ideas with you to get a feel for your personal style. At this point we will also take measurements of your existing engagement ring so that we can be precise in crafting your wedding band to perfectly fit with your ring. If you have had your engagement ring made by Omori Diamonds inc., we will have all of these measurements in our records as they stay in the original computer data that was used to craft your engagement ring.
Next we will go on to create some CAD (computer aided design) images of your new wedding band which we will show to you. At this point you can suggest any changes which need to be made to the design.
After this stage, we will create a wax model of your design. This will then be cast in precious metal at which point our master goldsmith will polish the ring and set the stones.
Examples of our work:
Here are some examples of custom wedding rings which we have created to match perfectly with our client's engagement rings.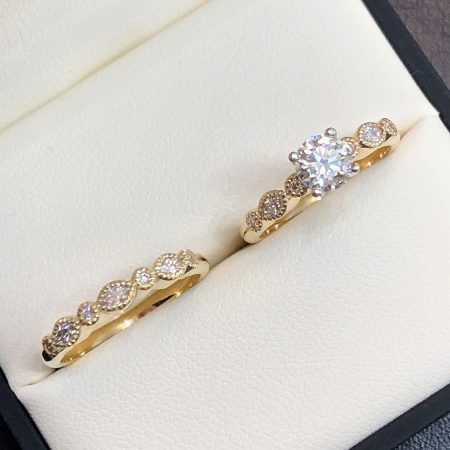 This design features a custom wedding ring and engagement ring set that we crafted for our clients. These designs were inspired by vintage and antique styling and both feature a matching pattern of round and marquise shaped diamonds on the band.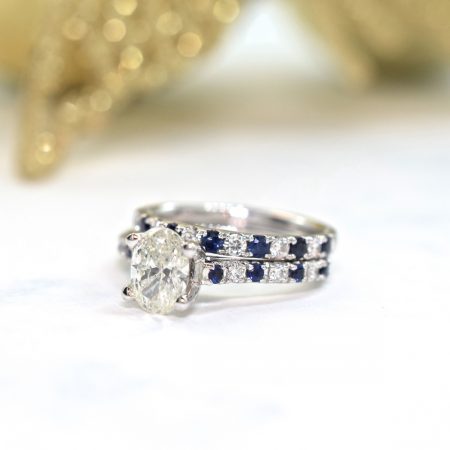 The above image shows a wedding band which we created to match this custom oval engagement ring. These designs feature a matching diamond and sapphire pattern and have been a big favourite on our instagram and social media pages.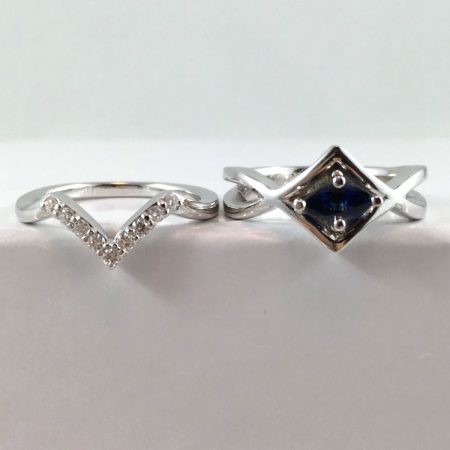 As one of our more unique and striking designs, this pair of matching engagement and wedding rings was crafted for our clients based on a design they had come up with. As you can see the wedding ring was crafted to perfectly interlock with the blue sapphire engagement ring shown on the right.
Sometimes the best choice is to create an wedding ring to interlock with the engagement ring. In the case of the above spiral engagement ring, we created an interlocking wedding ring which was later soldered onto the engagement ring so that it could be worn together as one ring.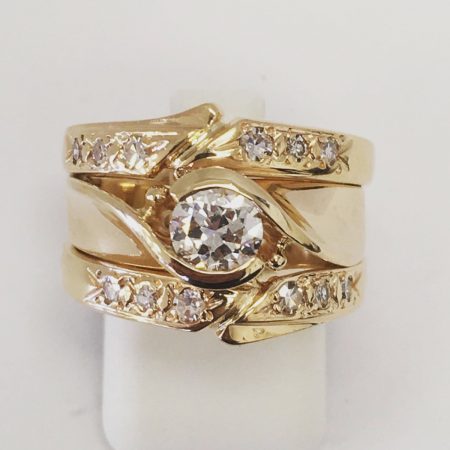 In this case, our client brought us her engagement ring for us to create two matching wedding bands to go on either side which were then soldered on to create the look of a single ring. As you can see from above, we were able to create a unique spiral/ square pattern by engraving a diagonal slant into the gold of each of the bands to match perfectly with the spiral created by the setting of the engagement ring.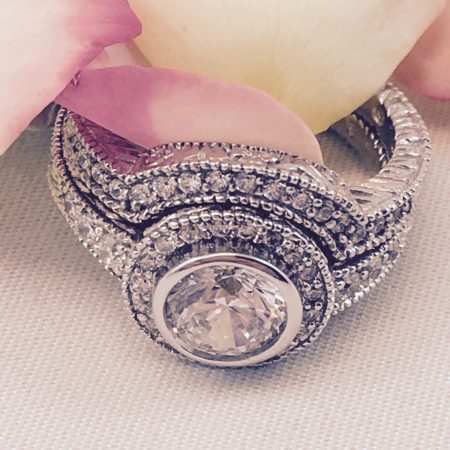 This vintage engagement ring and wedding band set features a classic round halo, as you can see the wedding band has been perfectly shaped to fit around the centre stone and halo.
Thank you for reading this article on custom fitted wedding bands. We hope you have found this blog useful and have received some style inspiration from these unique designs. When the time comes to craft your own custom wedding band feel free to contact us to get started. In the mean time don't forget to follow us on facebook, twitter or instagram!