We design and craft fine quality custom jewellery, engagement rings and wedding rings in Winnipeg, Manitoba. In today's blog we will be showing you 4 new wedding ring styles that we have recently crafted, to match our client's engagement rings. 
The Perfect Curve
One of the most fun and challenging aspects of our job as custom jewellery designers is creating custom wedding bands which perfectly curve around our client's engagement rings. This can involve everything from a smooth gradual curve to fit over a solitaire, to more drastic angles to fit with unique custom engagement ring designs. Check out a few examples of wedding ring styles that we have designed to fit around our clients engagement rings.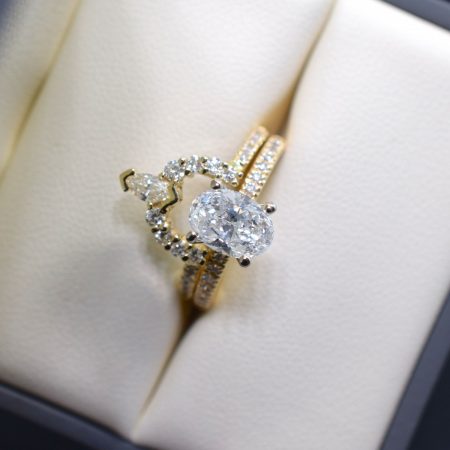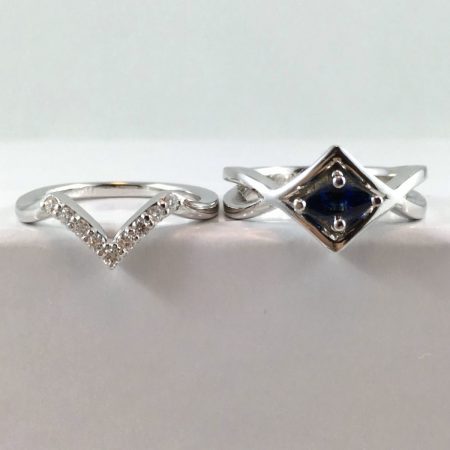 Now without any further delay, lets take a look at 4 recent wedding ring styles that we have crafted!
Simple and elegant this diamond band is perfect for any engagement ring where the stone has been set high so that the band can fit snuggly underneath the stone. Lined with brilliant round diamonds this wedding ring provides the perfect complement of sparkle to any side stone or solitaire engagement ring style.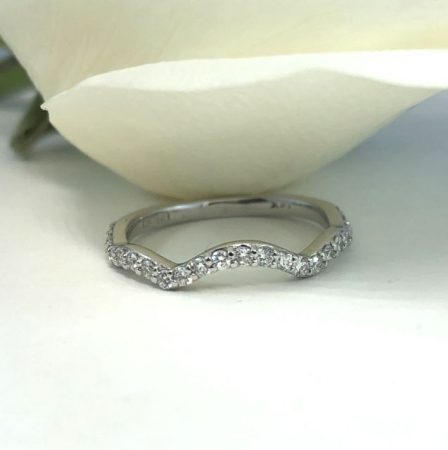 As you can probably tell, this wedding ring style has been designed to fit around a larger centre stone or a stone that has been set low to the ring. The contour of the ring has been made to fit perfectly around the engagement ring so that it can be worn with maximum comfort and will not slip or rub against the other ring. This style of wedding band can also be crafted in pairs so that a ring can be worn on either side of the engagement ring for even more sparkle!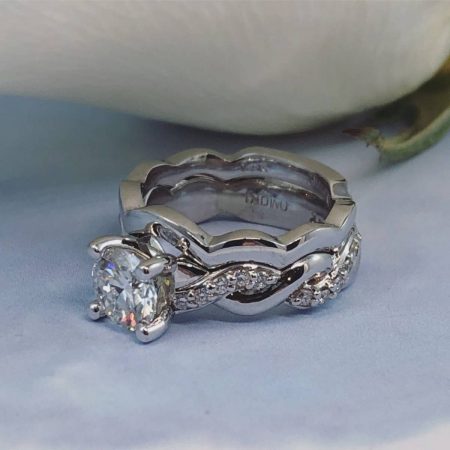 Sometimes, as is the case in the engagement and wedding ring pair above, the shape of the engagement ring makes for a bit more of a complex design. The engagement ring features a weaving infinity band design which creates a number of hills and valleys in the shape of the band. Using CAD (computer aided jewellery design) our expert team was able to create a wedding band which fits perfectly with the shape of the ring. These rings can be worn separately or welded together by our goldsmiths so that the two can be worn as one.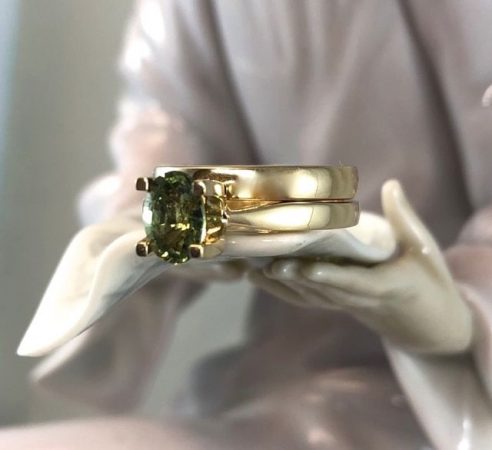 Sometimes the simplest style is the best. In the above wedding ring and engagement ring set, the gold wedding band is able to fit snug against the engagement ring due to the height of the stone. Despite the simple nature of this ring, the brilliant green sapphire lends plenty of unique brilliance to the design overall and allows the centre stone to steal the show.
Thanks very much for checking out this article on 4 new wedding ring styles. We hope you have gotten some great style inspiration from these designs. In the mean time feel free to browse out engagement rings and custom design ringgalleries for more design inspiration. Also don't forget to follow us on facebook, twitter or instagram!
For some celebrity style inspiration from hollywood, check out this article by usmagazine on the best celebrity engagement rings of 2019.