In todays article we will be showing you the top 3 Winnipeg custom jewelry trends at the moment. As a primer creator of fine engagement rings and custom jewelry in Winnipeg, we are able to spot all of the latest trends when it comes to different forms of diamond and custom jewelry design. Read on to view our top 3!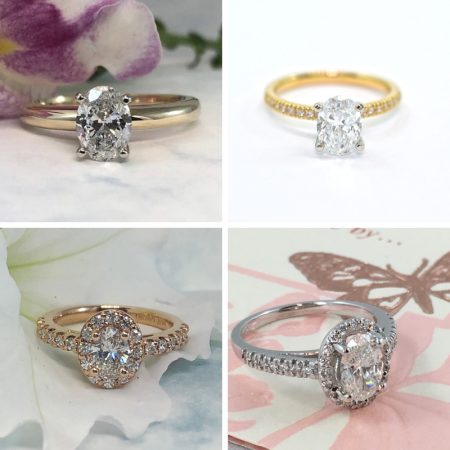 1. Oval Diamond Engagement Rings
The first on our list of the top Winnipeg custom jewelry trends would have to be oval diamond engagement rings and oval cut diamonds in general! It seems that in 2019, no one diamond cut has been requested more than the oval. Whether it is the elongating effect that the shape has on the hand when worn or the exceptional brilliance that is produced when an oval diamond has been expertly cut, it seems that this shape is a trend that is here to stay. This trend may have also been influenced by numerous celebrity engagement rings on instagram, such as Hailey Baldwin's 10 carat oval diamond ring.  As you can see from above, the oval cut diamond can look amazing in both halo as well as solitaire and side stone designs.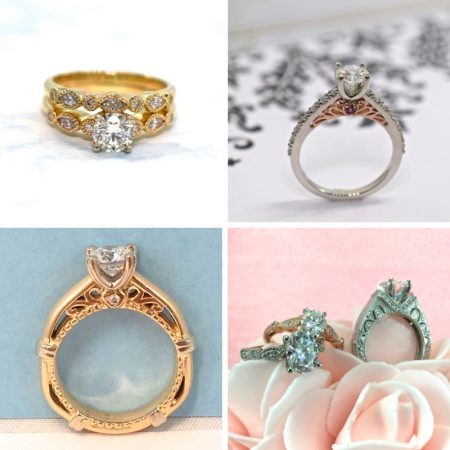 2. Vintage inspired rings
If you have been checking our our blog for the last year or so, you will be no stranger to vintage engagement rings and antique inspired designs. These designs have been extremely popular for the past 3 years now, and show no signs of slowing down. Vintage styling is often characterized by both intricate engraving as well as piercing on the band of the ring. As you can see from the upper right photo, vintage engagement rings can also include the winning combination of both white and rose gold in the same design. Another great thing about vintage styling is that the bridge of the ring is often an excellent place to hide certain gems and details within the engraving itself, as you can see with the lower left design which has a smaller diamond placed right under the large VVS diamond in the centre.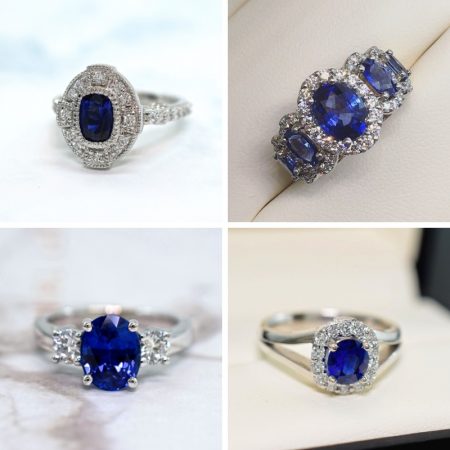 3. Ceylon Sapphires
Last but not least on our list of the top 3 Winnipeg custom jewelry trends are designs featuring the Ceylon Sapphire. Sapphire engagement rings are one of our specialties as we have developed lifelong relationships with some of the largest precious gemstone dealers and love working with this stone in all aspects of our jewelry design. Sapphires also make for a perfect choice for a non diamond engagement ring due to the exceptional hardness and durability of the stone, which is basically right next to diamonds on the Mohs scale of hardness. Sapphires can look exceptional in a wide variety of styles from solitaire to vintage as well as three and five stone rings which are often given as anniversary or milestone gifts.
Thanks very much for checking out this blog article on the top 3 Winnipeg custom jewelry trends. We truly hope you have enjoyed learning about the possibilities when it comes to creating your perfect piece of custom jewelry. Don't hesitate to get in touch and book your free consultation with our expert jewelry designer, Jim Omori. In the mean time follow us on facebook, twitter or instagram!