We specialize in crafting all styles of custom engagement rings including solitaire engagement rings in Winnipeg. In today's blog we will be showing you our top 5 most loved solitaire engagement ring designs. Read on to learn more!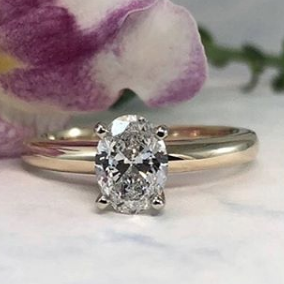 1. Oval Solitaire Engagement Ring
As stated in previous blogs, oval cut diamonds are by far the most popular diamond cut of 2019. It seems that we are constantly getting requests from couples looking to create their perfect oval diamond engagement ring. We have noticed however that one particular style is stealing the show this year, the oval solitaire. Whether this is due to the popularity of Hailey Baldwin's engagement ring which is said to feature a 10 carat oval cut diamond, or the recent style trends towards simple and elegant jewelry designs, we are sure that the oval solitaire will continue as one of our most popular styles for quite some time.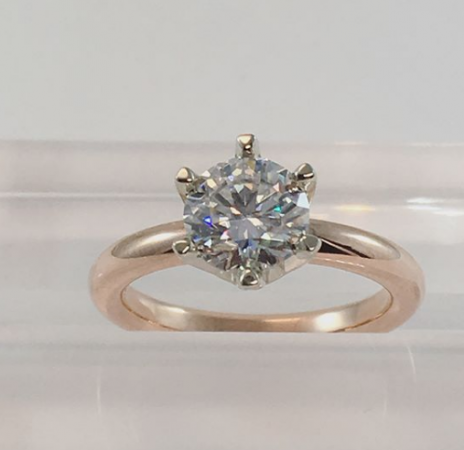 2. Rose Gold 6 Claw Solitaire Engagement Ring
As one of our most popular engagement rings on instagram, this 6 claw rose gold solitaire engagement ring features a briliant centre stone set in the classic 6 prong style often seen by some of the most famous jewelry designers in the world. Similar to the oval diamond cut, rose gold engagement rings are also on the rise in popularity do to the exceptional and romantic warmth of the colour and the fact that rose gold can look wonderful with regards to many different styles from solitaire to halo.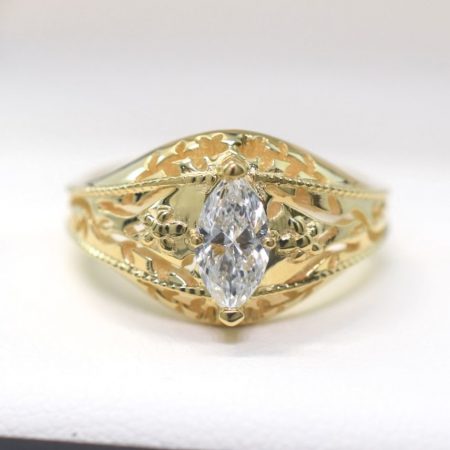 3. Yellow Gold Vintage Engagement Ring
When it comes to vintage engagement rings, one of the defining characteristics that sets this style of jewelry design apart from all others is the detailed engraving and piercing. it is in fact these details that often mean that smaller side diamonds are not required as they produce a great deal of sparkle and shine within the metal itself and allow the centre diamond to take the front of the stage so to speak. The above design features a perfectly cut marquise diamond set in a unique vintage engagement setting created by award winning Winnipeg jewelry designer Jim Omori.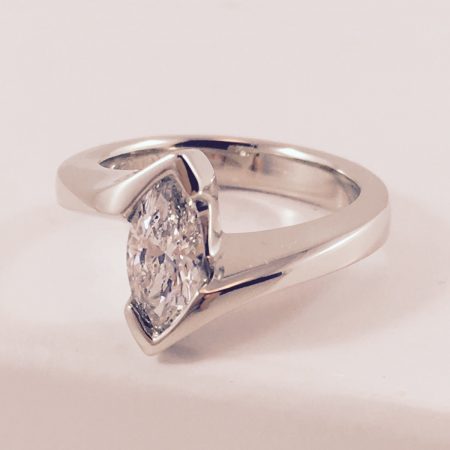 4. Unique Marquise Solitaire
This design has been another hit on our instagram and social media pages and features a brilliant marquise diamond set in a unique solitaire setting. What makes this design unique is the off centre diamond setting which creates a sleek and angular flow to the band. Although the design shown above features a single centre stone, this style of design can also be lined with side diamonds or have the centre stone set between sapphires as shown below.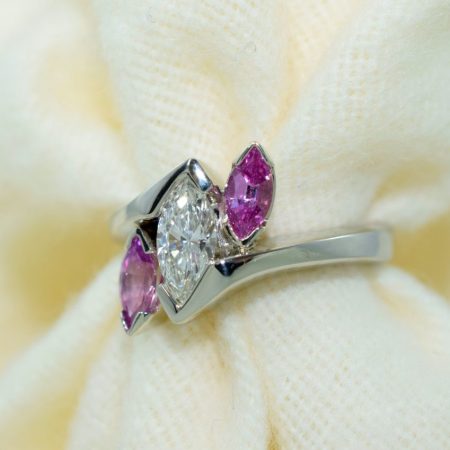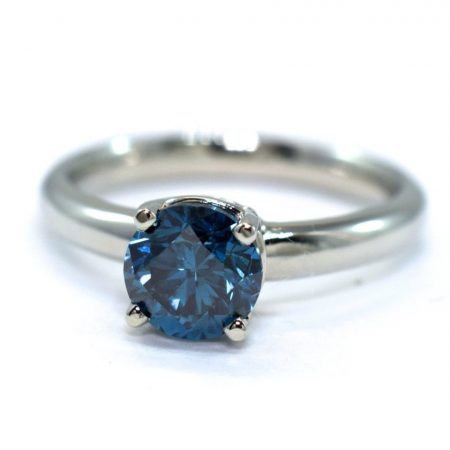 5. Coloured Diamond Solitaires
If you have been keeping up with our blog, you will no doubt realize we are huge fans of coloured diamonds and sapphires. The ring shown above is a beautiful blue diamond solitaire engagement ring. Like sapphires, coloured diamonds provide an amount of brilliance and are also an excellent way to lend a unique flare to your engagement ring or custom jewelry design.
Thanks very much for checking out this article on our top 5 solitaire engagement rings. We hope you have enjoyed this article as much as we have enjoyed looking back on some of our favourite designs. Don't forget to
follow us on facebook, twitter or instagram!