Here at Omori Diamonds inc. we specialize in crafting fine engagement rings, custom rings and all forms of custom jewelry in Winnipeg. In todays article we will be showing you 5 beautiful gemstone rings that we have crated for our clients.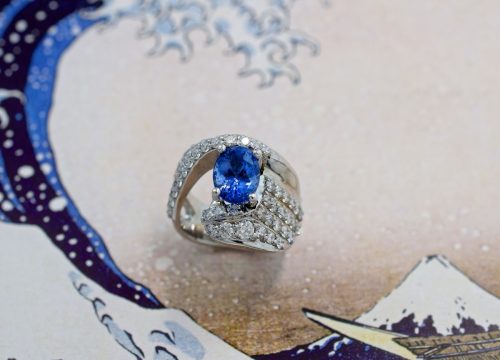 First up on our list of gemstone rings that we have created is this stunning ceylon sapphire ring designed by Jim Omori. This design was created for a client and was inspired by the water flow patterns seen in a rushing river. The side diamonds have been set to crate a natural "flow like" pattern along the band so that the sparkle produces a crest like one would see in rapids and waves produced in nature.
Stay tuned for a more inside look at the jewelry design process that went into crafting this ring. We hope to put up a video soon on our youtube page.
This pink sapphire engagement ring was created for a special couple a while back and features a double halo of brilliant diamonds as well as a criss cross infinity band. As mentioned in previous articles, infinity bands are very popular at the moment and are a versatile design feature which can be incorporated in not only other gemstone rings but in all sorts of custom jewelry designs.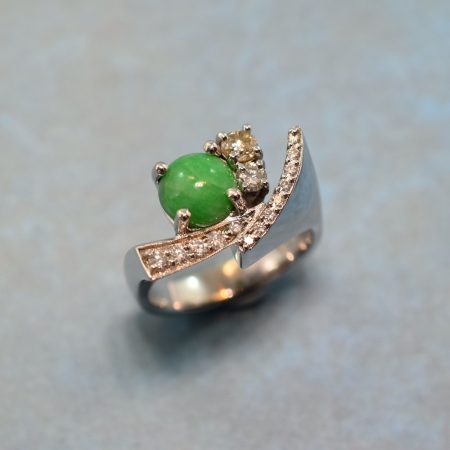 This design features a special piece of heirloom jade which was passed down to our client. The design features a number of diamonds set along the top and sides of the jade creating a modern and unique look. It is a great honour that our clients trust us with their heirloom gemstones and jewelry to create something new and exciting. Interestingly, this is not the first time we have worked with a piece of jade which has been passed down generations, as we also crafted a wonderful jade pendant using a piece which was passed down over centuries!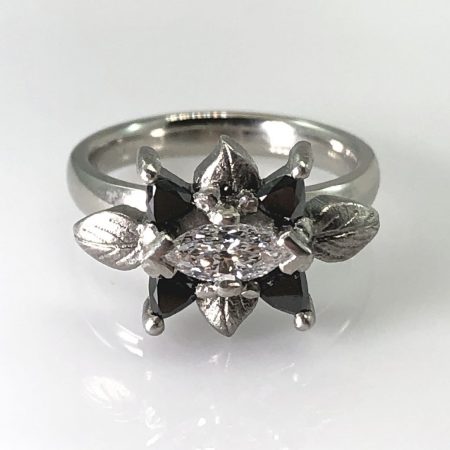 This striking and unique custom engagement ring features a beautiful marquise diamond along with four black diamonds set in a unique floral design. The mix of leaves and geometric shapes gives this ring a vintage inspired look and is certainly one of the more unique custom jewelry designs we have crafted in the past while.
Simple, elegant and perfect, this custom sapphire engagement ring has been a huge hit on our instagram and social media pages. As mentioned in previous blogs, sapphires make for an excellent choice for a non diamond engagement ring due to both their beauty and exceptional hardness and durability. They are also increasingly popular due to the engagement ring worn by Kate Middleton as well as other members of the royal families.
Thanks very much for checking out this blog post on 5 stunning gemstone rings created in Winnipeg. We hope you enjoyed checking out these wonderful jewelry designs as much as we loved making them. Feel free to browse other custom rings we have crafted for clients. When the time comes to create your own masterpiece get in touch with us through our contact page ad we would be happy to help you. In the mean time follow us on facebook, twitter or instagram!