Sapphire and diamond engagement rings display a winning combination consisting of two of the most beautiful precious gems available. Aside from their guaranteed sparkle, both Ceylon sapphires and diamonds are incredibly hard and durable (diamonds ranking a solid 10 and sapphires 9 on the Mohs scale of hardness). This means that they will both wear very well over time and are excellent choices for any jewellery pieces that you plan to wear for life such as engagement rings or wedding bands. Due to the beautiful colours available with regards to sapphires, this combination can also lead to some of the most amazing colour contrasts!
Without further delay, let's have a look at some of the sapphire and diamond engagement rings that we have had the pleasure of creating for couples all over Winnipeg and across Canada.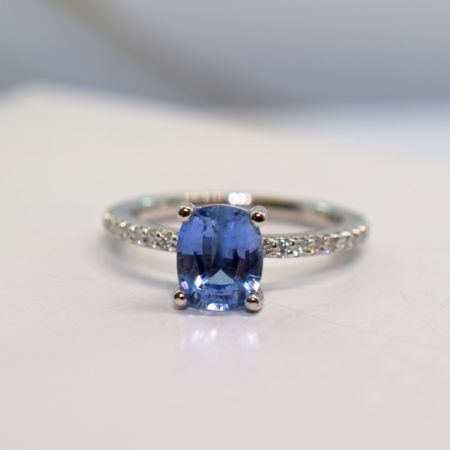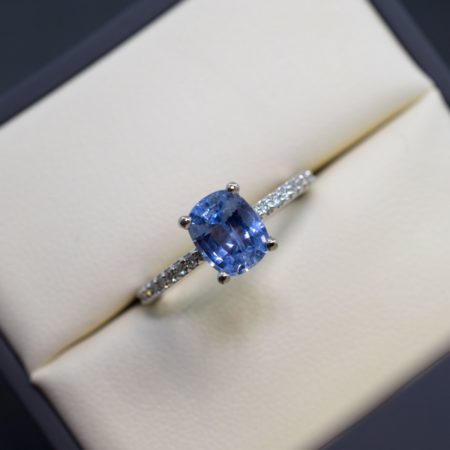 Platinum blue sapphire and diamond engagement ring
This excellent design was created a while back for a special couple and features a brilliant blue ceylon sapphire. The platinum band is lined with diamonds creating a wonderful colour contrast and ring of sparkle around the finger. Platinum is known for its everlasting durability and is also hypoallergenic. Due to it's malleability platinum can easily be polished and any scratches that occur over time can be polished out so that it can retain its white sheen. Check out our article on platinum engagement rings to learn more!
Infinity band side stone sapphire engagement ring
This ring features a light blue sapphire as the centre stone surrounded by a diamond halo. One of the most unique aspects of this ring is the criss cross, infinity band. We have noticed that infinity band engagement rings are increasingly popular and are probably one of the top engagement ring trends for 2019. To see more styles similar to this please check out our latest blog on side stone engagement rings.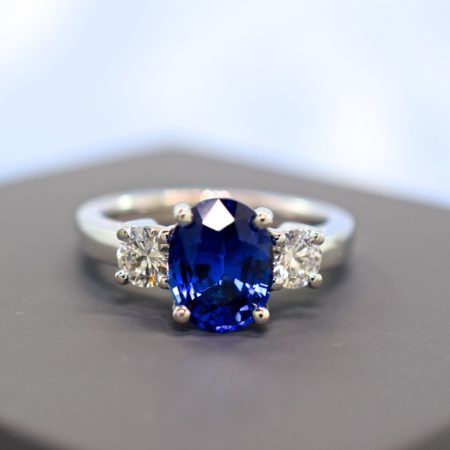 Sapphire and diamond three stone ring
This ring features one of the most exceptional ceylon sapphires we have ever seen! It's colour and brilliance is absolutely stunning and even more spectacular in person. The sapphire is set between two round, brilliant VVS diamonds creating that perfect combination of sparkle.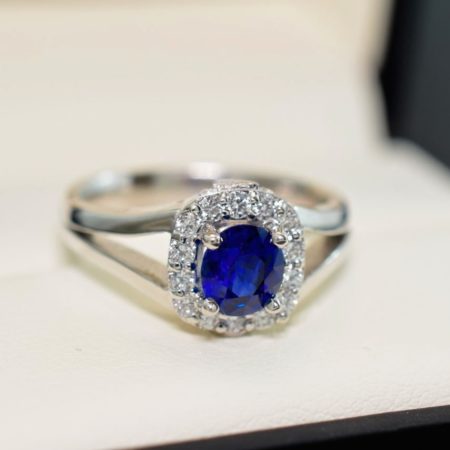 Sapphire and diamond halo engagement ring
This sapphire and diamond engagement features a modern halo and split band design and is one of our most loved engagement rings on our instagram page. A hidden feature of this ring, which is not shown in this picture is the family crest that has been engraved along the bridge. As mentioned previously, the bridge of the ring is a great place for hidden gems and details when creating your engagement ring with our design team. To learn more about this ring, please check out our article on 5 new engagement rings made in Winnipeg.
Thanks very much for reading this article on sapphire and diamond engagement rings. As a primer designer and creator of the finest custom jewellery and engagement rings in Winnipeg we would be happy to help you design your perfect ring. Feel free to contact us to begin creating your masterpiece. Until then, don't forget to follow us on facebook, twitter or instagram!
Want to see more engagement rings similar to the ones in this article? Check out our sapphire engagement rings page to see our top styles and designs that we have created!