Here at Omori Diamonds inc., we work directly with you to create you own engagement ring in Winnipeg, Manitoba. Our specialty lies in a deep knowledge of all aspects of the custom jewellery process as well as patient communication with our clients. In today's blog we will giving you an inside look into how you can design and create your own engagement ring with our expert team!
Start With Your Inspiration!
Many times our clients bring us ideas that they have for us to use as a starting point. This can include such things as concepts that they would like to have expressed in their custom engagement ring such as a nature theme, leaves or branches as well as animal themes such as butterflies.
In the case of the custom leaf engagement ring and wedding band shown below, our client wanted to create a special ring which took the shape of leaves wrapping around the finger. After discussing this idea with jewellery designer, Jim Omori we were able to come up with some rough sketches. At this point we then created a 3D model of the ring using CAD ( computer aided jewellery design). This allows us to communicate our ideas back and forth with our client and also allows our client to suggest any changes to the design. Once approved we will move forward and 3D print the design out in a wax resin which is then cast in precious metal and completed by our master goldsmith.
Bring in your own drawing or sketch
There are other times when clients who are artistically inclined may bring in an already developed idea in the form of a sketch or drawing. In the case of the butterfly engagement ring below, our client brought in a drawing of how he wanted his engagement ring to look, with a butterfly shape carved into the bridge. As you can see, once again we started with his sketch which we then used to create some CAD images. At this point, the ring was created and our goldsmith set the beautiful green sapphire in the setting. The ring turned out perfect!
Start with a design and customize it
Another popular way to create your own engagement ring is to start with a pre existing design from our catalogue or bring in a photo of a design you love, which can be used as a starting point for a unique engagement ring. We can then work with you to personalize the design and make it your own.
In the ring below our client showed us some images of designs which featured inlaid diamonds and gemstones in the band. Using this them we created this special ring which features the precious gemstones set among an intricate vine like pattern. Another thing that was done to personalize this engagement ring design is that the couples names are engraved along the bridge of the ring.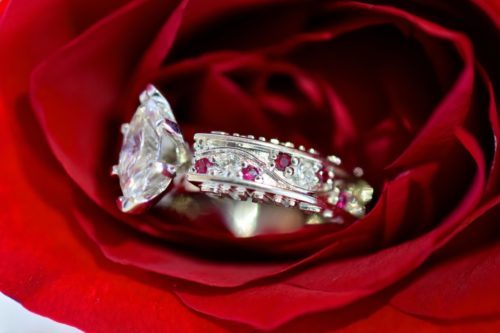 The bridge is often an overlooked part of a ring where there is much room for customization, such as "hidden gems and details" which are only visible to the one wearing the ring. One thing we have become known for is our "heart on the bridge" where clients may choose to have us set a heart shaped diamond or precious gemstone onto the bridge creating a little reminder of their love.  The photo below shows a custom ruby and platinum ring that we created for a client which features a beautiful heart shaped diamond placed in the bridge.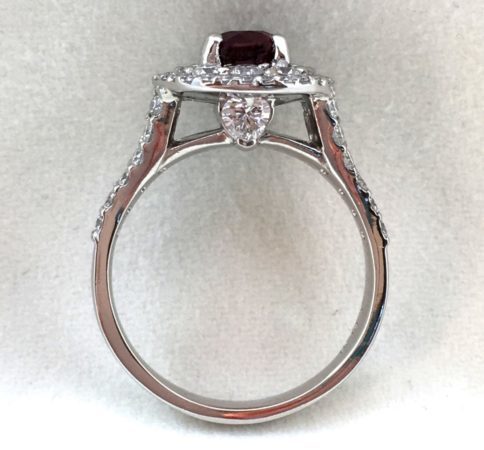 Look to the stars!
With the popularity of Hollywood social media accounts trending these days, many couples are looking to their favourite celebrity engagement ring styles for inspiration for their own designs. As a matter of fact, we have noticed a number of trends which have appeared possibly as a result of the influence of both hollywood and famous members of the royal family. The most well known perhaps being the increase in popularity among sapphire engagement rings, which has certainly been influenced by the rings worn by Kate Middleton as well as Lady Diana. Below are some of our most royal designs which feature blue sapphires as their main feature!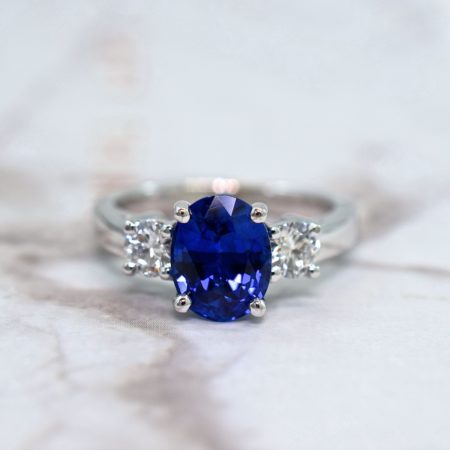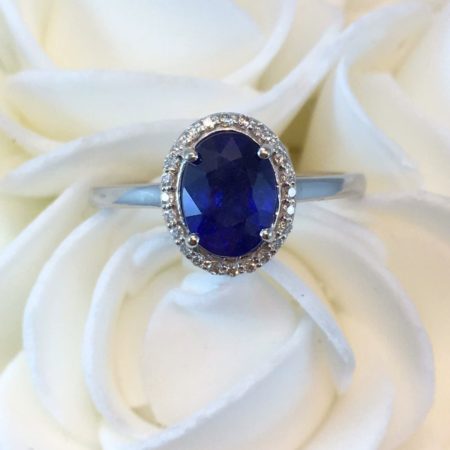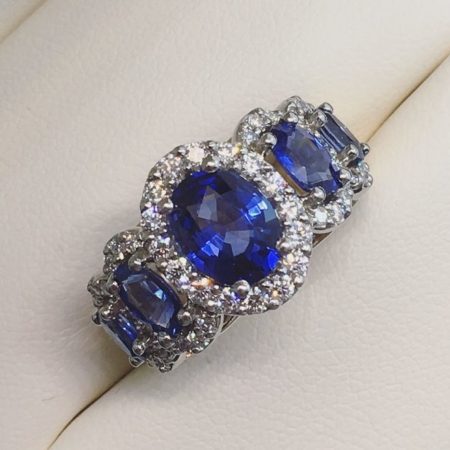 For more hollywood engagement ring inspiration, be sure to check out our article on 3 custom rings like Katy Perry's engagement ring!
We hope you have enjoyed this article on some unique ways to create your own engagement ring. Hopefully we have provided you with some starting points for when the time comes to begin the process of creating your own special dream ring. Until then be sure to follow us on facebook, twitter or instagram!
Create Your Own Engagement Ring In Winnipeg
Are you looking to design the perfect custom ring, wedding band or engagement ring in Winnipeg? Simply contact Omori Diamonds inc. to book your free appointment with an award winning designer now!