Omori Diamonds inc. specializes in beautiful diamond engagement rings and wedding rings in Winnipeg, Manitoba. Meet directly with our award winning designer and diamond specialist to receive undivided attention in creating your dream ring!
In today's article we will be showing you 5 spectacular wedding rings that we have created for our clients. As a primer custom jewellery designer in Winnipeg, much of our time is spent crafting custom rings based on our client's input and inspiration. When it comes to designing a custom wedding ring, we often stick with the theme of the original engagement ring. If for example, the engagement ring features nature inspired or leaf and vine shapes, we will often create the wedding band with similar patterns and textures so that it complements the engagement ring.
Another jewellery design technique that we often use is to create a fitted, interlocking or nested wedding ring which is formed to the shape of the original engagement ring. This allows the wedding ring to fit snugly against the ring so that the two can be worn together as one. These rings can then be permanently connected together or remain on their own to be worn separately as well.
Now without any further delay, lets have a look at 5 amazing new wedding rings created by Omori Diamonds inc.!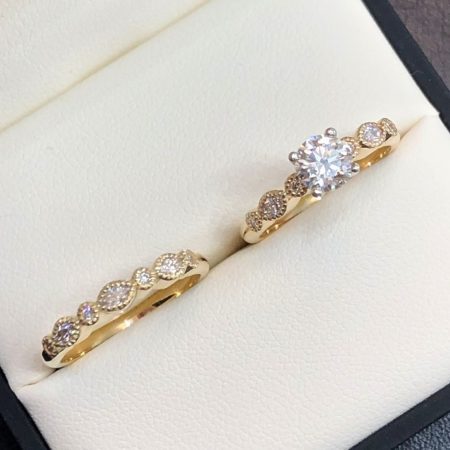 Vintage engagement and wedding rings
This pair or matching vintage engagement and wedding rings was created for our clients this year and features detailed craftsmanship along the band. Both designs are crafted in yellow gold and feature a mix of both round and marquise shaped diamonds. The engagement ring has been a favourite on our social media and instagram accounts as many people love the antique inspired shapes.
Want to see more of this yellow gold custom engagement ring and wedding ring? Check out the video HERE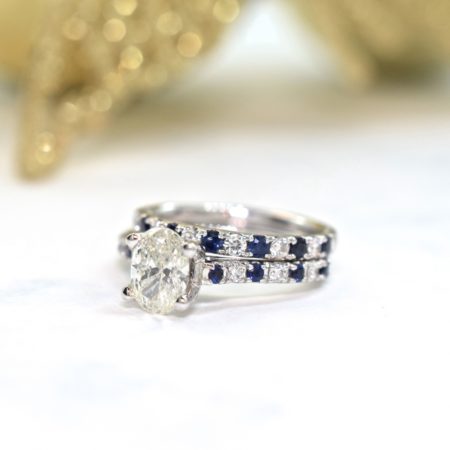 Diamond and Sapphire Engagement and Wedding Rings
This pair features a matching engagement ring and wedding band which blends the timeless mix of both diamonds and blue sapphires. As mentioned previously, one of our specialties is in sourcing fine ceylon sapphires and crafting beautiful sapphire engagement rings. With this particular design, the mix of blue and white from the diamonds creates a striking colour contrast which has led to this ring being another favourite online. As you can probably tell, this wonderful ring also features an oval diamond, which is currently one of the most popular diamond shapes.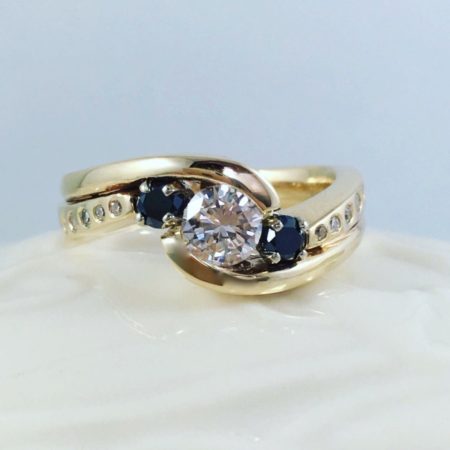 Spiral Interlocking Engagement and Wedding Ring
Although the above photo appears to be of a single ring it is actually two! This is a beautiful interlocking engagement and wedding ring made to fit perfectly together. Like the previous design, this creation also features a mix of diamonds and blue sapphires. The unique spiral pattern gives the ring a seamless flow and creates a modern and streamlined appearance. The spiral shape has in fact become very popular amongst our clients and it has become a defining feature in many of our designs. Check out our article on this white gold spiral engagement ring we created previously. You can also view the video HERE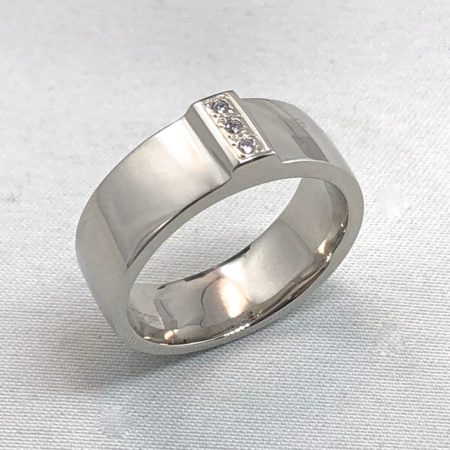 Men's Diamond Wedding Ring
One thing which is often overlooked by many jewellers, is that the mens wedding ring can offer just as much potential for creativity as the women's engagement and wedding rings. This unique men's wedding ring features diamonds which have been bead set with a four sided bevel around the setting. This men's wedding ring was created for our client for his recent wedding. The vertical pattern on the setting complements the marquise diamond set in the engagement ring that he helped design for his fiancée'.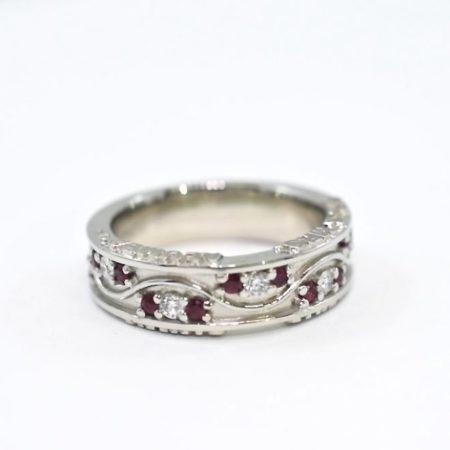 Ruby and Diamond Vine Men's Wedding Ring
This design features a unique and striking vine-like pattern which is inlaid with both rubies and diamonds. It also features the names of the couple which have been engraved along the outer edges of the rings. This ring was created to perfectly complement the engagement ring (shown below) which we created previously.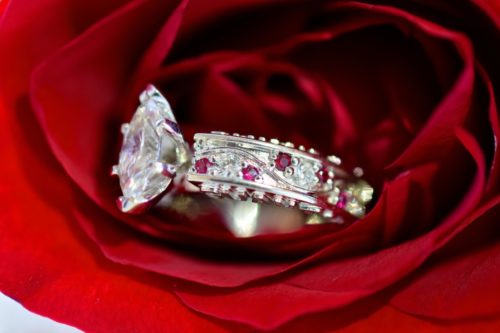 Thanks so much for checking out this article on 5 new amazing wedding rings. Don't forget to follow us on facebook, twitter or instagram!
Are you ready to create your perfect custom wedding ring in Winnipeg?
Book your free appointment with Omori Diamonds inc. now!