We specialize in creating many different bridal designs such as halo, vintage and solitaire engagement rings in Winnipeg. In today's blog we will be showing off some of our latest solitaire engagement ring designs.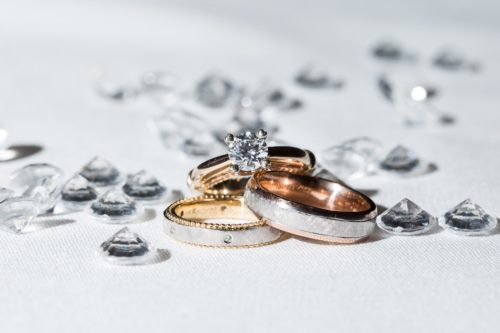 When it comes to engagement rings, couples are often faced with endless style options from halo, to vintage and even delicate side stone. However, sometimes the simplest choice is the best in order to let the diamond steal the show! The solitaire engagement ring is the classic and elegant setting which serves to draw attention to the brilliant centre stone. A favourite style choice for many of this years top celebrity engagement ring designs, the solitaire is certainly a style we have been seeing more and more of as of late. However, you don't need to have a massive 18 carat diamond in order for the solitaire design to look amazing. This style is incredibly versatile and can look exceptional with diamonds of all shapes and sizes.
The classic four and six claw solitaire engagement ring…
Perhaps the most recognizable variations of the solitaire engagement ring designs are the six and four claw ring styles. Known for their symmetry, these designs often feature tapered knife edge bands designed to draw attention to their centre diamond. Here are a few examples of four and six claw solitaire engagement rings that we have created for our clients.
Different diamond shapes…
As you can see, the solitaire engagement ring style goes well with a variety of diamond shapes. Pear diamonds can look especially stunning. Here is a pear diamond solitaire which features a knife edge band which was carved by hand.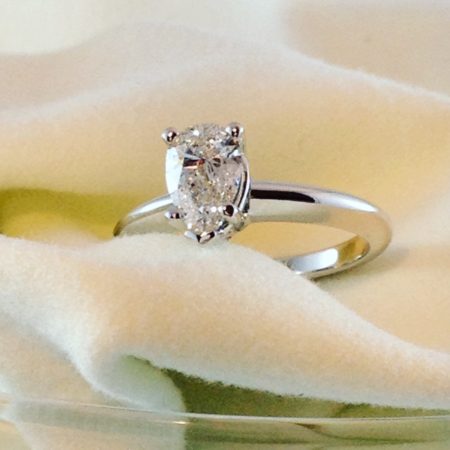 Unique and nature inspired solitaire engagement rings…
For those who love nature themed designs, there are many options for incorporating many leaf like and natural textures into your design. The design show below shows both the wedding band and engagement ring which have been created in the likeness of a band of leaves. Both rings have been designed to interlock and fit perfectly.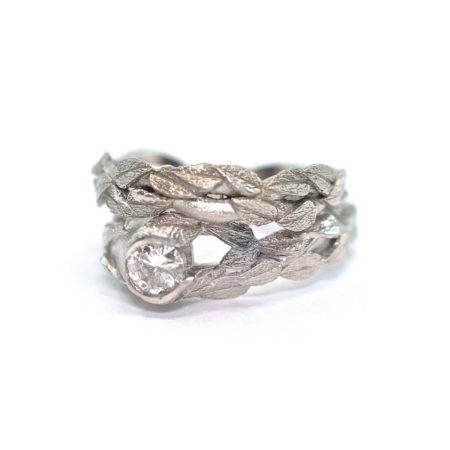 Coloured diamonds…
This design features the classic four claw design with a beautiful blue diamond. Both fancy coloured diamonds as well as sapphires can be easily set into any of our designs. Moissanite engagement rings are also a great option especially for those looking for a cost effective alternative to diamonds.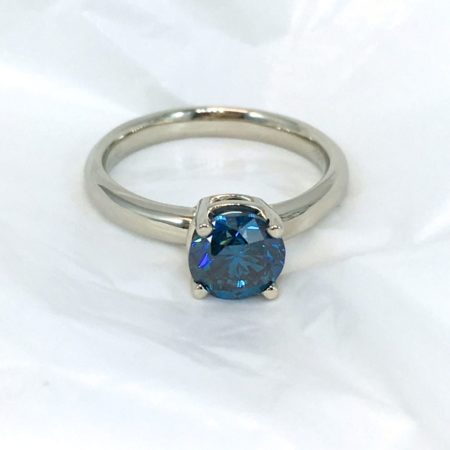 Creating your perfect solitaire engagement ring in Winnipeg…
If you are ready to create you perfect solitaire engagement ring, we would love to help you out! Our simple design process is designed to be stress free and streamlined.
Get in touch with us by phone or email on our contact page. Feel free to send us any images of designs that we can use as inspiration. You can also browse our custom jewellery page to view previous designs that we have created.
Meet us for your personal appointment where we will help you to choose the perfect diamond or centre stone for your design. Once we have discussed your design and settled upon a style we will create some CAD (computer aided design) images for you to view and approve.
After you have approved your design we will either create a wax model or begin creating the design in precious metal. our master goldsmith will then polish the design and set the stones. We will then contact you to receive your masterpiece !
Thanks again for reading this blog on solitaire engagement rings in Winnipeg. Feel free to connect with us on facebook, twitter or instagram