Princess cut engagement rings offer many unique style options and are a current favourite of many of our clients. The princess cut diamond is an excellent choice for those who favour a square shape over the traditional round diamond, and it can look spectacular in a vast array of different engagement ring styles including halo, vintage, three stone or solitaire.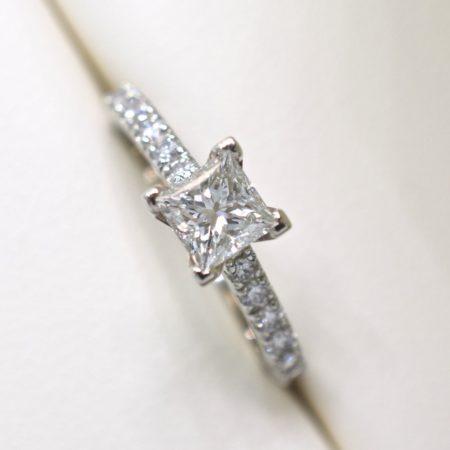 A little background on princess cut diamonds…
Princess cut diamond are the second most popular choice for engagement rings next to the traditional round brilliant cut. This is due to the fact that the princess cut tends to show a lot of brightness and sparkle. It is also slightly more economical due to the fact that the princess cut involves a much lower loss of weight when the diamond is being cut. This means that from a given rough diamond, the cutter can usually cut a princess cut that will be larger and retain more of the original weight than they could if they were to cut out a different diamond shape.
For those of you who are fans of pop culture, the princess cut diamond is also a popular choice with regards to many celebrity engagement rings. As a matter of fact, one of the most unique celebrity engagement rings of 2018 is the asymmetrical two stone design worn by supermodel Emily Ratajkowki. This spectacular ring features a large pear diamond which appears to be about 4-5 cts as well as a princess cut diamond which looks to be around 3-4 cts. To view more of 2018's top celebrity engagement rings, head over to this article by Elle.
Custom princess cut engagement rings…
Over the past while, we have had the pleasure of creating a number of custom engagement rings which feature princess cut diamonds. As mentioned earlier, the princess cut diamond is a very versatile diamond shape and as you will see below, the options are endless.
The Rose gold and princess cut diamond combo…
The above custom engagement ring features a brilliant centre princess cut diamond surrounded by a rose gold halo. To blend with the unique shape of the diamond, this ring also features a split band lined with side diamonds, to create matching rows of sparkle on either side.
Princess cut engagement ring in platinum
This spectacular platinum princess cut engagement ring features a large centre stone set in a brilliant side stone design. As mentioned in previous blogs, platinum is known for its beautiful shine and everlasting durability. Check out this article on our ruby and platinum custom ring to learn more.
Three stone rings for triple sparkle 
In this three stone engagement ring design, the princess cut diamonds play more of a supporting role for contrast on either side of the brilliant centre stone. This design shows the important role that a variety of diamond shapes can play in creating a stunning and unique engagement ring.
Princess cut engagement rings from our catalog
For those who may be in a hurry to have your ring made or wish to choose from our selection of pre designed top styles, we also have a catalog of beautiful engagement rings which are available in rose, white and yellow gold as well as platinum.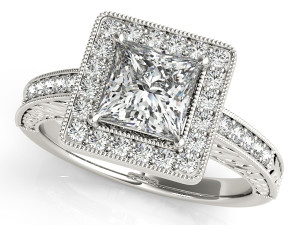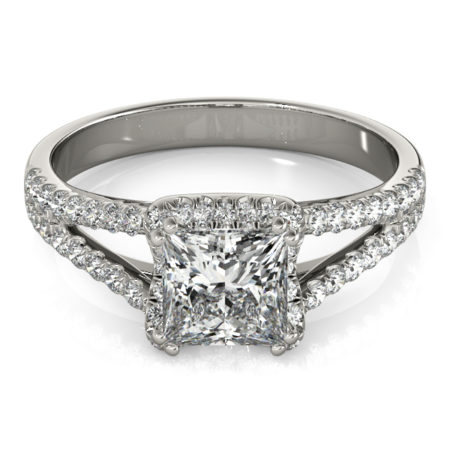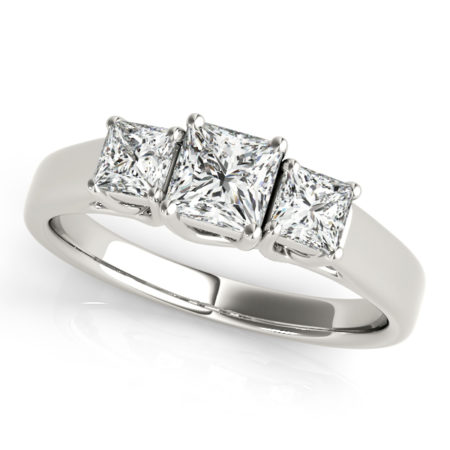 In closing
Thanks again for checking out this article on princess cut engagement rings. Let us know what your favourite engagement ring designs are. Be sure to connect with Omori Diamonds inc. on facebook, twitter and instagram.