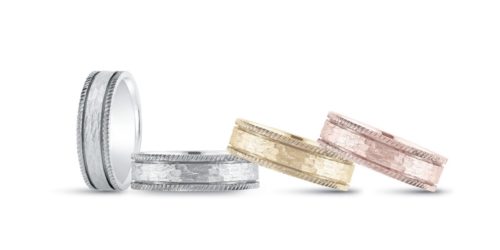 In this article, we will be discussing the ins and outs of mens wedding bands. Just like the engagement ring, the wedding band is something that you will be wearing for life. For this reason, its important to choose a style that fits your personality and will retain its timeless appeal over the years. Read on to learn more about choosing the perfect ring…
Metal Type: Platinum, Gold, Tungsten and Palladium
Platinum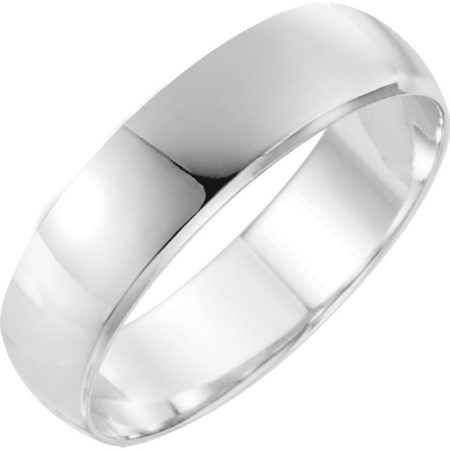 Platinum is a precious metal known for its durability. It is more maliable than gold, so scratches can simply be polished and smoothed out. It is also an excellent choice for people with skin allergies.
Yellow Gold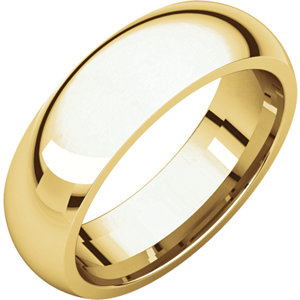 Yellow gold is often through of as the classic precious metal when it comes to wedding rings, as it is extremely versatile in terms of styles and complements a variety of skin tones.
White Gold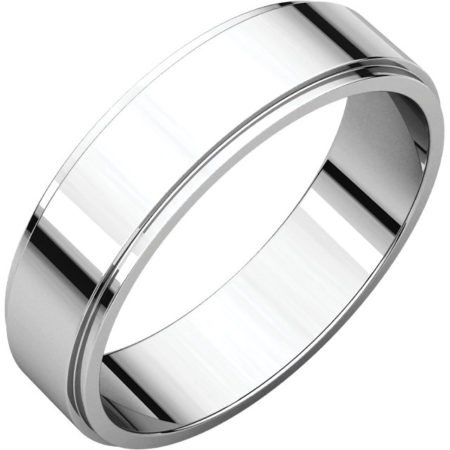 White gold is one of the most popular recent choices for mens wedding bands. It is created by mixing pure gold with an alloy. White gold is also one of the metals of choice for many modern engagement rings, so it may be a good choice if you wish to match the colour of your wedding ring with that of your partners.
Palladium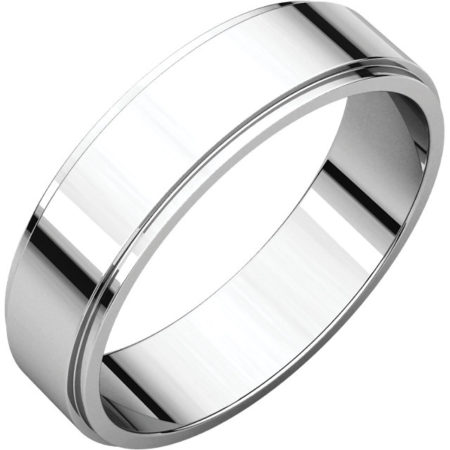 Palladium is very similar to platinum in terms of its durability. It is also a good choice for people who are allergic to nickel, which can be found in white gold.
Tungsten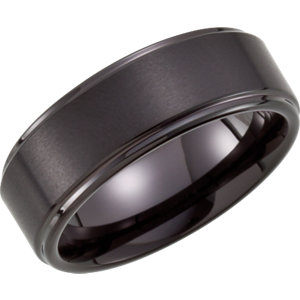 Tungsten is a popular metal which is quite inexpensive. For this reason, many clients may choose a larger and heavier tungsten ring. It is also very comfortable to wear and is very scratch resistant. One thing to keep in mind is that tungsten can not be sized and can be prone to shattering if it is dropped.
Textures and finishes…
Matte finish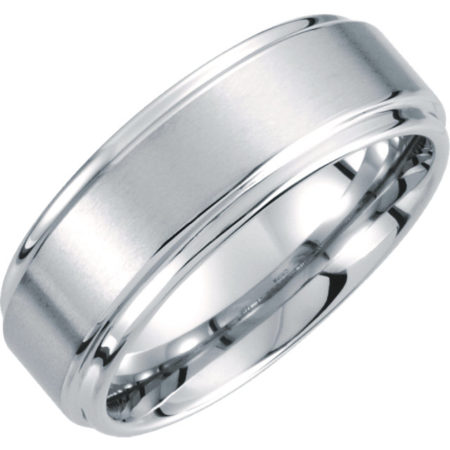 Matte finishes give the ring a less shiny but modern feel. These rings may have a matte finish over the entire surface or have smoothed edges for contrast like in the mens wedding band shown above.
Nugget Rings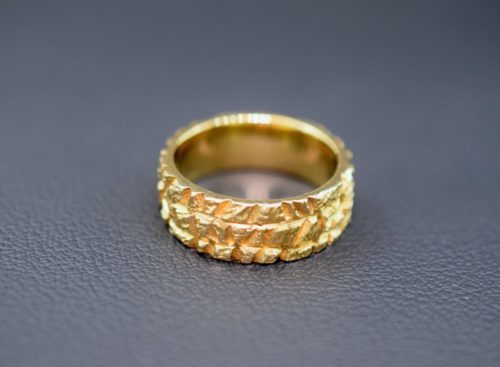 The above mens nugget ring features a beautiful textured finish which was created during the wax carving stage of the jewellery design process.
Check out our custom jewellery page to view more custom rings. 
Hammered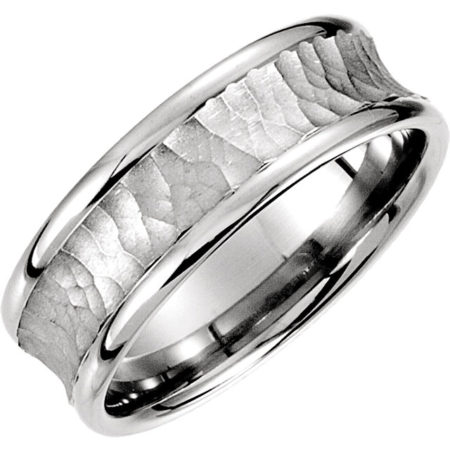 Hammered finishes and textures provide a rugged and robust look and are a great choice for those who want a unique and exciting mens wedding band.
Matching womens and mens wedding bands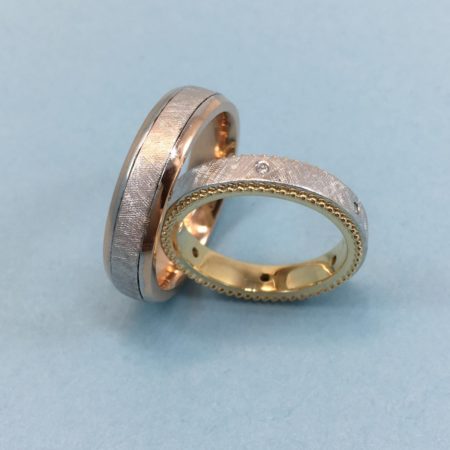 Another option is to have custom made, matching womens and mens bands created. The above images shows two matching wedding bands, each with their own custom florentine finish. These rings were created to match the elegant vintage style of the original engagement ring.
for other great style ideas, check out Vanity Fare's article on celebrity mens wedding rings.
Endless options with custom design…
As your expert custom jeweller, always keep in mind that the options are literally endless when it comes to creating or selecting your perfect mens wedding band. We can combine any of the above features as well as come up with a completely unique design. Don't hesitate to get in touch when the time comes so that you can meet with us to discuss ideas for your perfect design and let us create your dream ring!
Free mens wedding band consultation in Winnipeg
Are you ready to create your perfect wedding ring? Book a free consultation with Omori Diamonds inc. now!