We are your personal designer of custom made engagement rings in Winnipeg. By meeting clients by appointment from our comfortable and modest office space, we are able to provide not only an exceptional true custom design experience, but also very competitive pricing on the finest diamonds, sapphires and precious gems.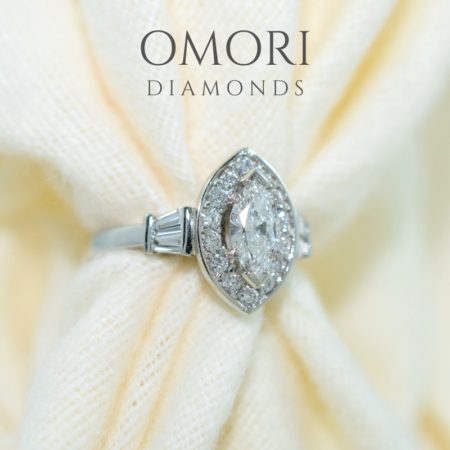 Examples of our custom made engagement rings…
Detailed vintage engagement rings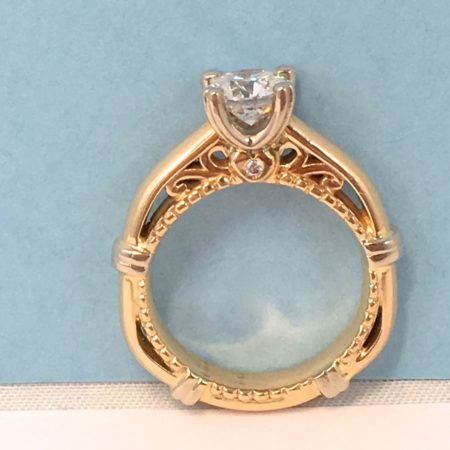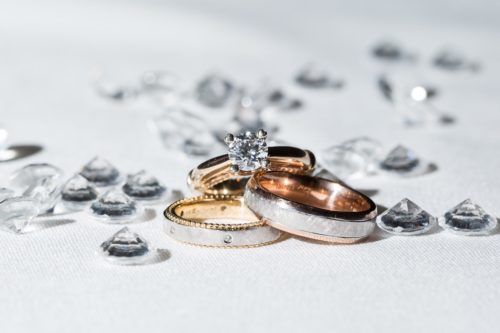 The above custom made engagement ring features a brilliant VVS diamond and was created for a client a while back. One of the defining features of this ring is the detailed engraving along the band.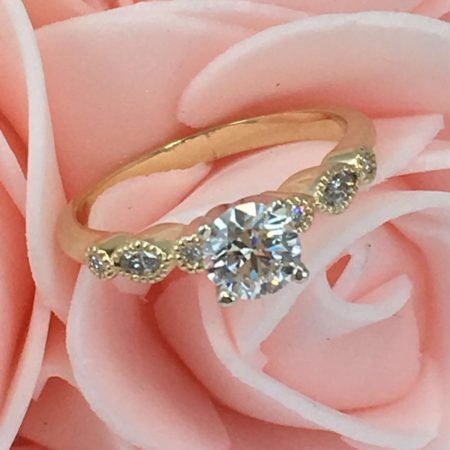 With the rising popularity of vintage engagement rings, we figured we would throw in a photo of another ring we created. This design features both round diamonds and marquise shaped diamonds down the band for added sparkle.
Halo custom made engagement rings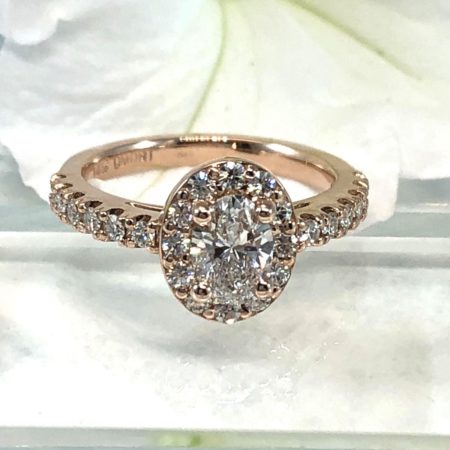 The above design features a beautiful rose gold diamond halo, surrounded by a ring of brilliant centre stones. Check out our other article on rose gold engagement rings.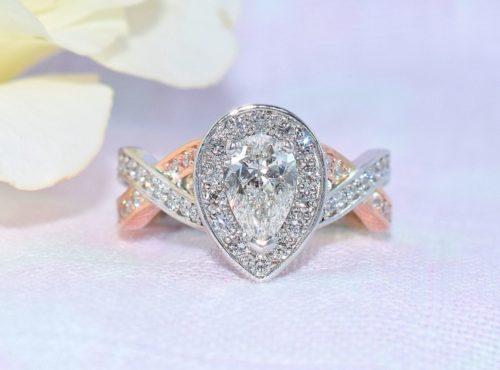 This above custom pear halo engagement ring features the unique combination of rose and white gold on its intertwining band.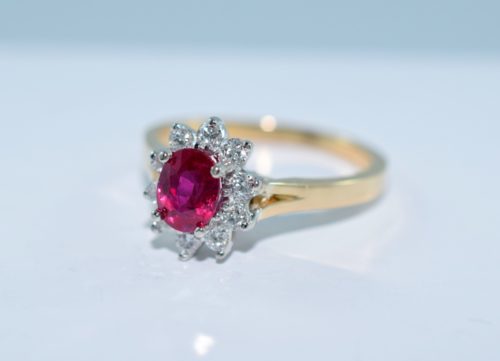 This ruby engagement ring features a yellow gold band and white gold diamond halo, a true winning combination!
Be sure to check out our ruby and platinum custom ring.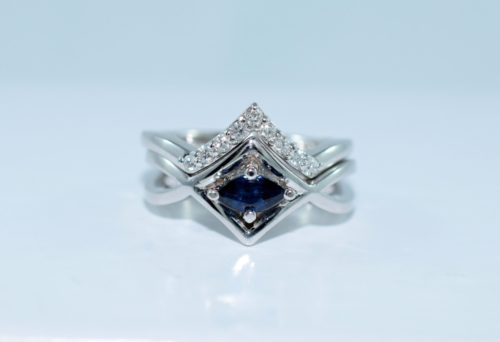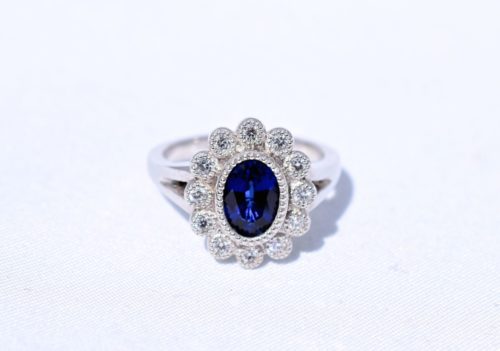 When it comes to custom made engagement rings, sapphire based designs are one of our specialties. This could be due to the fact that one of our unique features is our ability to source a large selection of ceylon sapphires, rubies and other precious gems.
If you love sapphire engagement rings be sure to check out this article on Kate Middleton's engagement ring
Unique custom diamond engagement rings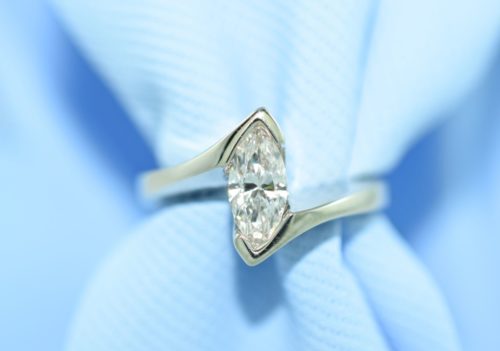 This unique marquise diamond engagement ring is one of our most sleek and modern custom engagement ring designs. It seems that as soon as it hit instagram, we began receiving many request for similar designs.
For other social media favourites, check out our article on the most popular engagement rings of instagram.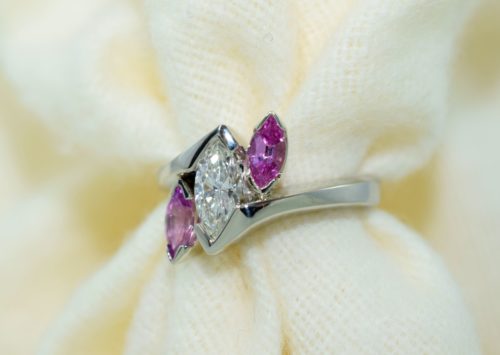 Here is a unique twist on the previous marquise custom engagement ring design which features two perfectly cut pink sapphires on either side of the centre stone.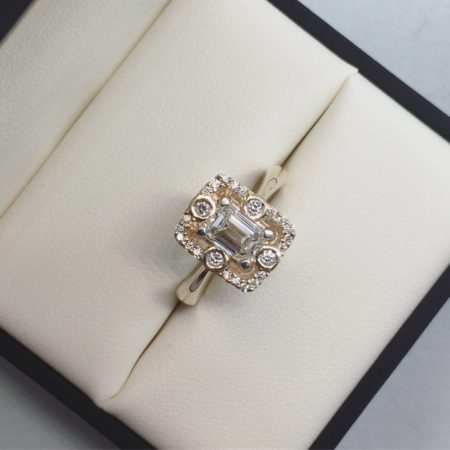 Another vintage antique inspired design, this engagement ring features an emerald cut diamond surrounded by four round diamonds as well as detailed engraving above its tapered band.
Learn more about this design at our blog post on the top engagement ring trends of 2018
For more design inspiration, check out the article on the Knot, on the 10 most famous engagement rings in history.
The custom design process…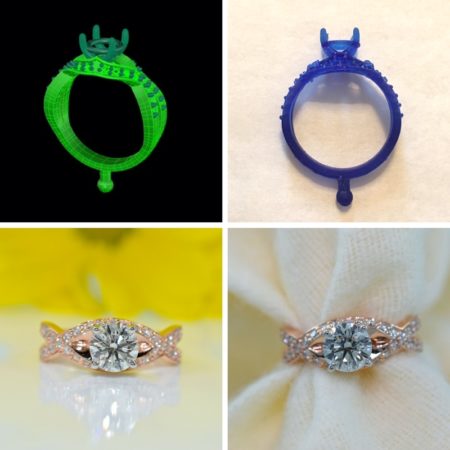 1. Show us your inspiration and favourite designs
Get in touch with us by phone or email and send us any images you have of your favourite engagement rings. If you don't have a particular design in mind, no problem! Our award winning designer will work with you directly to come up with something beautiful and unique.
2. Choose your perfect stone
Our diamond expert will teach you about all the different aspects of diamond buying and then help you to narrow down the absolute best options for your budget. Since we work from a low overhead, modest office and source each diamond for each client, we are able to provide much better pricing than retail on the highest quality diamonds and gems.
3. See your design come to life
Once we settle upon a design, we will begin creating 3D computerized images for you to view and approve or make changes to. After you approve your design, we will create the shape in wax which will then be cast in precious metal. At this point our goldsmith will polish the design and set the stones and your custom made engagement ring will be complete!
Are your ready to create your custom made engagement ring in Winnipeg?
Book your free design appointment with Omori Diamonds inc. now, to create your dream ring!