We design and create fine custom jewellery, and engagement rings in Winnipeg, Manitoba. We also craft custom wedding rings, anniversary rings and all other forms of custom jewellery. Book a free consultation and meet directly with our designer to create your perfect piece.
Submit an inquiry to book a free appointment or call us at (204) 951-7040 to talk to an expert. Let's create a masterpiece together!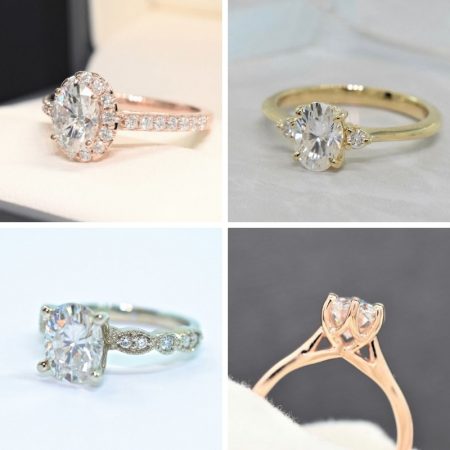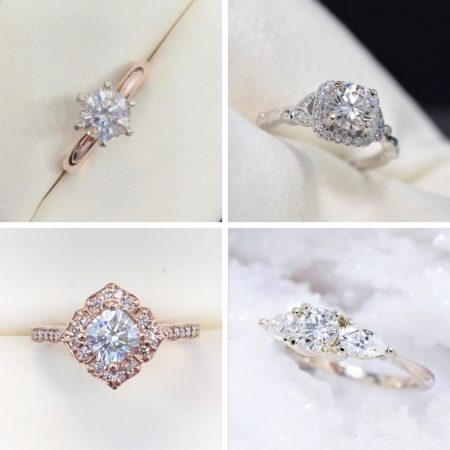 Learn about Moissanite and Moissanite engagemet rings.
What is Moissanite?
Contrary to popular belief, moissanite is not a synthetic diamond. It is in fact a gemstone which can occur naturally in the earth. However, the moissanite stones used in most modern engagement rings are lab created under special conditions to ensure maximum brilliance and clarity. Similar to diamonds, moissanites have different colour grades ranging from colourless to near colourless which results in a white appearance. Moissanites are also very hard and score a 9.25 on the Mohs scale of hardness. To put this in perspective, diamonds score a perfect 10, with sapphires and rubies not far behind as well. This means that these stones are incredibly durable and long lasting making them an excellent choice for engagement rings.
One noticeable visible difference between moissanites and diamonds is that moissanite stones are actually more brilliant and will show a larger range of brilliant colours especially in the sunlight. People will often notice the bright flashes of blue and green when they look at a moissanite under natural light.
One of the main benefits of choosing a moissanite is that they are signifigantely less expensive than diamonds. This means that your budget may allow you to get a considerably larger moissanite than it would a diamond. For example a two or three carat diamond can cost within the tens of thousands, a moissanite of the same size can be much less.
Build your perfect moissanite engagement ring with Omori Diamonds inc.
Here at Omori Diamonds inc., we specialize in helping clients to select the perfect stone for their budget and create their dream ring. We always work within your budget and source the largest and finest stone within that number. If you are interested in having a ring created, please contact us by phone or email to begin the process. Simply let us know the size and shape of the stone you are looking for and we will present you with a variety of ideal options. Feel free to send us images of designs you love to be used as inspiration or choose from our catalogue of pre-existing designs.
FREE ENGAGEMENT RING CONSULTATION IN WINNIPEG
Are you ready to create your very own custom engagement ring from scratch? Book a free ring design consultation with Omori Diamonds inc. now!