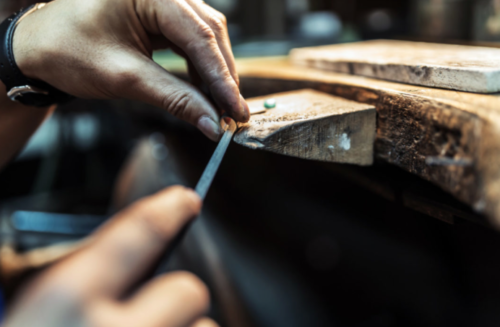 We are an expert custom jewellery design team located in Winnipeg, Manitoba. Trust in the combined 50 years of experience of our designer and goldsmith to create your perfect piece of jewellery.
Award Winning Goldsmith and Designer 
Our goldsmith has worked on numerous pieces which have won awards and is experienced in creating all kinds of fine gold and platinum jewellery.
Contact us at +1 204-951-7040 or submit an inquiry to learn more about our repair services.
OUR SERVICES: 
Custom Jewellery Design: 
Our award winning designer and goldsmith can create a beautiful piece of fine jewellery to match your style. Show us your inspiration and ideas and we will create your masterpiece. View Our Custom Jewellery Portfolio. 
Custom Design Engagement and Wedding Rings: 
Meet directly with our designer and diamond expert to receive expert guidance and attention to creating a beautiful custom engagement ring just for your love. Our experienced goldsmith will then finalize your design and set the diamond or gemstone. View Our Engagement Rings
Please contact us to inquire further about our services:
Phone: (204) 951-7040
Email: info@omori.ca