Here at Omori Diamonds inc. we specialize in fine custom jewellery design and in crafting beautiful engagement rings in Winnipeg. In today's article we will be showing you 3 points to consider when buying an engagement ring. As experts in both diamonds and in the jewellery trade we have gained a great deal of knowledge over the years. Let us pass this knowledge on to you so that you can choose the ring that is perfect for you or your loved one.
1. Engagement Ring Styles
When it comes to choosing your perfect ring, there are a few classic design elements to consider. Here are some of the most well known engagement ring styles.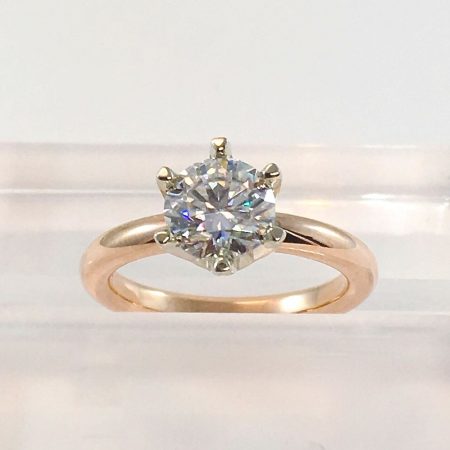 Solitaire
Solitaires feature a single diamond or gem which acts as the central focus for the engagement ring. These can look beautiful with a variety of stone shapes from rounds to ovals and other more fancy shapes. The above engagement ring features the classic 6 prong look, however some solitaires also can come with 4 prong settings. The choice is up to you!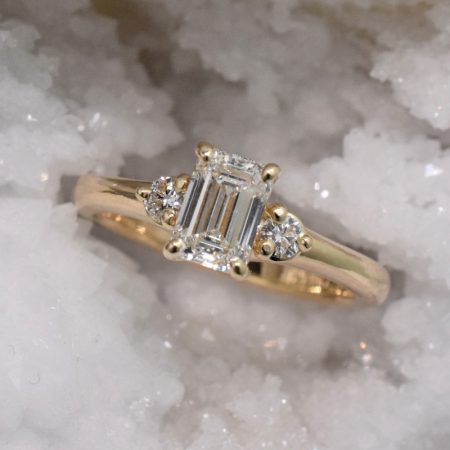 Three stone engagement ring
The above engagement ring features a beautiful emerald cut diamond with a smaller round diamond on each side. Three stone rings are incredibly popular right now and look great with ovals and round diamonds or sapphires. This style also looks beautiful in white and rose gold.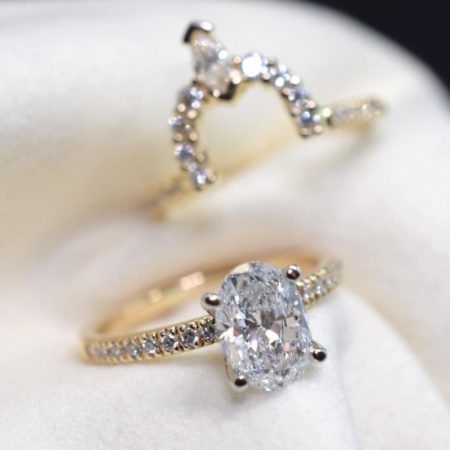 Side stone engagement rings
Side stone rings are very similar to the solitaire with one sparkly addition, the setting of smaller diamonds on the band. This creates the impression of a band of sparkle around the finger. Due to the white flashes of brilliance created, side stone engagement rings are one of the most popular styles on social media currently and show no signs of slowing down. This style can also feature a variety of twists such as infinity or vine style bands.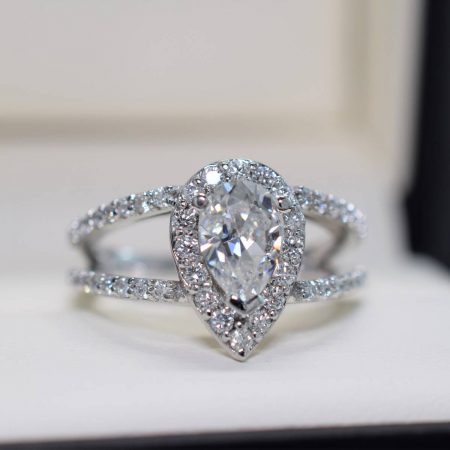 Halo engagement rings
The above ring features a pear shaped halo around the center stone and a split side stone band. Halo engagement rings are one of the most popular styles and look wonderful with round and oval diamonds.
2. Choose your stone
When it comes to picking your perfect stone, the primary options we suggest are diamonds, sapphires and rubies. This is due to the fact that these are the strongest and most durable stones, which wear incredibly well over time. In terms of diamonds, both natural and lab created diamonds are options. For a most cost effective stone, Moissanite is a lab created diamond alternative which is also very durable and incredibly brilliant.
Before choosing the perfect stone it is important to be educated about the different aspects of diamonds and gems. Check out our diamond education page, which is an excellent resource for learning about such things as diamond cut, clarity, colour and carat weight (the 4 C's).
3. Your metal Type
When it comes to choosing your engagement ring, your main options are gold and platinum. With gold, the primary colours are yellow, white and rose, which comes down to personal preference. Care must also be taken if one has any allergies to other metals such as Nickel which can me mixed in some sorts of gold. In the case of allergies we can take special measures to make sure that you will not have any problems. Platinum is also an excellent option which is both non allergenic and incredibly durable. Known for its beautiful white sheen and everlasting durability, platinum is a dense and beautiful metal which has been very popular as of late.
4. Lifestyle 
When it comes to buying an engagement ring another thing to consider is the lifestyle of the person who is wearing it. For those with incredibly active lifestyles or who enjoy the out doors, we recommend more robust rings without many small diamonds on the band as the lifting of heavy objects can cause the ring to flex and wear over time. For those with occupations such as nurses or careers working with their hands, we may recommend that the stones be set lower as being set too high can lead to snagging on objects and clothing. In these cases, bezel settings and solitaires can be a great choice.
5. Matching wedding bands
Last but not least on our list of tips for buying an engagement ring is to consider the kind of wedding band you may want with your design. With the case of engagement rings where the stone has been set higher up, we can often fit a wedding band up next to the ring as is. With more elaborate designs, we will custom make a band so that it fits with the contour of the engagement ring so that the two fit together perfectly as is the case with the design shown below.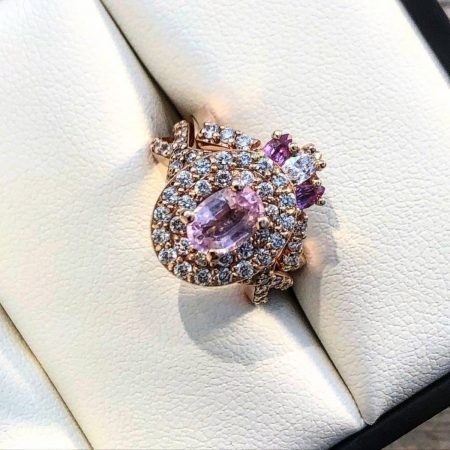 Thank you very much for checking out this article on 5 points to consider when buying an engagement ring. We hope you have found this useful and that you have received some inspiration for choosing your perfect design. In the mean time, please browse our custom jewellery galleries for further design ideas.
Are you ready to create your perfect engagement ring in Winnipeg?
Book your appointment with Omori Diamonds inc., now!