Here at Omori Diamonds inc. we specialize in crafting fine custom jewelry and engagement rings in Winnipeg. We work directly with clients to create special jewelry designs which are unique to their own personal style. In todays blog we will be showing you a custom black diamond engagement ring which also features a brilliaint marquise shaped diamond. Read on to learn more about the process that went into creating this ring. 
Beginning the design process:
We began the design process of creating this custom black diamond engagement ring by discussing some ideas with our clients. During this stage we often make a number of hand drawings so that we are able to communicate design ideas back and forth.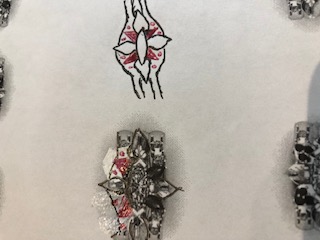 As you can see from above, the design was planned to feature a brilliant marquise cut diamond as the centre stone, surrounded by triangular cut black diamonds. The design itself is an antique or vintage inspired floral pattern. As mentioned in previous articles, vintage engagement rings as well as art deco rings are incredibly popular right now and are one of our favourite styles due to the intricate engraving and design work which is often involved in order to give the ring a timeless look.
Computer aided design
After discussing the design with our clients, we then went on to create some CAD (computer aided design) images for our clients to view. This is a very exciting stage in the custom jewelry design process as it allows our clients to see their design come to life. These images also allow our clients to suggest changes to the design to make sure that it is just right!
As you can see, the CAD images provide a realistic look at how the engagement ring will look when it is finished. They also include all the data that is needed in terms of angles and measurements for when the design is 3D printed in a wax resin during the next stage in the process.
The final stages of the design
After our clients approved their design, we then went on to 3D print out a wax model of the design. At this point the shape of the ring was then cast, in palladium, a precious metal. In order to complete the design our master gold smith then polished the ring and set the centre marquise diamond and then the smaller stones as well. In keeping with the vintage antique look of the ring, he also created a special antique finish to create a worn and textured look to the design. We then contacted our clients to come and pick up their ring and we are very happy to say that they love their design!
Thanks very much for checking out this article on the creation process behind out custom marquise and black diamond engagement ring. We hope you enjoyed this article and learned more about how custom jewelry is designed and made. Feel free to check out our other articles on the custom design process and don't forget to keep in touch by following us on  facebook, twitter or instagram!
Also, if you love the look of vintage and antique inspired engagement rings, check out this article on Elle on 15 celebrities with vintage engagement rings.