Custom Design Engagement Rings Winnipeg
At Omori Diamonds inc. we specialize in designing and crafting exceptional custom engagement rings in Winnipeg. Our custom jewellery is created through a personalized process which involves discussing design ideas with our clients and then turning them into reality.
Designing Your Custom Engagement Ring:
When a client gets in touch with us, they usually have a few ideas for a custom engagement ring design in mind. They may even show us pictures of everything from other rings to pictures of leaves and nature to be used as inspiration. At this point our expert team will create CAD (computer aided design) images to show the client of their piece so that they can see what their custom ring will look like from a number of angles. Changes can also be suggested at this point and our team will be able to create new CAD images to be sure that we are interpreting their ideas correctly.
After the CAD images have been approved we then create the shape in a wax resin. This is a very exciting stage for many of our cliets because it finally allows them to see their custom engagement ring coming to life. Once they approve the wax model, our team will then cast the engagement ring in precious metal (gold or platinum) and then our goldsmith will polish the design and set the diamonds or precious gems. We will then call our client to pick up their custom design or arrange to have it shipped if they are out of the provence.
Some Examples of our work:
Here are some examples of our Omori custom engagement rings…
custom rose and white gold pear diamond engagement ring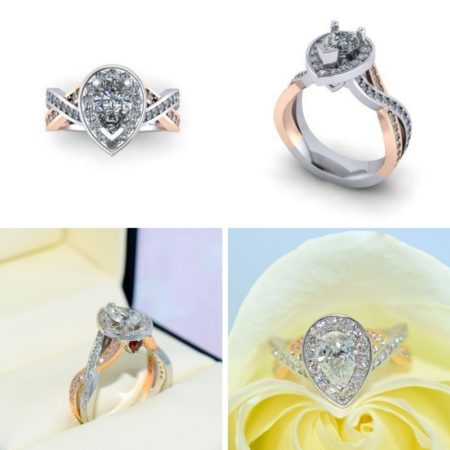 This is an elegant rose and white gold engagement ring that we created, which features an exceptionally bright pear shaped diamond halo. Another unique feature of this engagement ring is the heart shaped garnet which is set under the bridge. Click here to learn more about this custom engagement ring with rose gold.
custom platinum split band engagement ring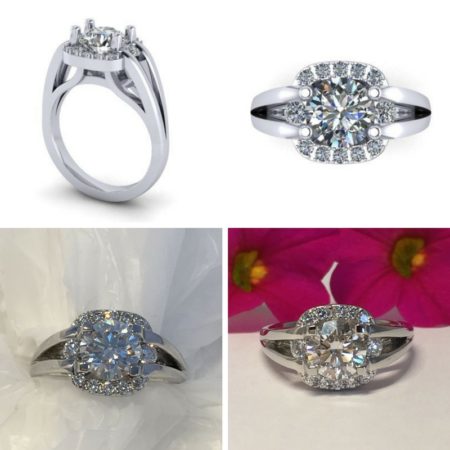 Here is a wonderful platinum halo engagement ring with a split band that we created. The split band creates a modern and elegant effect and helps to draw attention to the exceptional centre stone. Click here to read more about this diamond and platinum engagement ring.
custom Butterfly Engagement Ring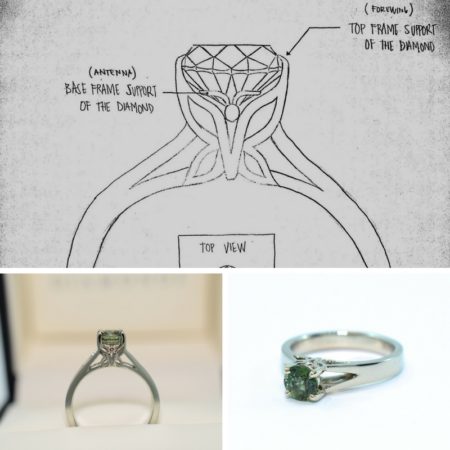 Here's a very special design that was created using a drawing that a client had made of a butterfly inspired design. This special design features a butterfly shape in the bridge. We wish we could take credit for this design but it was all his idea! Click here to learn more about this wonderful butterfly engagement ring design.
custom Halo engagement ring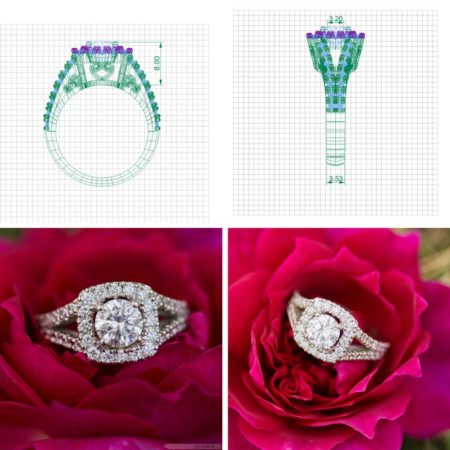 Here is a special halo engagement ring that we created using a 3D printer, due to the fine details required. In the above image you can see both the finished design and the original plans which were created using CAD (computer aided design). Read more about this halo ring in our Winnipeg engagement ring journal.
Custom Leaf Engagement Ring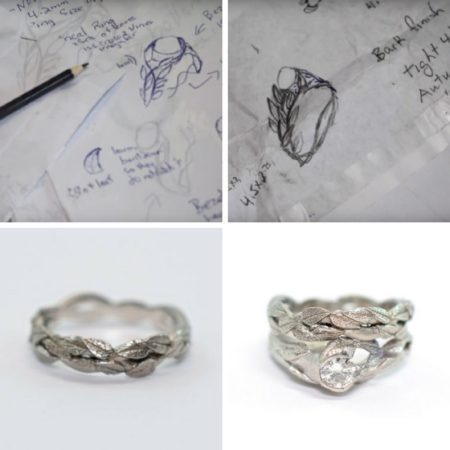 Perhaps one of our most unique designs, this engagement ring and wedding ring set was created by Jim Omori together with our clients and is based on the shape of an apple tree and leaf. Check out our Winnipeg engagement ring journal to learn more about our custom leaf engagement ring.
Custom Marquise and Ruby Engagement Ring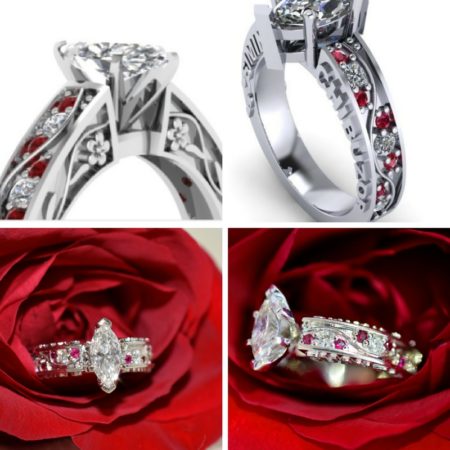 Here is a very detailed design which features a bright and beautiful marquise shaped diamond as well as a number of spectacular rubies. This engagement ring also features very detailed engraving on all sides. Click here to learn more about gemstone engagement rings. 
Marquise diamond halo engagement ring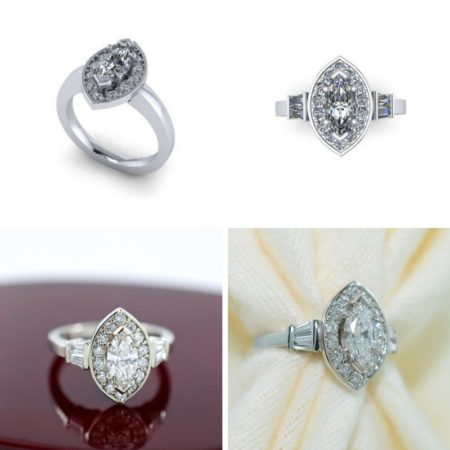 This engagement ring features a bright centre diamond surrounded by a brilliant halo. This custom ring also features baguette shaped diamonds down either side of the band as well. Check out our blog entry on this custom marquise halo diamond ring. 
FREE CUSTOM ENGAGEMENT RING CONSULTATION IN WINNIPEG
Are you ready to create your perfect custom ring? Book a free diamond ring design consultation with Omori Diamonds inc. now!