We are a designer and  creator of exceptional custom jewellery, and engagement rings in Winnipeg. We also specialize in making custom wedding rings, anniversary rings and all other types of custom jewellery. Book a free consultation and meet directly with our expert ring designer to create your perfect piece.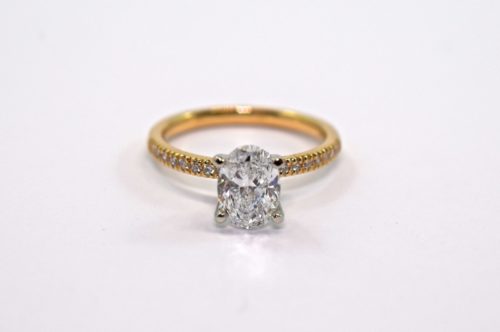 In this entery of the Omori Diamonds inc., Winnipeg engagement ring journal, we are going to show you an elegant and streamlined custom ring that we created just before Christmas. This design features a modern, yellow gold, side stone band with a magnificently bright oval cut diamond. Read on to learn more about oval shaped diamonds and the custom design process that went into creating this special engagement ring.
A bit about Oval Shaped Diamonds…
The oval diamond cut is a relatively new diamond cut, dating back to the 1960's, and is referred to as a modified brilliant cut due to its similarities in fire and brilliance to the brilliant or round cut. This is an excellent choice for people who love the look of round diamonds but who want something a bit more unique. Due to its elongated shape, the oval cut also creates the appearance of a larger diamond for a given carat weight, resulting in "more sparkle for your buck".
As is the case with all diamond shapes, the quality measurements based on the 4 C's (colour, clarity, carat and cut) are very important as is the diamonds proportions. At Omori Diamonds inc., we take extra special care to scrutinize every aspect of a diamonds quality to insure maximum sparkle, fire and brilliance. We also specialize specifically in diamonds graded by the G.I.A. (gemological institute of America) as they are the most reputable and trusted grading labs. This means that our clients always know what they are buying and can shop with confidence.
Other designs featuring Oval Diamonds: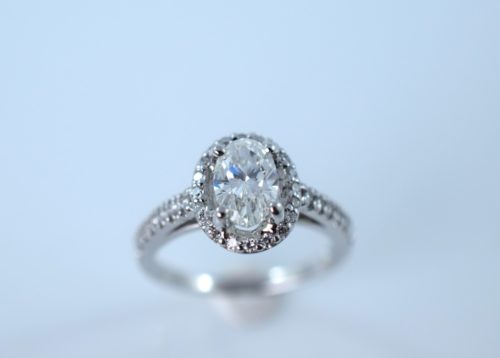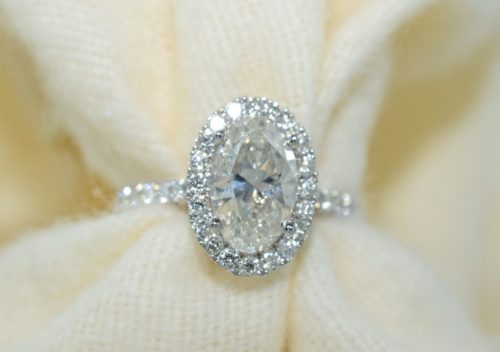 The design process…
The client discussed a variety of design options with us, in terms of the style he wanted for his custom engagement ring. After viewing some examples of designs that he showed us, we began by creating some CAD (computer aided design) images for him to view and approve.
CAD renderings provide the client with an opportunity to see a 3D representation of their jewellery design and to suggest any changes to the design. In this case, the client decided on having his ring created in yellow gold, as opposed to the white gold shown in the renderings. Once the design was approved, our team continued with the design process. The shape was 3D printed out in wax resin which was then cast in gold, At this point our master goldsmith polished the design and set the diamonds. We then contacted our client to pick up his design. We are very happy to say that both he and his fiance' love their custom engagement ring, crafted by Omori Diamonds inc..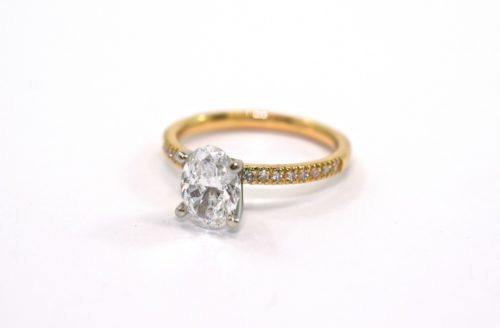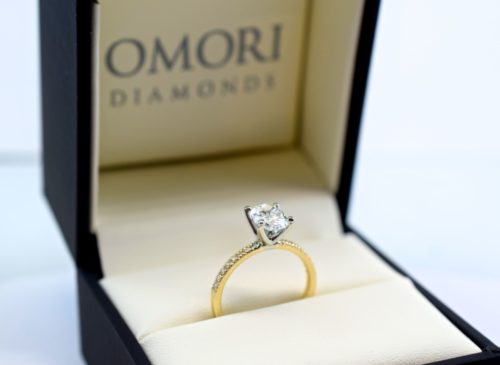 Do you want to see more of this custom oval diamond engagement ring design? View the video HERE
FREE ENGAGEMENT RING CONSULTATION IN WINNIPEG
Are you ready to create your very own custom diamond ring from scratch? Book a free ring design consultation now!
VIEW OTHER ENTRIES OF OUR WINNIPEG ENGAGEMENT RINGS JOURNAL:
Winnipeg Engagement Ring Journal #24: Custom Leaf Engagement Ring & Wedding Ring
Winnipeg Engagement Ring Journal #23: Custom Butterfly Engagement Ring
Winnipeg Engagement Ring Journal # 22: halo Engagement Ring with initials 
Winnipeg Engagement Ring Journal # 20: Custom Pear Diamond Solitaire Engagement Ring
Winnipeg Custom Jewellery journal: Custom Designed Jade Pendant 
Custom Jewellery Winnipeg Blog: Ruby and Platinum Custom Ring 
Winnipeg Custom Jewellery Designer Journal: Omori Triple Axel Ring
Winnipeg Engagement Ring Journal 17: Gemstone Engagement Rings
Winnipeg Engagement Ring Journal 16: Diamond and Platinum Engagement Ring