Omori Diamonds inc. creates beautiful custom jewellery and engagement rings in Winnipeg. Book a free appointment and meet directly with Jim Omori to receive undivided attention in creating a unique and beautiful engagement ring "just-for-her".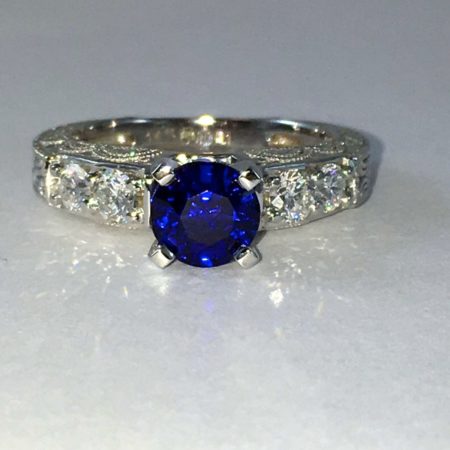 Welcome back to the Omori Diamonds inc., Winnipeg engagement ring journal. In todays article we are going to talk about a very elegant custom sapphire engagement ring which features highly detailed engraving on the band.
Sapphires, the royal engagement ring stone…
The sapphire is one of our favourite precious gemstones and it is an excellent choice for a non- diamond engagement ring due to it's durability and brilliance. In fact, the sapphire is rated as having a 9.0 on the mohs scale of hardness, which is right next to diamonds which score a solid 10.0. This means that the sapphire is incredibly durable and everlasting.
The sapphire is also the stone of choice for many of the European royal families. The most famous being the sapphire engagement ring belonging to Kate Middleton, which was formerly given to Lady Diana.
At Omori Diamonds inc., we have built up a reputation for our ability to source excellent sapphires and have helped many clients find or create their perfect sapphire engagement ring. See another recent design below.
Learn more about Kate Middleton's sapphire engagement ring here.
The engagement ring creation process…
The design process for this engagement ring began with us creating CAD (computer aided design) images for the clients to approve. This stage allows clients to see the design from a variety of angles so that they can make any alterations to their ring before it is cast in precious metal (white gold).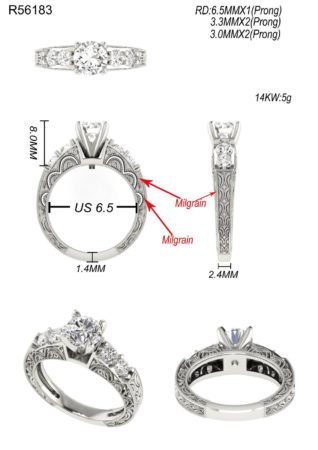 As you can see in the above images, the CAD images not only give an accurate representation of how the final engagement ring will appear, but also show the exact proportional measurements. These measurements are needed for when the design is printed out in a wax model, which is later cast. Sometimes with more simple engagement ring designs, we will draw and carve the design by hand. However in the case of complex vintage designs which feature such detailed engraving, we choose to use CAD, as this allows for maximum precision.
The rising popularity of vintage styling…
We have noticed over the past few years a real rise in the popularity of vintage engagement rings and styling. Many clients have come to us with ideas for their creations which involve elegant engraving and vine-like details. Many jewellery designers have speculated that this is due to the popularity of such tv shows and movies as downtown abbey and the great gatsby.
Check out the top 15 celebrity vintage engagement rings
The final design
After viewing the CAD images, the clients enthusiastically approved their design. Once given the go ahead, our skilled team began finalizing the design. The ring was cast in white gold which was then polished and the centre sapphire and side diamonds were set. With the engagement ring completed, we contacted our clients to pick up their custom Omori design. needless to say, they were extremely thrilled, just as we expected!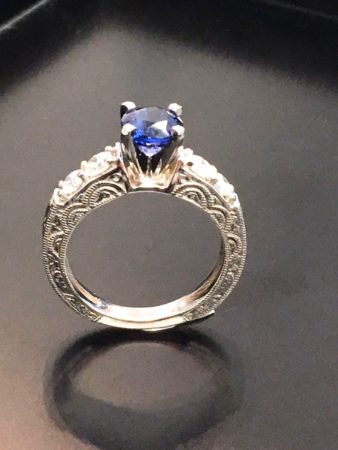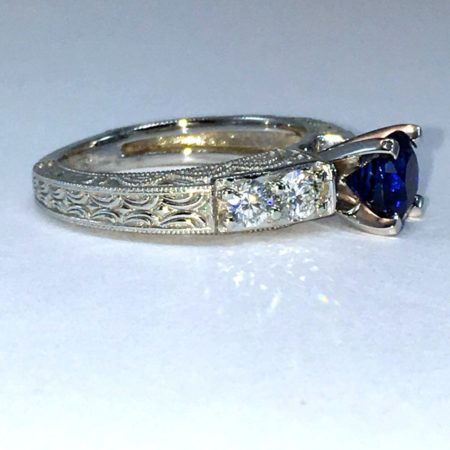 Get a closer look at this engagement ring design: view the video here.
Love vintage engagement rings? Check out journal entry #4, on our yellow gold vintage engagement ring.
FREE ENGAGEMENT RING DESIGN CONSULTATION IN WINNIPEG
Are you ready to design a custom diamond ring from scratch? Book a free diamond ring design consultation with Omori Diamonds inc. now!
CHECK OUT PREVIOUS ENTRIES OF OUR WINNIPEG ENGAGEMENT RING JOURNAL:
Winnipeg Engagement Ring Journal 7: Platinum Princess Cut Diamond Engagement Ring
Winnipeg Engagement Ring Journal 6: Princess Cut Rose Gold Engagement Ring
Winnipeg Engagement Ring Journal 5: Marquise Diamond Halo Engagement Ring
Winnipeg Engagement Ring Journal 4: Vintage Engagement Ring With Engraving
Winnipeg Engagement Ring Journal 3: Rose Gold Sidestone Engagement Ring
Winnipeg Engagement Ring Journal 2: Custom Diamond Halo Engagement Ring
Winnipeg Engagement Ring Journal 1: Winding Sidestone Engagement Ring
SaveSave
SaveSave
SaveSaveSaveSave
SaveSave