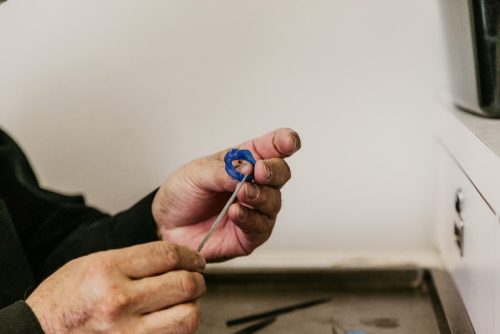 The moment is ripe, and the desire to surprise your loved one with a beautiful engagement ring is bubbling within you. You've envisioned the heartfelt moment when you'll pop the question, and it's a scene worthy of a fairy tale. However, there's a tiny detail that's been giving you a bit of a headache – how to discreetly figure out your partner's ring size without spoiling the surprise. Fret not, we're here to help you navigate this challenge with grace and ease. Let's dive into the world of subtle ring size reconnaissance! 
1. Covertly borrow one of her rings from her jewellery box
One of the most common ways we suggest to our clients when determining their partner's ring size is to borrow another ring their partner wears. In this case, once the ring is brought to us, we simply place it on our handy sizing stick and will be able to know your partner's size right then and there.
Many times, however, your partner may likely not have any rings to be worn on their left ring finger (the finger the engagement ring goes on). In that case, the critical factor is that we will need to know which finger and which hand the ring you have brought to us is worn on. For example, suppose your partner usually wears the ring on their right ring finger, and they are right-hand dominant. In that case, we will make their engagement ring roughly a half size smaller, as the ring size of a person's dominant hand is generally a half size larger. If you brought us a ring that your partner wears on their middle or pointer finger, we will also take this into consideration, as these fingers are larger in size than the ring finger.
What if you can't sneak away with a ring? Don't worry; try the line technique.
If you are worried your partner may notice a missing ring, don't fret; we have another trick up our sleeve! In this case, try on one of their rings on whatever finger you wish, so long as the ring partly goes on. Then draw a line at the point where the ring sits on the finger. You can then head to your trusted jeweler to have your finger sized to that spot on your finger. We have used this method many times, and it worked out perfectly.
2. Ask her friend
You can always enlist their help of one of your partners friends. Just make sure that they are good at maintaining secrets! Have the friend casually bring up the topic of jewelry and ring sizes in conversation with your partner. Perhaps they can share a story about how they struggled to find the right ring size for a gift or discuss the concept of ideal ring sizes. This subtle approach might trigger your partner to share their own ring size or even try on a ring, providing the information you need without arousing suspicion.
3. Use our Multi-size Tool
We offer a multi-size tool to our clients looking to find their partner's size. This can be handy both when their partner is expecting a ring and when it will be a surprise. The multi-size tool will allow you to find the correct size by comparing the sizes on the tool to one of your partner's rings at home. You can also slip one of their rings on, note where the ring comes to on your finger, and then size your hand as described in the "line technique" above.
4. Secret Shopping Excursion
Consider a secret shopping trip if you're confident your partner wouldn't mind a subtle hint about the upcoming proposal. Go to a jewelry store together under the pretense of buying a gift for a family member or friend. While you're there, casually try on some rings yourself, and encourage your partner to do the same. Please take note of the size that fits them comfortably, and perhaps even discuss what style of ring they prefer. This way, you can gather vital information without raising any suspicions.
5. The Creative Distraction Technique
This one is a bit of a crafty diversion. Organize a fun arts and crafts day with your partner or friends. Slip in the idea of creating some DIY rings just for fun. Use materials like paper, pipe cleaners, or even playdough to create mock rings. In the process, you can try on the makeshift rings and gauge which size fits your partner's ring finger the best. It's a playful and innocent way to gather the crucial information you need while enjoying a creative bonding experience.
6.The Art of Observation
Sometimes, the answer is right in front of you. Pay close attention to your partner's jewelry habits. Notice the rings they wear often and try to remember if they've mentioned any preferences regarding ring sizes. Additionally, take note of any comments they make about the comfort or fit of their rings, as this can be invaluable information.
7. Take your Best Guess and Resize it Later
We always offer complimentary resizing on our custom engagement rings and wedding rings. For this reason, clients can rest assured that they do not have to get their partner's ring size absolutely perfect. However, if the ring size is not precisely known, we recommend making the ring on the larger side so that you can be sure it will go on during the proposal! At this point, simply bring the ring and your fiance to us, and we will have the ring sized to fit perfectly.
We hope you enjoyed this article on secretly determining your partner's ring size. As experts in custom jewelry design, we aim to make your search for the perfect engagement ring in Winnipeg is enjoyable and stress free. When the time comes, please get in touch, and we will be happy to walk you through the process.