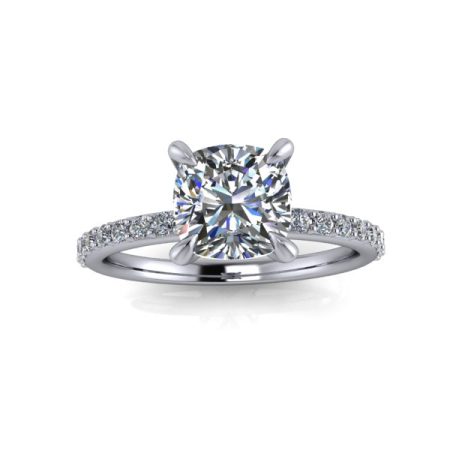 Today we will be presenting you with a pavé engagement ring guide to help you on your journey for the perfect design. As experts in creating beautiful custom jewelry, diamond rings, and engagement rings in Winnipeg, we specialize in walking you through every step of the custom design process. Read on to learn about this fantastic engagement ring style.
When it comes to engagement rings, pavé settings have become increasingly popular for those seeking maximum sparkle and brilliance. Derived from the French word meaning "paved," pavé engagement rings feature a stunning arrangement of small diamonds closely set together, creating a continuous band of brilliance. In today's pavé engagement ring guide, we will delve into the world of pavé engagement rings, exploring their distinctive characteristics, design variations, and factors to consider when looking for the perfect ring.
The Beauty of Pavé Settings:
Pavé settings are renowned for their exceptional sparkle and dazzling appearance. The delicate placement of numerous tiny diamonds along the band creates an illusion of a continuous line of brilliance, enhancing the center stone's radiance. The pavé design technique maximizes light reflection, making the ring truly captivating and adding a touch of glamour to any hand.
Design Variations:
First on the list for our pavé engagement ring guide we will be showing you some of the available design options, allowing you to personalize your ring to reflect your unique style and preferences. Some popular variations include:
Half Pavé:
In this style, diamonds are set on only half of the band, providing a subtle yet elegant touch of sparkle. This is the most popular and recommended option, as this places the diamonds where they are most visible. It also allows for the ring to be sized relatively easily since the bottom portions do not have diamonds lining them.
Full Pavé:
As the name suggests, the entire band is adorned with pavé-set diamonds, creating a breathtaking display of brilliance. While this style is beautiful, it can also be challenging to size since the bottom portion is lined with diamonds making the sizing process more complex.
Micro Pavé:
This intricate design features extremely small diamonds, meticulously set to create a delicate and refined look. As our goal is to create pavé engagement rings that are both elegant and durable, we often advise that bands not go any thinner than 1.8 mm. While you may find rings online made thinner, these rings are often produced overseas where the goal is to save on gold, leading to a more delicate but frail setting that cannot wear well over time.
Graduated Pavé:
This design features diamonds that gradually increase in size, creating a captivating visual effect and emphasizing the center stone.
Want to learn more about engagement ring styles? Check out this article on Brides. 
Metal Options:
Pavé engagement rings are available in various metal options, each contributing to the overall aesthetic and durability of the ring. The most popular choices include:
Platinum:
Renowned for its durability and natural white luster, platinum enhances the brilliance of the diamonds while providing a timeless and luxurious appeal. When it comes to setting small diamonds, platinum is always the most durable.
White Gold:
A popular alternative to platinum, white gold offers a similar appearance at a more affordable price point. However, it may require periodic rhodium plating to maintain its bright white color.
Yellow Gold:
Known for its classic and warm tones, yellow gold adds a touch of traditional elegance to pavé engagement rings.
Rose Gold:
With its romantic and vintage charm, rose gold has gained significant popularity in recent years. Its soft pink hue complements the pavé-set diamonds beautifully.
Factors to Consider:
Next on the list for our pavé engagement ring guide, are some important factors to help you ensure you select the perfect ring that meets your expectations:
Quality of Diamonds:
Pay attention to the quality of the pavé-set diamonds. Look for diamonds with a very good cut, color, and clarity to ensure maximum brilliance and sparkle.
Band Width:
The width of the band can significantly impact the overall look of the ring. Consider your personal style and finger size when choosing the bandwidth, as wider bands tend to create a bolder statement. To ensure stability, we always recommend that bands be no thinner than 1.8 mm.
Center Stone Compatibility:
The pavé setting should complement the center stone. Consider the size and shape of the center diamond or gemstone to ensure a harmonious and balanced design.
Lifestyle and Maintenance:
Keep in mind that pavé settings may require more frequent maintenance due to the presence of small diamonds. Ensure you understand the maintenance requirements and choose a ring that aligns with your lifestyle.
Conclusion:
Pavé engagement rings exude timeless elegance and undeniable sparkle, making them a popular choice for engagement rings in 2023. The intricate arrangement of pavé-set diamonds adds a touch of glamour and sophistication to any ring. By understanding the various design options, metal choices, and factors to consider, you can confidently select a pavé engagement ring that perfectly captures your style and celebrates your unique love story. With its everlasting beauty, a pavé engagement ring is sure to make a dazzling statement and be treasured for a lifetime.
We hope you enjoyed this pavé engagement ring guide. Feel free to browse our site for design inspiration and stay in touch through our facebook, twitter or instagram accounts.