In today's article we will be discussing what to look for when buying an engagement ring in Winnipeg. As a premier designer of diamonds rings, custom jewelry, and engagement rings in Winnipeg,  we are here to guide you on your journey.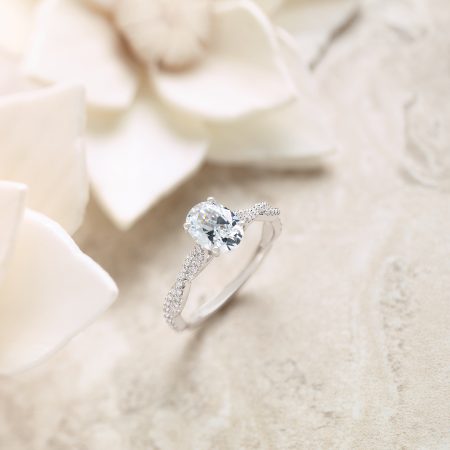 Shopping for your perfect engagement ring in Winnipeg
When it comes to picking your perfect engagement ring in Winnipeg, its important to make a choice that suits your budget, style, and lifestyle. Since this is a ring that you will hopefully be wearing for life its also important to come up with a choice that you feel is timeless.
Here are a few pointers to keep in mind to help you chose your perfect masterpiece:
Diamond shape
There is a wide range of diamond shapes available, from round cuts to marquise, as well as oval and square cuts. Take some time to think about what cut is your favorite. Ovals and marquise cut diamonds are currently the most popular however rounds and cushion are always in style and are some of the brightest diamond cuts.
If you want to learn more about diamonds, be sure to check out our diamond education page as well as the website of the Gemological Institute of America. 
Different styles of engagement rings available in Winnipeg
When it comes to choosing the style of your engagement ring take some time to think about your, or your partner's style preferences. Would you love an elegant and detailed halo with many small diamonds, or a simple yet perfect solitaire engagement ring? For those who love antique styles, vintage engagement rings can be a very exciting choice.
For design inspiration check out the top celebrity engagement ring styles.
Setting: high or low
Another thing to consider is the profile of your ring. Rings where the center stone sits very low will require a custom made wedding band in order to fit around the diamond. This can be an issue if your job requires that you wear gloves. If this is the case, we recommend a setting where the diamond sits on top of the band allowing space for a strait band for when the time comes. This can be discussed with your designer during your consultation.
To learn more about popular diamond ring settings check out our article titled most popular engagement rings of 2022.
How much should one spend on an engagement ring in Winnipeg?
The average cost of an engagement ring is around $5000, however some rings with simple settings can cost around $3500 and others as high as $35,000. It all depends upon what you are looking for. Lab created diamonds can be less expensive than natural diamonds and moissanite is another cost effective option.
Your metal and color of choice
One more consideration to keep in mind is the kind of metal you would like. Most engagement rings are made in 14 Karat gold. This comes in yellow, rose, and white and the choice is totally up to you! Please be sure to let your jewelry designer know if you have any metal allergies as these can be taken into account during the creation of your ring. Platinum is another great choice ass it has a beautiful white shine and is hypoallergenic.
Thanks a lot for checking out this article on what to look for when buying an engagement ring in Winnipeg. We hope you have found this useful. Please stay in touch through our facebook, twitter or instagram accounts.
Are you ready to buy an engagement ring in Winnipeg?
Contact Omori Diamonds inc. to book your design appointment now!
Also be sure to browse the rest of our site for style information and jewelry education.