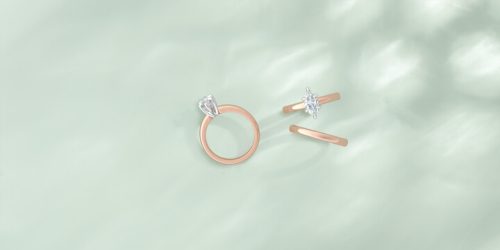 Marquise solitaire engagement rings are shaping up to be one of the most popular styles of engagement rings in 2023. As a designer of custom jewelry and engagement rings in Winnipeg, we are often given an inside look at the different trends.  Every year seems to bring a new trend in terms of diamond cuts. Last year ovals definitely stole all of the attention. In previous years rounds and various princess cut and square diamonds were very popular. This year, many of our clients are loving the unique shape of the marquise cut diamond.
About Marquise cut diamonds
The Marquise cut diamond dates back to the 1700's in France and is believed to have been named for a mistress of the king due to its resemblance to the shape of her smile. This diamond cut also became very popular in the coming years among British nobility, due to its resemblance to the shape of a sailing boat, as this was a popular past time. Currently, the marquise diamond is very popular in both vintage inspired and modern designs.
To learn more about picking the perfect stone, check out this article on how to choose a marquise diamond at the website of the GIA. 
Many options with marquise solitaire engagement rings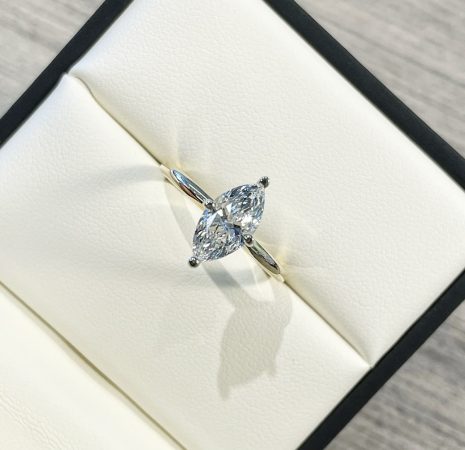 Solitaire engagement rings feature a single center diamond without the added features of a halo or side stones. The above picture is one of our latest marquise solitaire engagement rings which was crafted with a yellow gold band and white gold claws. When a client request yellow gold, we often recommend that the claws are done in white gold as this can both prevent the yellow color from impacting the diamond and make the stone look larger.
For those who love the timeless look of vintage engagement rings, we can also create various custom jewelry designs which feature detailed engraving on the band.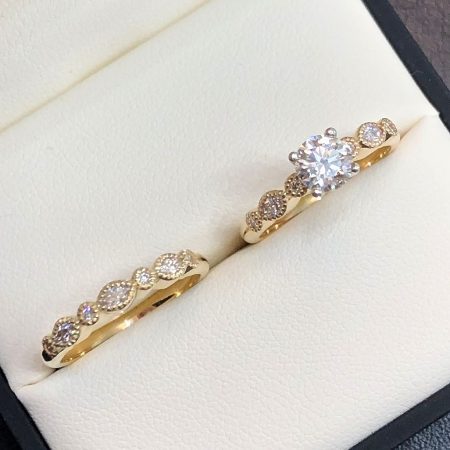 Although the above image features a round diamond, this style can also look exceptional and unique when set with a brilliant marquise diamond.
A few other style considerations
Whenever you are selecting the perfect engagement ring it is important to keep a few things in mind. This includes your personal lifestyle and preferences. If you live a very active lifestyle, it may be advisable to have the diamond set a bit lower so that it doesn't catch on things. You may also want to make sure that the setting allows space for a straight wedding band so that you can wear the two rings by themselves. These are all things that can be discussed with your jewelry designer during your consultation.
Are you ready to create your own marquise solitaire engagement ring in Winnipeg?
Contact Omori Diamonds inc. to book your design appointment now!
Also be sure to browse the rest of our site for style information and jewelry education.