In today's article we will be showing you the most popular engagement ring styles in 2022. Here at Omori Diamonds we specialize in crafting and designing popular styles of engagement rings in Winnipeg, Manitoba Canada. Simply call or inquire to book an appointment with our father and son custom jewelry design team. 
Every year we see new and exciting trends in engagement rings and custom jewelry. Previous years recent years saw a rise in popularity of vintage engagement rings. 2019 and 2020 saw a wave of oval diamond engagement rings and hidden halo designs.
So far, the most popular engagement ring styles in 2022 have been both three stone rings and solitaire engagement rings.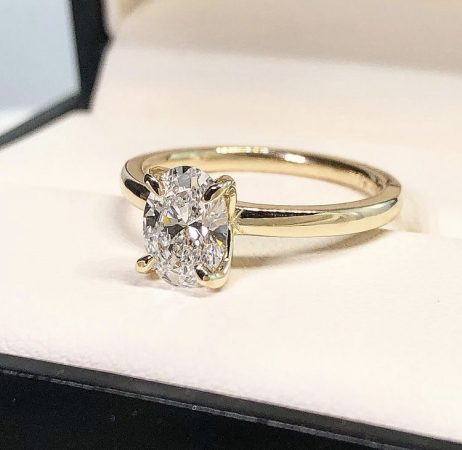 Many of these designs feature elegant bands and pointed prongs, creating a modern flair. The above design is a custom yellow gold solitaire engagement ring featuring a brilliant oval diamond which has been cut to perfection.
When creating a solitaire engagement ring
When custom designing an engagement ring with our clients, we take special consideration to discuss such things as band thickness, which is an important factor in the durability of a design. We also discuss important considerations such as whether or not the client would like the option of having a strait wedding band with their engagement ring, in which case we tend to favor a ring with a higher setting, allowing for space for the strait band.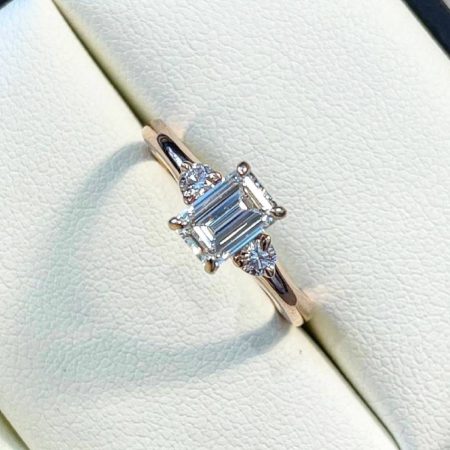 Next on our list of popular engagement ring styles in 2022 is the classic three stone ring. While three stone engagement rings have always been in style, this year we have seen increasing requests for unique engagement ring designs featuring a variety of interesting diamond shapes from emerald cut to pear.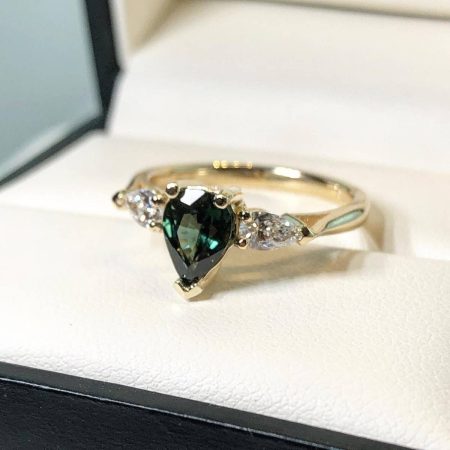 The above sapphire engagement ring features a brilliant teal center stone as well as two matching pear diamonds. This style has been very popular on our social media accounts.
Thank you for checking out this run down of popular engagement ring styles in 2022. To learn more be sure to visit our instagram and facebook accounts where we provide updates on all of our recent designs. 
Are you ready to create your very own, unique engagement in Winnipeg Manitoba?
Contact Omori Diamonds inc. to book your free design appointment now!