In today's article we will be showing you some of our latest custom three stone engagement rings. We specialize in crafting and designing popular styles of engagement rings in Winnipeg, Manitoba Canada. If you would like to begin a project please call or inquire to book an appointment with our custom jewelry design team. 
Three stone engagement rings have become incredibly popular this year among our local clients in Winnipeg. They have also become increasingly popular celebrity engagement rings.
The classic three stone engagement ring features a large center diamond or sapphire with a smaller accenting stone on either side. Traditionally this symbolizes the past, present and future and has been a popular choice for both anniversary rings and engagement rings.
Yellow gold and Cushion Cut Diamonds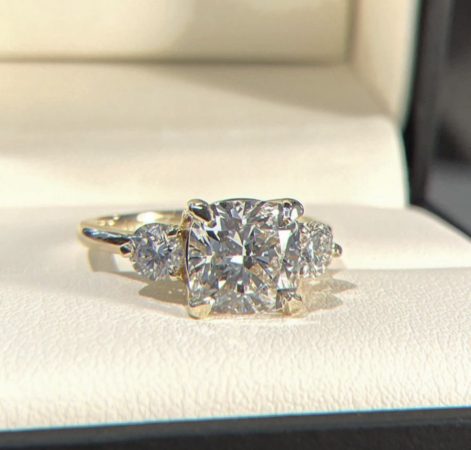 Here is one of our latest custom three stone engagement rings which features a brilliant cushion cut diamond. The cushion cut is essentially a soft square shape which displays similar brightness to round diamonds.
Yellow gold has also been a very popular choice in 2022. Head over to our previous blog on the years most popular engagement rings to learn more.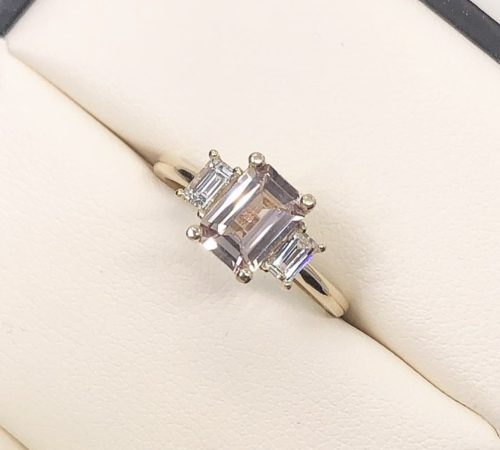 Sapphires are also an excellent choice for three stone engagement rings. The above design features three emerald cut stones with the center being a brilliant peach colored sapphire.
Sapphires, a perfect choice for a unique design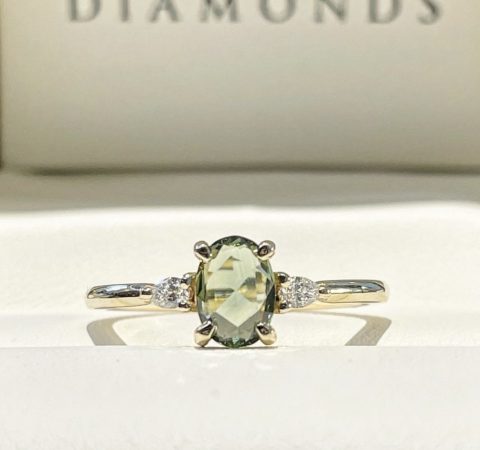 For those who like a bit of a unique twist on a traditional idea, here is another custom three stone engagement ring which features a rose cut green sapphire and two pear shaped diamonds.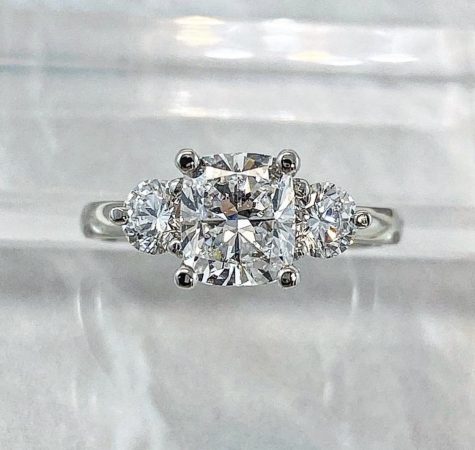 Last but not least here is a recent platinum engagement ring we created which features an exceptional cushion cut diamond and two round brilliant cut diamonds.
Thanks for checking out this article on our latest custom three stone engagement rings. Please check out our instagram and facebook accounts where we provide updates on all of our designs. 
Are you ready to create your very own, custom three stone engagement ring in Winnipeg Manitoba?
Contact Omori Diamonds inc. to book your free design appointment now!