Today we will be showing you how to choose an engagement ring that will be perfect for you or your partner. As one of the top custom jewelers and designers of engagement rings in Winnipeg, this is our specialty.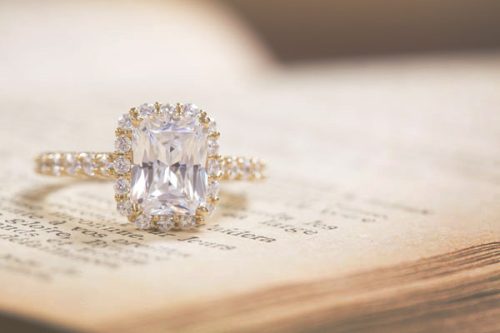 Buying your perfect engagement ring is an important task. Even if you have some experience with diamonds and jewelry, the entire process can be a daunting one. With all of the different designs available, it can help to narrow down your favorite options. Here are some guidelines and tips we have come up with based on our years of experience helping clients just like you!
Here are few tips to Choose an Engagement Ring
Consider your style
If you are looking for an engagement ring for your fiancé to be, try having a look at her other jewelry pieces and style tastes. Some women even have pinterest boards set up with their favorite engagement ring ideas. What sorts of styles does she love? If she loves simple and modern styles, a solitaire engagement ring may be the perfect choice. Does she like timeless or antique designs? In this case a vintage engagement ring may be the right choice.
Choose your stone
When it comes to the center stone, its important to think about both the shape and the type of stone. Natural diamonds have always been the traditional choice, however lab created diamonds are an excellent and cost effective option. Sapphires are also a great option, due to their beautiful color and durability.
Be sure to check out our recent article on the differences between lab created and natural diamonds. 
As for the stone shape, feel free to browse our various galleries. Oval diamonds are especially popular right now, however pear and marquise are also trending.
Metal Color
Another important aspect to consider to choose an engagement ring is the metal color and type. For those who favor white metals, white gold and platinum are the best choices. Yellow gold is also a classic choice and rose gold has been increasingly popular over the last few years. To narrow down your preferences it can help to try on various engagement ring styles to get an idea of what you like and what you don't like.
Consider the Custom Route
Although there are often some decent engagement ring designs in various jewelry stores, sometimes it can be nice to add a personalized touch. Here at Omori Diamonds we specialize in custom design engagement rings and we have developed a streamline process for bringing you the engagement ring of your dreams. During this process we will help you uncover your personal style and work with your ideas to create something unique that you will cherish forever. During the process you will see 3D images of your design as you see your piece come to like. Check out our FAQ page to learn more about our process.
Thanks for checking out this article on how to choose an engagement ring you will love
We hope you found this article helpful. Be sure to stay in touch through our facebook, twitter or instagram accounts.
Are you ready to create your perfect and unique engagement ring in Winnipeg?
Contact Omori Diamonds inc. to book your design appointment now!
Want to learn about more tips on how to choose an engagement ring? Check out this article on Brides as well as this engagement ring buyers guide on Vogue.