We specialize in crafting fine custom jewelry and engagement rings in Winnipeg, Manitoba. This includes exceptional sapphire engagement rings as well as rings featuring all shapes of fine diamonds and precious gems. In today's article we will be showing you our top 3 engagement rings of the month which have been a huge hit on social media. Read on to learn more!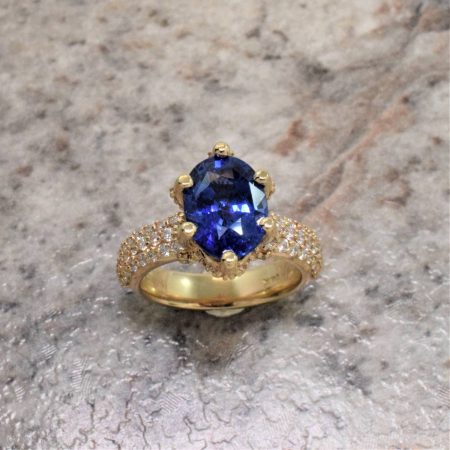 Blue Ceylon Sapphire Engagement Ring Masterpiece
This wonderful design was created for a great client of ours who also happens to be a geologist! After discussing a variety of options for fine gemstones, we decided to go with this exceptional blue Ceylon Sapphire which comes from Sri Lanka (formerly known as Ceylon). Ceylon Sapphires are often the favorite choice of stone for many of the European royal families when it comes to fine custom jewelry pieces and engagement rings, with the most famous being Kate Middleton's engagement ring. This engagement rings that we created features a large oval Ceylon Sapphire as well as three rows of brilliant diamonds on the yellow gold band. Be sure to visit our instagram and facebook pages to see more videos.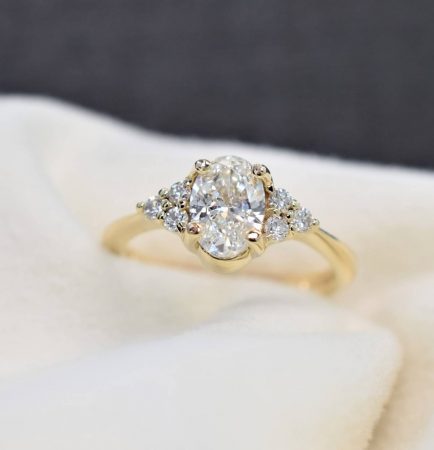 Oval Diamond Yellow Gold Engagement Ring
This next engagement ring features a brilliant oval diamond as well as three round diamond on each side. The placing of the diamonds and the tapered shape of the band creates a very sleek and delicate look to the ring. This ring is similar in shape to a number of the beautiful three stone engagement rings that we have been crafting as of late. As you can probably tell, yellow gold is incredibly popular as of late, as a matter of fact, all three engagement rings on this list are made in yellow gold!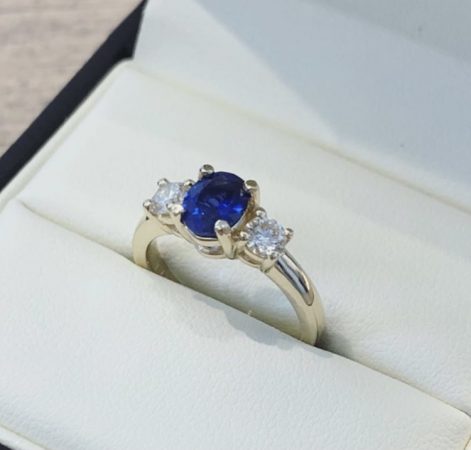 Sapphire and Diamond Three Stone Engagement Ring
Last but not least on our list of our top 3 engagement rings of the month is this wonderful three stone engagement ring. This ring features a beautiful oval blue Sapphire as well as two round brilliant diamond. Blue sapphires create a wonderful color contrast with diamonds and this combo is one of our favorites for three stone rings. Check our our engagement rings page to see more examples of three stone rings with diamond and sapphire combinations.
Are you ready to create your own engagement ring in Winnipeg?
Contact Omori Diamonds inc. to book your free design appointment now!