In Today's article we will be showing you some exceptional matching engagement rings and wedding rings made by Omori Diamonds in Winnipeg, Manitoba Canada. Here at Omori Diamonds we specialize in crafting fine custom jewelry and engagement rings which feature the finest sapphires, diamonds and gems. We also specialize in crafting unique and vintage inspired custom designs. Read on to see top wedding sets from the last while.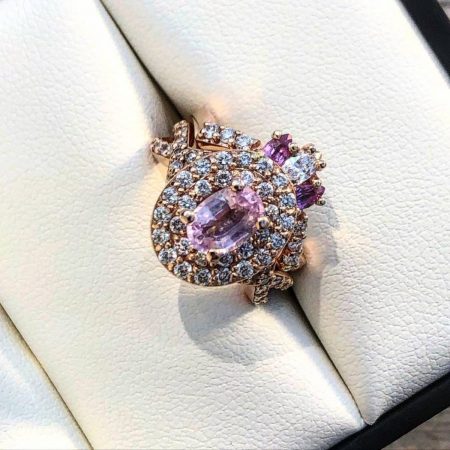 First on our list is this exceptional matching engagement ring and wedding ring set which features beautiful pink sapphires. The engagement ring has been crafted with a double diamond halo and infinity band design and the matching wedding ring has been crafted specially to fit around the center halo. This ring was created for a wonderful couple whom we have known for many years!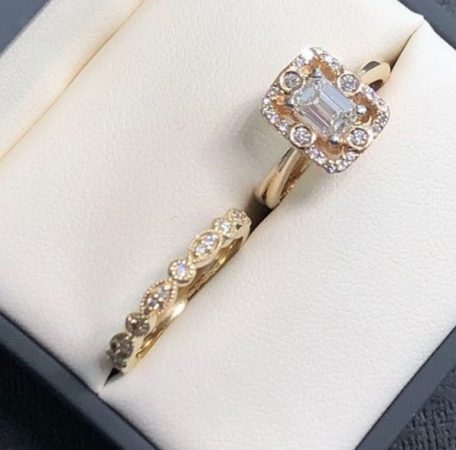 Next up on our list of matching engagement rings and wedding rings is this lovely art deco, vintage style wedding set. The engagement ring features a beautiful VVS emerald cut diamond, which is a diamond shape known for its unique and brilliant optical pattern created by it's sparkle. The matching wedding ring has also been crafted in an antique style which features beautiful mill grain work around the diamond settings and fits perfectly under the halo of the engagement ring.
If you love vintage style engagement rings as much as we do, be sure to check out this article on celebrities with vintage engagement rings!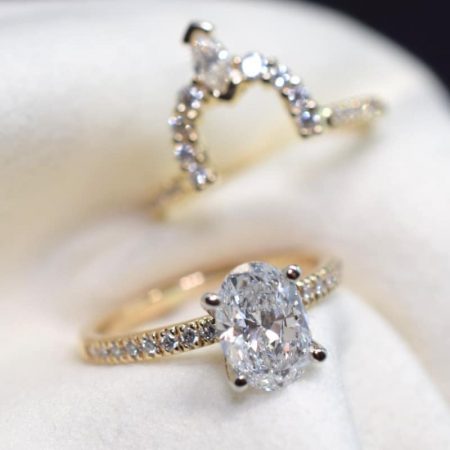 Shown above is a matching wedding set which features a brilliant oval cut diamond, which is currently the most popular diamond shape which has been trending for some time. The wedding band shows a lovely marquise shaped diamond and has been crafted to fit around the oval diamond so that the two rings lock together as one.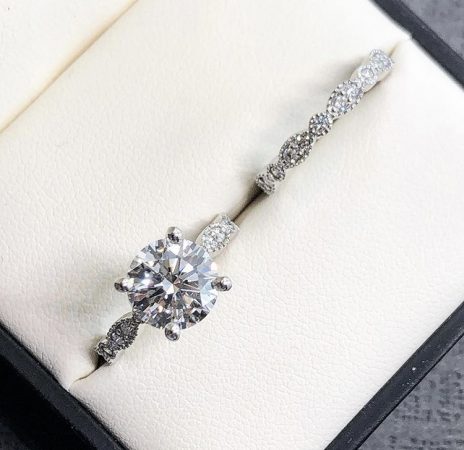 Last but not least on this list of matching engagement rings and wedding rings is this beautiful vintage style wedding set. The engagement ring here, features a large and perfectly cut round brilliant diamond which shows hearts and arrows. The wedding band shows the classic vintage styling with round and marquise shapes set in mill grain settings. This style is a favorite on our social media accounts.
Thanks very much for checking out this article on matching engagement rings and wedding rings at Omori Diamonds.
We hope you loved looking at these designs as much as we did making them! Feel free to get in touch when the time has come for you to create your perfect custom diamond ring and stay in touch through our various social media platforms of  facebook, twitter or instagram.
Are you ready to create your own matching engagement and wedding rings in Winnipeg Manitoba?
Contact Omori Diamonds to book your free design appointment now!